Short presentations, talks, and discussions for the FIT community
This is a series of 45-minute virtual discussions led by students, faculty, and alumni to advance global education at FIT. The major themes will be fashion, art, sustainability, racial equity, and the impact of the pandemic around the world.
Co-organizers: Helen Gaudette and Alexander Nagel
Hosted by the Office of International Programs, History of Art, and the Cultural Fellows
Spring 2023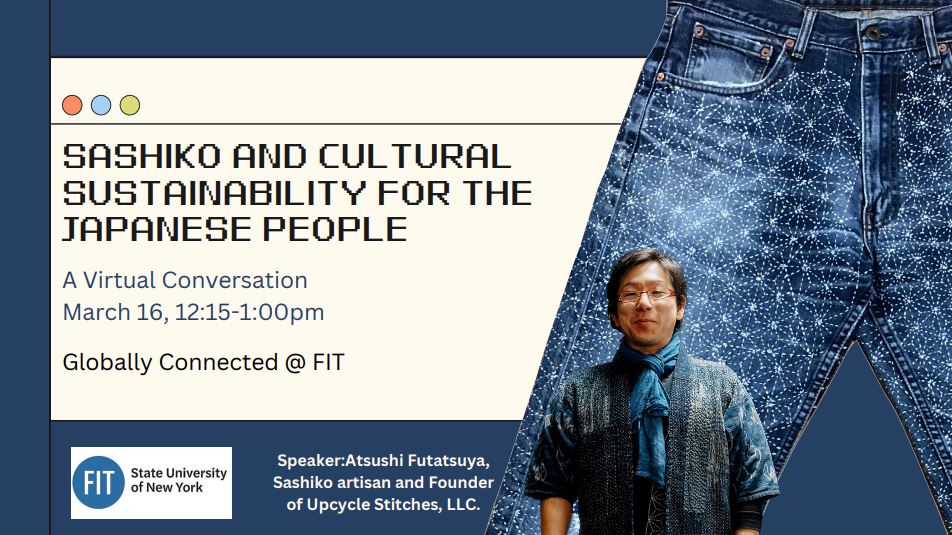 Sashiko and Cultural Sustainability for the Japanese People
Speaker: Atsushi Futatsuya, Sashiko Artisan and Founder of Upcycle Stitches, LLC.
March 16, 2023
12:15–1 pm
Today, Sashiko has been adopted by big brands, such as Kenzo and Maison Margiela. According to Atsushi Futatsuya, Sashiko introduced in English is NOT wrong, but unfortunately it isn't usually introduced sufficiently. This talk will explain what Sashiko is for the Japanese people, as it is often communicated with missing elements and can be romanticized in Western Culture.
Moderated by Cultural Fellow Hinako Ishii, majoring in FBM, an international student from Japan.
Atsushi Futatsuya was born into a third generation of a surviving Sashiko family in Gifu prefecture. He grew up with Sashiko, surrounded by thread, needles, and fabric. He launched the "Sashi.Co" project with his mother, Keiko, who has over thirty years of experience in Sashiko stitching as a platform to introduce masterful works of Sashiko.
In 2017, he began introducing the beauty and philosophy of Sashiko to the world through his website and workshops as "Sashiko Story."
Hosted by the Office of International Programs, History of Art, and the Cultural Fellows
Past Presentations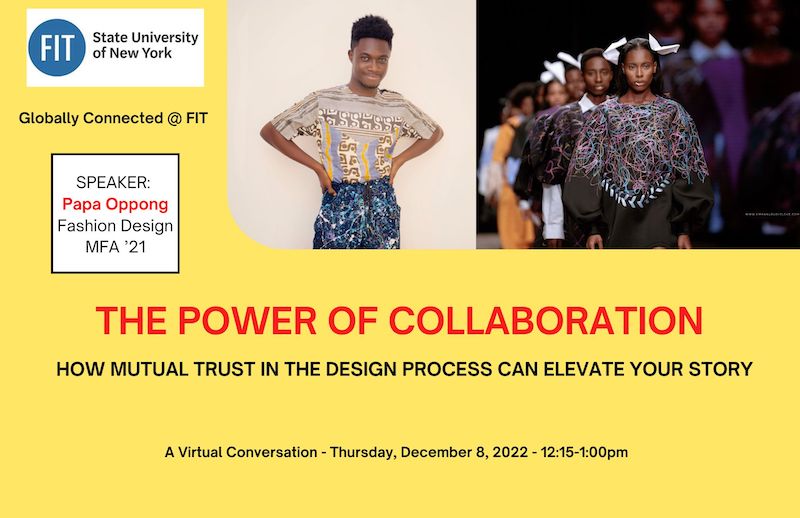 Papa Oppong, Fashion Design MFA '21
December 8, 2022
The saying goes that "two heads are better than one". In fashion design, working together with a common goal is an invaluable strategy that is sure to produce incredible results. Over the course of my journey, I have had the privilege of working with some amazing talents who have taught me so much about the industry, talent exploration and most importantly taught me about myself. In this segment, I will be sharing some of the major projects I have collaborated on and the lessons I've learnt through them. Join me as I define what collaboration means to me, how to approach individuals and companies for collaborations and how to utilize collaborations effectively to elevate your story.
Born on the 11th of March 1992 in Accra Ghana, Papa Oppong Bediako is a fashion Illustrator, fashion designer, and a new-age artist. Papa's fashion journey kicked off at a very early age by way of playing with Barbie dolls. Through his work, Papa seeks to show the world that Africa is a goldmine of talent and potential, and can be as influential in fashion as the rest of the world is. Papa has designed RTW looks for West African textile giant Woodin, illustrated for makeup giant MAC cosmetics, art directed and styled a fashion show for Adidas (Ghana) and worked with several African brands including ethical fashion brand Studio 189. The young designer has also gained a lot of praise and accolades from media giants such as CNN and Forbes, the latter naming him as one of 15 young Africans re-branding the continent. Papa Oppong holds an MFA in Fashion Design from the Fashion Institute of Technology in New York City where he currently resides. https://www.instagram.com/papaoppong/?hl=en
November 3, 2022
Paolo Volonté, Author of Fat Fashion: The Thin Ideal and the Segregation of Plus-Size Bodies (2021)is in conversation with FIT Professor Yuni Kawamura.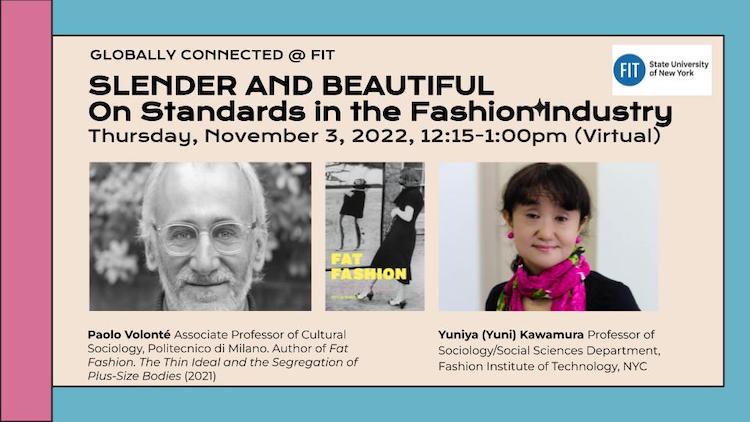 This talk will provide an analysis of the contentious issue of the tyranny of slenderness in fashion. In closely examining the thin ideal and the segregation of fatness in the fashion system, and focusing on womenswear, it will explore fashion as a situated practice from the perspective both of producers and consumers, industry and society, technology and the body. Discussing the countertrends that are increasingly emerging in today's fashion, it will be argued that a possible change in the body ideal cultivated by fashion will not depend on random events promoted by the fashion system, but on social changes of a more general nature.
Paolo Volonté is Associate Professor of Cultural Sociology at Politecnico di Milano, where he teaches the Sociology of Fashion. He is also co-editor of the International Journal of Fashion Studies. His work addresses fashion professions (design, styling), fashion and art, and the Italian fashion system. In 2021 he published the book Fat Fashion. The Thin Ideal and the Segregation of Plus-Size Bodies (Bloomsbury).
Dr. Yuniya (Yuni) Kawamura earned her PhD in Sociology from Columbia University and is trained as a professional designer at Bunka College of Fashion in Japan, Kingston University in the UK, and FIT.
Hosted by the Office of International Programs, History of Art, and the Cultural Fellows
September 22, 2022
Subhalakshmi ("Subh") Gooptu (English and Communication Studies) has a PhD in English and Literature from the University of Massachusetts at Amherst, and an MA in English and Literature from Jadavpur University in India. She specializes in postcolonial and world literatures with a focus on the Caribbean and South Asia.
Chloe Martin (Social Sciences) holds a PhD and a Masters of Science from Howard University in Washington, D.C. She completed a Post-Doctoral Research Fellowship at Memorial Sloan Kettering focusing on psychological factors associated with cancer prevention in medically underserved populations. Her research has been supported by the State Department, the National Cancer Institute of NIH, and the National Science Foundation.
Andrea Vasquez de Arthur (History of Art) holds a PhD and Master of Arts in Art History and Archaeology from Columbia University and a BFA in Graphic Design from Rhode Island School of Design. Most recently, she worked at the Cleveland Museum of Art where she curated an exhibition on textile work of modern Indigenous Central American women.
April 7, 2022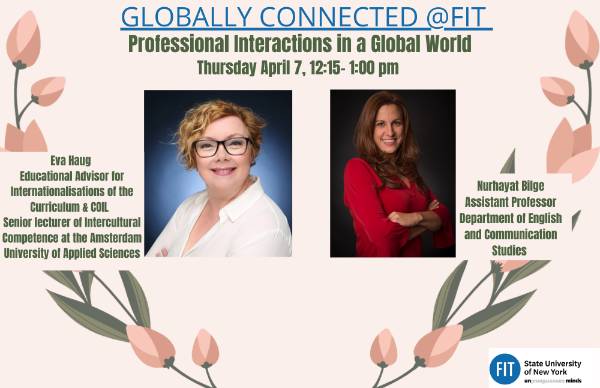 We are globally connected. We are more vibrant, mobile, and globally interconnected than any other point in time. As a result, our professional lives offer energizing and inspiring diversity across the globe. Yet, are we prepared to work side by side and collaborate with people who may see the world differently than we do? Global connectivity is enriching but also challenging in many ways. In this talk, Eva Haug and Nurhayat Bilge will discuss challenges of global work and offer insights for more effective interactions through their expertise and their personal experiences working in and working with cultural differences.
Nurhayat Bilge is an Assistant Professor in the Department of English and Communication Studies at FIT.

Eva Haug is the Educational Advisor for Internationalisation of the
March 31, 2022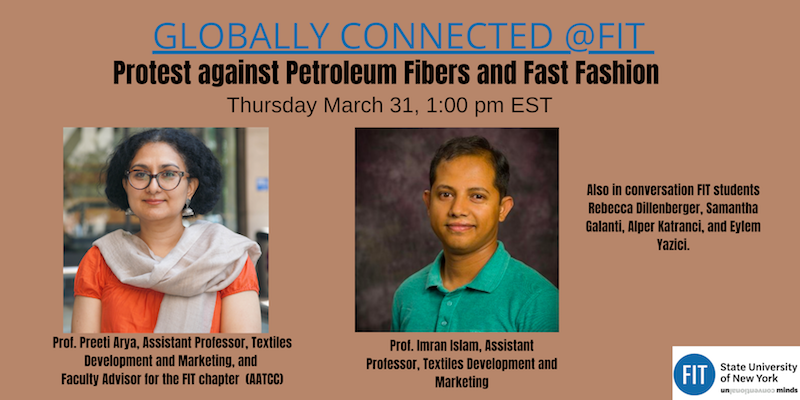 Prof. Preeti Arya, Assistant Professor, Textiles Development and Marketing, and Faculty Advisor for the FIT chapter of the American Association of Textile Chemists and Colorists (AATCC) with Prof. Imran Islam, Assistant Professor, Textiles Development and Marketing, and FIT students Rebecca Dillenberger, Samantha Galanti, Alper Katranci, and Eylem Yazici in a conversation about the harm that petroleum fibers and fast fashion does to the world's environment and therefore ourselves, and the actions we might take to protest against them.
Dr. Imran Islam has worked in the apparel industry in a variety of positions, and has published in the Journal of Fibers and Polymers, the International Journal of Innovation & Development Strategy, and others. Imran holds a PhD from Kansas State University, a Master of Business Administration from the University of Dhaka in Bangladesh, a Master of Science and Master of Engineering from Bangladesh University of Engineering and Technology, and a Bachelor of Science degree from the College of Textile Technology in Dhaka, Bangladesh.
April 30, 2022. FIT students rally for sustainable fabric in Times Square – Washington Square News.
February 24, 2022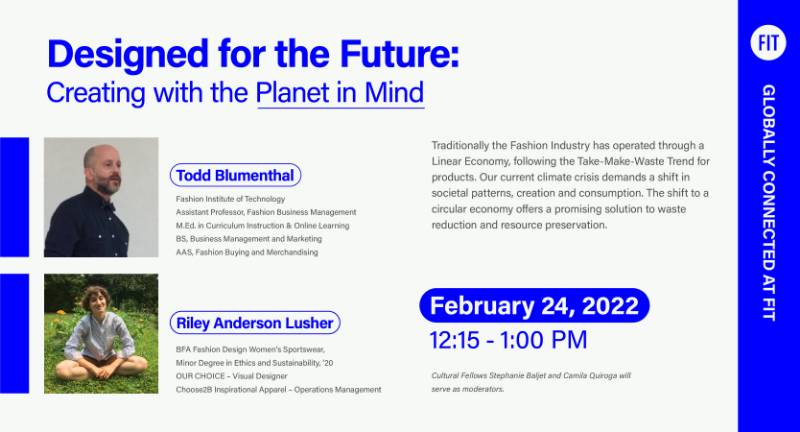 Traditionally the Fashion Industry has operated through a linear economy, following the Take-Make-Waste trend for products. Our current climate crisis demands a shift in societal patterns, creation, and consumption. The shift to a circular economy offers a promising solution to waste reduction and resource preservation. Please join us for a stimulating conversation about creating for the future. The talk will be moderated by Cultural Fellows Stephanie Baljet and Camila Quiroga.
Riley Lusher, OUR CHOICE – Visual Designer, Choose2B Inspirational Apparel – Operations Management, BFA Fashion Design Women's Sportswear, Minor Degree in Ethics and Sustainability '20
Riley is a Designer and Maker working to explore the interconnectedness of all beings, and create work that honors and respects these relationships. She would like to shift her central focus of creation from simply lessening her environmental impact to actually benefiting all beings and the environment from her work's inception. She enjoys constantly learning new trades, from carpentry to web development to 3D rendering. Regardless of any professional title or position, Riley is a passionate problem-solver, designer, and maker. Going forward she hopes to be able to harness these passions in ways that will promote growth and vitality.
Todd Blumenthal, Assistant Professor, Fashion Business Management
A Visionary leader and master storyteller, Todd teaches with a highly effective balance of business skills, innovative creativity, an entrepreneurial mindset, and refined aesthetics. Throughout his corporate career, hisfocusis on the training and development of the special hard and soft skills and competencies necessary in theNewEconomy for professional team and management development. For More than 25 years in the fashion industry, Todd has partnered with great global brands including: Nike, Victoria's Secret, The Gap, and Ralph Lauren developing an expertise for sustainable product commercialization.
December 9, 2021
FIT in Milan Professor Annalisa Mazzoli, FIT Professor Ron Amato, and Alum Steven Molina Contreras.
Globally Connected @ FIT has brought together a panel of three artists who have recently produced work that explores themes of identity, personal history, intimate relationships, and time. Join us for a discussion about their work and how they explore their identities and histories through their lenses.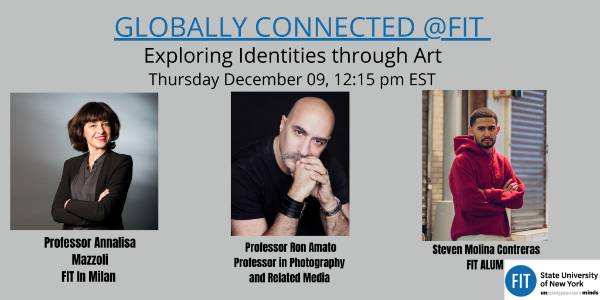 October 14, 2021
A conversation about building bridges between students in the United States and Lebanon through the virtual exchange of COIL.
Professor Praveen K. Chaudhry teaches the course SS 151 - Introduction to World Affairs in collaboration with Professor Céline Merheb, who teaches about human rights at the American University of Technology, Lebanon. They will share their experiences and what their students have learned from each other.
COIL provides faculty and students an opportunity to interact with international peers, from their home campus. COIL gives faculty new experiences in co-teaching and research, and students the opportunity to gain global awareness and intercultural competencies in cross-cultural teamwork and intercultural communication.
Praveen K. Chaudhry is Professor of Politcal Science at FIT. He is a recipient of the State University of New York (SUNY) Chancellors Award for Scholarship and Creative Activities. Before joining FIT, Professor Chaudhry taught at Swarthmore College, Lafayette College, Ohio University, University of Pennsylvania and University of Delhi. From 2004 to 2011, he was a visiting research fellow at the Observer Research Foundation, New Delhi, India: during this period, he produced several books.
He was a Visiting Fellow at the Office of the Executive Director (India, Sri Lanka, Bangladesh and Bhutan), International Monetary Fund (IMF) in Washington DC. The publications connected with this fellowship dealt with the relationships between the United States / IMF and were translated into several languages. He was also a Visiting Professor at Nelson Mandela Center for Peace and Conflict Studies at Jamia Millia Islamia, New Delhi. Currently he is involved in SUNY COIL with a focus on MENA countries, specifically Lebanon.
Céline Merheb, PhD is Vice-Dean of the Faculty of Political Science at La Sagesse University. As an associate professor, and appointed in several universities in Lebanon, she is developing exciting opportunities in instructional activities and innovative interdisciplinary research, in International Relations and Social Sciences. As coordinator of COIL at American University of Technology (AUT) in Lebanon since 2017, this summer she helped manage a course on Empathy and Leadership between Texas University, Auruk University (UAE) and AUT, focusing on a virtual exchange between students of the three universities. She is also managing a research team with Pharos Laboratory and Adyan Association in order to create the "International Barometer of Cultural and Religious Pluralism".
Moderated by Cultural Fellows Isha Kesarwani and Alexis Yap.
September 30, 2021
Curator Daphne Vitali (National Museum of Contemporary Art, Athens, Greece) in conversation with Chrysa Tasioula (AHMP FIT)
Daphne Vitali is a young and emerging Curator at the National Museum of Contemporary Art in Athens in Greece. Recently curated projects include "Deeper Than Silence," a series of sound art commissions at the Roman Agora in Athens (2020); "When the Present is History" at the Museum of Contemporary Art in Thessaloniki (2021), and "Everything is in a State of Change" in Athens (2021) which explored the relationship and interconnection between the human and the animal worlds. Daphne Vitali studied history of art and contemporary art theory at Goldsmiths College in London. She will be in conversation with Chrysa Tasioula, Senior in the Art History and Museum Professions (AHMP) Program at FIT.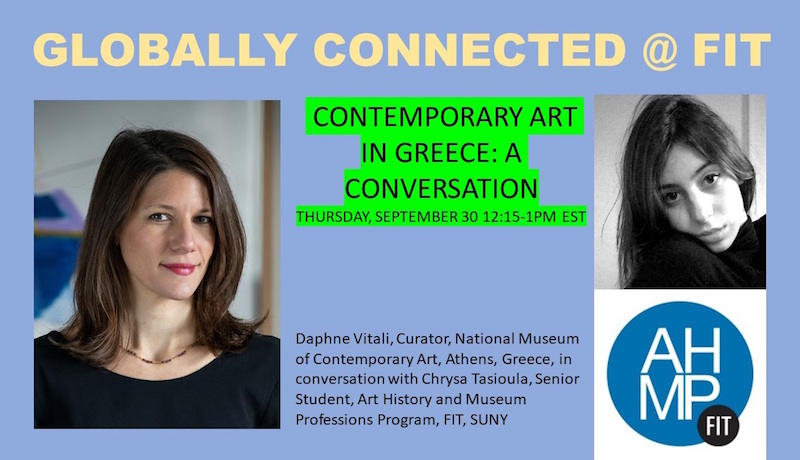 May 6, 2021
As we look to a post-pandemic world, a new generation of designers, artists and creative leaders are reimagining the future of fashion. We talk to those working in the rapidly growing creative economy of Eastern Europe to discuss their work, inspiration and the creative influence of the region.
Hosted by Zeke Edwards, a Cultural Fellow and undergraduate student in the Entrepreneurship for the Fashion & Design Industries program and Marissa Lee, an undergraduate student in the Advertising & Marketing Communications program. Zeke works as a fashion sales and marketing specialist and Marissa is the Junior Editor at Mission Magazine and a freelance writer.
Panelists:
Maia Gogiberidze: As the founder & CEO of Materiel Tbilisi, Gogiberidze has used her expertise to build a contemporary fashion house in partnership with one of Georgia's oldest apparel manufacturers. Materiel has a sustainable focus and serves as a launching pad for many of the country's top designers. In 2016, Gogiberidze expanded her work in founding Tbilisi-based concept store DOTS, interacting with foreign markets and customers alongside those in her native Tbilisi.
Salome Mikashavidze: Originally from Georgia, Salome built a foundation working with noteworthy Tbilisi-based brands, including the likes of Materiel Tbilisi. Transitioning to her work as founder & CEO of fashion sales and PR agency NOIZY, Mikashavidze currently works with a number of the country's most prominent emerging designers and creatives. She is a Tbilisi tastemaker and expert fashion brand developer who is actively shaping the creative landscape of Georgia.
April 29, 2021
Globally Connected @FIT and the Virtual Artist Talk Series presents Roberta Smith, the Co-Chief art critic at the New York Times
As a co-chief art critic of The New York Times, Roberta Smith regularly reviews museum exhibitions, art fairs and gallery shows in New York, North America and abroad.
Since joining The Times in 1991, Roberta Smith has written on Western and non-Western art from the prehistoric to the contemporary eras. She sees her main responsibility as "getting people out of the house," making them curious enough to go see the art she covers, but she also enjoys posting artworks on Instagram and Twitter. Special areas of interest include ceramics textiles, folk and outsider art, design and video art.
She has written critic's notebooks on the need for museums to be free to the public; Brandeis University's decision to close its museum and sell its art collection (later rescinded), and the unveiling of the Google Art Project, which allowed online HD views of paintings in the collections of scores of leading museums worldwide.
Born in New York City and raised in Kansas, Ms. Smith is a graduate of Grinnell College in Iowa. Before coming to The Times she wrote for the Village Voice. In 2003 she received the College Art Association's Frank Jewett Mather Award for Art Criticism.
Travel has long been a favorite social activity of people around the world. The last year has altered dramatically the way we travel and broadly connect with different cultures. But COVID has brought opportunities as well as challenges. In 2020 and 2021, three professors teaching about, in and from Italy have found creative ways to address aspects of creative travels, fashion and business, offline and online. In this conversation, Silvio Betterelli (FIT Milan), Erica Moretti (FIT New York), and Lorenzo Pirisino (FIT Florence and Polimoda) will introduce their work and also search for answers to questions: How will we have changed after the pandemic? How radically has Italy shifted towards sustainability? How can we connect to a culture, language, or more generally people from far away? The event will start with the reading of a poem, and is moderated by FIT Cultural Fellow Camila Quiroga.
April 15, 2021
Presenters:
Silvio Betterelli is a fashion designer in Milan where he opened his own label and atelier. After studying in Sardinia, Milan, and the UK, he received a residency research award from Les Ateliers de Paris and became the only Italian Finalist of the Tokyo Fashion Grand Prix. He was also awarded the "Who's Next" prize of Vogue Italia. He won two prizes at the Mittelmoda international award in Gorizia, where he is now part of the Jury panel. Silvio is Senior Portfolio of Fashion Design at Politecnico for "FIT in Milan," and chair at Nuova Accademia di belle arti (Naba). Since 2015 he is the Creative Head of 'Bio Ethical Sustainable Trends (B.E.S.T.) in Cittadellarte, and since 2020 head of product and design development of the Italian brand Borbonese.
Erica Moretti is an Assistant Professor of Italian at the Fashion Institute of Technology-SUNY. She received a PhD in Italian Studies from Brown University and a diploma in American Studies from Smith College. Her research — rooted in biopolitics, gender and sexuality studies, and critical theory — focuses on pacifism, refugees and displacement, and humanitarianism in Modern Italy.
Born in Italy, Lorenzo Pirisino studied Economics and Japanese at Reading University in England and Japan. After graduation, Lorenzo returned to Italy and started working in the world of fashion, travelling extensively around the world. Holding positions in Export Management, Marketing, Retail Operations, Brand and Product Development, Lorenzo has worked for renowned fashion producers such as Ratti and Mitsubishi Fashion, as well as fashion and interiors retail brands such as The Bridge, RCR, Signoria di Firenze, Devon & Devon. Since 2015, Lorenzo has been teaching Fashion Business Management courses at FIT in Florence, and more recently with Polimoda, a fashion school in Florence.
Moderator:
Cultural Fellow Camila Quiroga
Three journeys, on three continents, demonstrating the healing power and artistic promise of stitching and amending. In this conversation, Susanne Goetz, Barbara Mugnai and Yasmine Dabbous will share their stories, and discuss the role of process in transforming challenges into life-learning opportunities.
In Fall 2019, Susanne Goetz traveled to Europe and India to explore embroidery as both a traditional textile craft and contemporary artistic medium. The embroideries she worked on during her trip act as visual memories, not unlike a travel diary or photographs. During her trips, Susanne explored the communicative potentials of hand embroidery as well as the connections of the medium with female domesticity and craft activism.
In February 2020, the sudden outbreak of COVID 19 forced FIT in Milan students to return home to complete their thesis garments. Barbara Mugnai patiently and resiliently guided students as they worked during the lockdown with limited access and resources, using creativity to overcome challenges. The experience, which demonstrates the importance of the process in adapting to crisis, is documented in the film "Future of Fashion, Milan 2020."
On August 4, 2020, the world's strongest non-atomic explosion obliterated parts of Beirut, where Alumna Yasmine Dabbous resides. The art school that she founded, near the epicenter of the explosion, was itself quite hit. But once repaired, the studio welcomed hundreds of students who came to forget and stayed to create. During this experience, Dabbous got to guide and observe the process that helped Beirut's residents overcome the trauma
March 18, 2021
Presenters:
Susanne Goetz is Associate Professor | Textile Surface Design and Fabric Styling Department, and her focus is on both digital and traditional approaches to textile design and production, as well as global sustainable design, manufacturing and business practices. She has practiced embroidery for over 25 years, authored a popular hand embroidery elective at FIT, and conducted workshops on hand, machine, and smart embroidery. Susanne teaches an annual short term study abroad program on artisanship, sustainability and fair labor practices in India. Originally from Germany, she worked as a textile designer, lecturer, researcher and project manager in Germany, Thailand, and the UK before moving to New York.
Yasmine Dabbous is a visual culture artist and researcher from Beirut, Lebanon. Formerly an assistant professor of journalism and cultural studies, Dabbous left her university position to become the founder of Kinship Stories, a line of tribal art necklaces revolving around values, stories and craftsmanship. She is also the founder of Espace Fann, a Beirut-based creative space offering accessible university-level art education designed to heal and empower. Armed with a PhD in journalism and cultural history from Louisiana State University and a Textile/Surface Design degree from FIT, Dabbous fuses interdisciplinary methodologies and mediums to create works combining travel, storytelling, collage and fiber art.
Barbara Mugnai is Adjunct Professor since 2007 for FIT in MILAN, the Fashion Institute of Technology study abroad program at Politecnico di Milano, where she runs courses related to several areas of expertise: from draping to pattern-making, from tailoring techniques to active sportswear constructions. She is currently in charge of the project Research in Didactic Innovation within the Department of Excellence in Fashion Design for Politecnico di Milano with the aim of studying, developing and applying new method of teaching and to create new didactic tools to facilitate the learning process for bachelor's degree Fashion courses.
Moderator:
Cultural Fellow

Isha Kesarwani
One of the primary aspects of the concept of 'making an impact' is 'doing measurable good'. It is linked to the fact that there are a growing number of social and environmental challenges that we as society members can, and must, tackle. Courtney Deacon Lalotra, FIT Alumna 2010, International Trade and Marketing shares how her organization, One Life to Love, was able to pioneer COVID relief efforts in migrant communities in India during a nationwide lockdown, and further adapt their already established programs to address the evolving needs pertaining to girls' education, women's health, and children with special needs. Courtney elaborates how One Life to Love envisions to be better prepared for future needs and how everyone can shoulder the responsibility.
March 11
Presenter:
Courtney Deacon Lalotra is the Founder and President of One Life to Love, an international nonprofit organization based in New Jersey. She is leading social change efforts in India through her work with abandoned special needs children. She is further making a mark in the field of girls education and women's sexual health. Courtney believes empowering women and children ushers in a mindset and generational change necessary for community development.
Respondents:
Cultural Fellows Siddhi Daga and Isha Kesarwani
Join Cultural Fellow Anya Swapp as she introduces BSU Vice President Ashleigh Simpson in an interview with Jo-Well Paupaw, senior writer and producer for BET. While exploring some concepts within the BSU's "Back to the Present'' exhibition, parallels are drawn to Jo-Well Paupaw's career journey. Through this conversation, they will discuss the importance of blackness in creative industries like fashion and entertainment, while finding a likeness in their work.
Friday, February 26
12:15-1pm
Participants:
Cultural Fellow

Anya Swapp

, Fashion Business Management

Ashleigh Simpson is now in her final semester of the Fashion Design AAS program at the Fashion Institute of Technology. She has participated in numerous events promoting cultural awareness within the fashion industry while undertaking various roles of leadership. As an Orientation Leader and Vice President of the Black Student Union, her interactions have led her to become more hands-on. She is a co-curator of the Back to the Present virtual exhibition which opened February 2021 and has led a Sustainable Black-Owned Business Panel in partnership with FIT's UNICEF club in October 2020. She will continue her education in FIT's Fabric Styling BFA program in Fall 2021.

Jo-Well Paupaw

is an award-winning writer-producer dedicated to promoting and spotlighting

narratives that are inclusive of diverse stories in on-air, digital, social, experiential, out-of-home

and print. Whether it's driving social awareness or entertaining millions, her commitment is to

create high-impact and quality content that's a reflection of the human experience. She holds a

bachelor's degree in Advertising and Marketing Communications from the Fashion Institute of

Technology. Jo-Well is currently the senior writer-producer for BET (Black Entertainment

Television)

specializes in short-form, trailers, promos, key art, audio and AV storytelling.
On a chromatic sabbatical journey in 2019, Jada Schumacher journeyed around Mexico and Argentina working with local artists and their materials—targeting sites frequented by iconic designer-educators Anni Albers, Josef Albers, Ruth Asawa, Luis Barragán, and Clara Porset. Watch Jada as she crushes cochineal insects to yield vibrant crimsons and scarlets. Join her in a color-laden tour of art galleries, UNESCO World Heritage sites, and, of all places, a fountain for horses. Discover how native and urban architectural applications of color can influence contemporary culture around the world.
Thursday February 11, 2021
12:45-1:30 pm
Presenter:
Jada Schumacher is a Professor in the Communication Design Pathways Department at FIT and coordinates FIT's Color Studies Minor. She is Founding Director of designorange, a materials-obsessed design studio. In addition to creating custom designs, her work is featured in installations in cities such as Budapest, Stockholm, Tallinn, and Zurich (from the Centre Pompidou to the International Contemporary Furniture Fair NYC). She serves as an international Color and Trend Reporter for the Government of Japan and presents chromatic lectures at El Salvador Color Week, Harvard University, and the Association Internationale de la Couleur/International Color Association Conferences.
Respondents:
Cultural Fellow

Isha Kesarwani,

Fashion Design

Professor

Chiara Buss

graduated in art history from Columbia University, New York, and has an M. A. in palaeography from Archivio di Stato, Milan. In the mid-seventies she turned to research in textile history and has since published numberless studies on the subject, while dedicating a large part of her activity to planning and curating exhibitions on textile and fashion history in Europe, the USA and Japan. She teaches social history of textiles at the Graduate program at Università Cattolica, in Milano and at FIT, Milan campus at Politecnico, besides giving seminars at universities in Europe, Australia and China. She has directed the Textile Museum at the Ratti Foundation in Como, and the Institute of Lombard Art in Milan. Her books have been translated into English, French, German, Japanese and Chinese.

Featuring paintings by

FIT Fine Arts students

and music by

Daniel

Cooper,

Adjunct Associate Professor in FIT's Film, Media, and Performing Arts.
In time of quarantine, a new generation of designers, artists and creative thinkers are reimagining what the future can look like. We talk to those working in a creative economy that is both underestimated and underrepresented, Southeast Asia, about their brand identity post-pandemic and personal identity as Southeast Asian designers in a world working to decolonize life—and art.
Thursday, December 17
9-9:45 am
Participants:
Cultural Fellows

Zeke Edwards,

Entrepreneurship, and

Audrey Martiandy

, Textile/Surface Design

Tom Trandt, Founder and Designer, Môi Điên Studio: After graduating with his BA in fashion design from Parsons in New York, Tom Trandt returned to his home of Ho Chi Minh City, Vietnam to start his independent fashion brand Môi Điên. His unisex designs are inspired by Asian streetwear with a focus on sustainability. He has received international recognition for his work and has been featured in the Forbes Vietnam 30 Under 30 list.

Vu Thao, Founder & Designer, Kilomet109: Based in Hanoi, Vu Thao is a pioneer in Vietnam's sustainable fashion industry. Since its founding, her brand Kilomet109 has worked with local artisans throughout Vietnam and draws from the country's rich textile heritage. All of her designs are produced using natural and sustainably sourced materials. Her work has been featured in the New York Times and Harper's Bazaar.

Pipatchara Kaeojinda

, Founder & Designer, PIPATCHARA: Since graduating with her BFA from the Academy of Arts University in San Francisco and later with her graduate studies at the esteemed

École de la Chambre Syndicale de la Couture Parisienne, Pipatchara has worked with brands like Ralph Lauren, Chloé and Givenchy. She now designs for her Bangkok-based namesake brand, PIPATCHARA, which works with craft communities throughout Thailand to create hand-made accessories.
As a fashion historian and independent curator, finding ways to educate audiences from a distance due to COVID is a new challenge that Darnell-Jamal Lisby seeks to tackle. With his expertise in delineating the impact of Blackness within the history of fashion, creating content that physically reaches audiences and also intertwines subject matter that relates to current social issues. In his informal presentation, Darnell will highlight the ways he's able to disseminate research using various social media outlets and curatorial ventures, hoping that his journey may inspire solutions for emerging scholars and fashion-related professionals.
Thursday, December 10
12-12:45 pm
Participants:
Darnell-Jamal Lisby

is a fashion historian and independent curator; he holds a BS in Art History and Museum Professions and an MA in Fashion and Textile Studies, both from the Fashion Institute of Technology. Lisby approaches the history of fashion from an art historical context with a particular interest to illuminate the impact of Blackness on fashion history in the twentieth and twenty-first centuries. In addition to his recent work to help curate the Willi Smith: Street Couture exhibition at Cooper Hewitt, Smithsonian Design Museum, he contributed to the fashion curatorial efforts at various institutions such as the Museum at FIT and the Metropolitan Museum of Art. He also contributes regularly to various academic and mainstream platforms, expanding how he educates audiences on the discipline. His credits include works for Cultured Magazine, where he is a contributing editor, Teen Vogue, the Fashion and Race Database, and the FIT Fashion History Timeline.
We must all be conscious of the world around us, the people, their stories, their culture and learn to understand them. Respectful, authentic and socially correct representation matters now, more than ever. This panel is a starting point for conversation around cultural appropriation in the arts, media, and beyond. Together, we can educate ourselves to not only consume, but also create in a way that respects the integrity and boundaries of a culture, without succumbing to the stereotypes and stigmas around them.
Thursday, November 19,
12:30-1:15 pm
Participants:
Cultural Fellows and students

Siddhi Daga

, Fashion Design, and

Papa Oppong

, MFA Fashion, with Professor

Sara Paci

, FIT in Florence,

Kyunghee Pyun

, Associate Professor in History of Art, and

Valerie See

, Fashion Business Management and Asian Studies student
We examine the issues and problems of cultural appropriation and borrowing that stem from the structure of power dynamics in the creative industries, fashion and entertainment in particular, and look at a number of specific case studies to explore whether they are culturally offensive or not. Analysis of the case studies shows that understanding cultural appropriation requires global and socio-historical contextualization and cultural inequalities inherent in various aesthetic expressions, and, they raise thought-provoking questions as to how far designers, creators, and entertainers can go to utilize and adopt other people's cultural components as part of their creative inspiration and are not perceived as an offensive mockery or vulgar imitation. A complex dialogue between cultural appropriation and creative inspiration serves as a window to further investigate the history, values, customs, and beliefs of different cultures in multilayered global contexts, such as social, economic, political and religious dimensions, and it simultaneously raises the level of our cultural awareness.
Thursday, November 12
12-12:45 pm
Participants:
Dr. Yuniya (Yuni) Kawamura earned her PhD in Sociology from Columbia University and is trained as a professional designer at Bunka College of Fashion in Japan, Kingston University in the UK, and FIT. She is the author of The Japanese Revolution in Paris Fashion (2004) and Fashioning Japanese Subcultures (2012). She is a board member of the International Fashion Research Centre at Bologna University. She has been invited to teach a class on Fashion Communication to MA students in the School of Design at Politecnico di Milano during the Fall 2020 semester. Her research interests include fashion theory, French haute couture, youth subcultures, ethnic dress, and indigenous needlework. She is currently working on two books: "The Exclusive World of Geisha and Maiko in Contemporary Japan" and "Fashion and Sustainability in New York".

Dr. Jung-Whan Marc de Jong is Associate Professor of Sociology in the Social Sciences Department at the Fashion Institute of Technology. He was born in Seoul, South Korea, grew up in The Netherlands, and ended up in New York City in August 2009 after working and studying in London and Los Angeles for over a decade. In addition to cultural appropriation in entertainment, he conducts research and teaches courses in digital sociology, criminology, and East Asian global pop culture production. Dr. de Jong holds MA degrees in American Studies from the University of Amsterdam and the University of London's School of Advanced Studies, and a MA and PhD in Sociology from the University of Southern California.
Bob Marley, the godfather of Reggae, says it best, "one love, one heart, let's get together and feel alright." The Black Lives Matter Movement has the world saying, "enough". Anya Swapp, International FIT student and Cultural Fellow, presents her passion project, "Next of Kin", an art representation in support of the movement to establish systematic changes. This conversation is themed around Afrofuturism-- possessing the imagined African identity that could have potentially emerged from an African cultural experience uninterrupted by oppression. We invite all to join the conversation on Black excellence and racial equity as we continue to spark change.
Thursday, October 29
12:30-1:15 pm
Participants:
FBM student and Cultural Fellow

Anya Swapp

with

Awa Doumbia

and

Kiara Williams

, members of the Black Student Union, and

Janice Lawrence-Clarke

, FIT Alum and Founder of CAFE - Caribbean American Fashion Exchange
In a beautifully illustrated talk, Pyun discusses joyous spectacles of modern life such as the night life, emergence of restaurants and cafes, strolls in department stores, and musical performances in theaters at the turn of the twentieth century in New York City and in other large cities. Ironically, we have learned that these are types of activities we should avoid and curtail during the pandemic. In this talk, we will appreciate a cosmopolitan lifestyle with reflections on public health and technology.
Thursday, October 22
4:00-4:45pm
Participants
Dr. Kyunghee Pyun

is an Associate Professor at the Fashion Institute of Technology, State University of New York. Her scholarship focuses on history of collecting, reception of Asian art, diaspora of Asian artists, and Asian American visual culture. She was a Leon Levy fellow in the Center for the History of Collecting at the Frick Collection. Fashion, Identity, Power in Modern Asia surveyed modernized dresses in the early twentieth century. She is working on a new book on school uniforms in East Asia.
Angelica Pomar, FIT Art History and Museum Professions senior, and Eva Mayhabal Davis, arts advocator and curator, will discuss the climate of the art world post-pandemic and what it means for Black, Indigeous, people of color, women, and queer individuals working in the arts. They will evaluate how art institutions can better represent these identities in both exhibitions and on the art careers front. Most importantly, they will look at how wider representation in the arts can be the catalyst for social equity and change.
Thursday, October 1
1–1:45 pm
Participants
Angelica Pomar

is an Art History and Museum Professions senior at FIT. She identifies as Nuyorican and South American, and is passionate about social justice within the arts. Last Spring, Angelica studied abroad in Florence, Italy to further study art history and museum studies at the Lorenzo De' Medici Institute. Angelica is also an artist educator at the Museum of Arts and Design, where she helps facilitate and plan virtual public programming with the education department. Angelica has previously helped curate the exhibition Survivance and Sovereignty on Turtle Island: Engaging with Contemporary Native American Art at the Kupferberg Holocaust Center in Queens, New York. Angelica has worked with art institutions since 2016, some of which are the Whitney Museum, New York Historical Society, SOHO20 Art Gallery, and The Morgan Library.

Eva Mayhabal Davis

(b. Toluca, Mexico) is an arts advocate and curator. She has collaborated on exhibitions at BronxArtSpace, En Foco, Expressiones Cultural Center, MECA International Art Fair, Photoville NYC, Queens Museum, Ray Gallery, and Smack Mellon. Based in Brooklyn, she is a co-director at Transmitter, a collaborative curatorial initiative. She is currently the intake associate at UnLocal, Inc, a non-profit organization that provides direct immigration legal representation, legal consultations, and community education to New York City's undocumented immigrant communities.
FIT faculty member Alex Nagel in conversation with Cacao Rocks (Athens, Greece), Helia Darab (Tehran, Iran), Aisling Sareh Haghshenas (Tehran, Iran), Sara Aghajani (Siegen, Germany), and Renato D'Agostin (Venice, Italy). A discussion around how artists and galleries around the world are responding to COVID-19 and the challenges of 2020. Themes include community building and ways to understand how artists around the world respond to the new world we live in. What are the themes that bind artist communities in Tehran, Athens, and Venice in 2020? What are ways to respond and engage to the new global environment with the production of art in the summer and fall of 2020
Thursday, September 24
Participants
Dr. Alexander Nagel

is an assistant professor in FIT's History of Art department.

Cacao Rocks

(Megoulas Yassonas, born 1985) is a street graffiti artist based in Athens, Greece. His work including paintings, sculptures, video art and installations, has been exhibited in museums and galleries including the Benaki Museum in Athens and the Onassis Cultural Center and Salomon Arts Gallery in New York City. He represented Greece at Mediterranea 2018 Young Artists Biennale.

Helia Darabi

, lives in Tehran and is a member of the Contemporary Art Committee in the Art Research Center at the Iranian Academy of Art. She is writing and teaching on contemporary Iranian visual art at universities in Tehran and through her personal online platform.

Aisling Sareh Haghshenas

is an artist based in Tehran. Her work, which includes urban photography, video, and art installations, have been exhibited in the United Arab Emirates, Russia, Austria, the United States, the United Kingdom, Italy, Slovakia, and Turkey.

Renato D'Agostin

(born 1983) is a photographer based in Venice, Italy. In New York City, he worked as an assistant to Ralph Gibson. Renato's work has been exhibited in The Library of Congress in Washington D.C., the International Center of Photography in New York, as well as LACMA in Los Angeles and elsewhere.