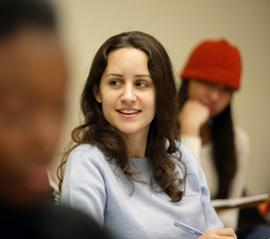 Our courses reflect what's happening every day in corporate offices, showrooms and studios around the world.
Whether you're just beginning your college education or seeking an advanced degree, our academic programs prepare you for a career in more than 30 fields leading to Associates, Bachelor's, and Master's degrees.
Starting your very first day at FIT you will be learning about your chosen field. Each program combines the practical and the theoretical, giving you hands-on learning that will create a seamless transfer to the professional world. Our faculty members are not only nationally and internationally recognized for contributions in their fields, they're engaging teachers dedicated to their students.
Academic life at FIT also includes the liberal arts, study abroad opportunities, FIT in Italy, evening/weekend degree programs, and online courses. So no matter what your aspirations, dreams, and lifestyle, you will be able to tailor FIT to meet your needs.
Learn more about what FIT has to offer you: