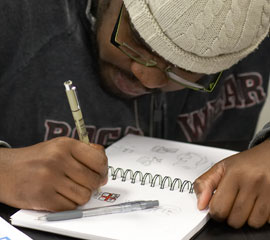 To be considered for admission to Film and Media or any major in the School of Art and Design, you must submit a portfolio for evaluation by FIT faculty members. Below you will find the specific portfolio requirements for your chosen major. Materials received for other majors will not be reviewed or considered.
Please review your major-specific portfolio requirements below. After receiving confirmation that your application was received by FIT, within two weeks you will receive an email from

[email protected]

that includes a link to submit the portfolio for your major through SlideRoom.
Materials received through the mail or in person will not be reviewed or considered.
Check out Tips on How to Prepare a Portfolio and consider attending a National Portfolio Day or FIT Portfolio Preview Day prior to submitting your portfolio
Do not submit a portfolio through SlideRoom if you are applying to the following Bachelor of Fine Arts programs: Fashion Design, Footwear and Accessories Design, Illustration, Interior Design, Textile/Surface Design, or Toy Design. You will be contacted by Admissions or the major department with information about submitting your portfolio.
Major-Specific Portfolio Requirements
Click on your chosen major to review specific portfolio instructions.
SlideRoom Information
Before starting a SlideRoom account, you will need to log in to your MyFIT account to retrieve your FIT student ID number. Your ID number is 9 characters long, including the @ and 8 digits.
You will be charged $10 to submit your portfolio in SlideRoom.
Please select your intended entry term and major carefully; refunds are not provided for any reason.
You will only be considered for admission to the major that is listed on your current application.
Do not submit more than one portfolio at a time.
If you wish to be considered for a different entry term or major, email

[email protected]

to request the appropriate change to your application. Once you receive confirmation your request has been processed, you may submit your portfolio.
If you change your major after submitting your portfolio, you will be required to submit another portfolio for the new major, and an additional $10 fee will be assessed by SlideRoom.