Request Items for Pickup
Patrons are able to pick up requested material in Library Lobby anytime the 5th floor of the Library is open using our "Hold Request" service (see below for step-by-step instructions). Items are ready for pick up when you receive a "Library item ready for pick up" email. Turnaround time is generally a few hours, but may take up to one day to process. Items are held for five days across from the Access Services Desk. You will need to check out the material either using our self-checkout machine or with a staff member at the Access Services Desk.
Items cataloged as "Reserves" or "Periodicals" are ineligible to be borrowed for outside use as we are open.
Pick up is unavailable when the College is closed.
We reserve the right to recall checked out material if necessary. Library services and/or access may change or cease at any time dependent on college administration directives based on SUNY, state, and city mandates.
How to Request an Item for Pick Up
1. SIGN IN
Visit OneSearch and log into your account using your MyFIT username and password. For password issues, please contact Tech Help.

2. SEARCH
Search for books and DVDs using the Physical Materials filter

3. REQUEST
Open the item record and scroll down to "Place a Hold Request" (remember you must be logged in to see this link)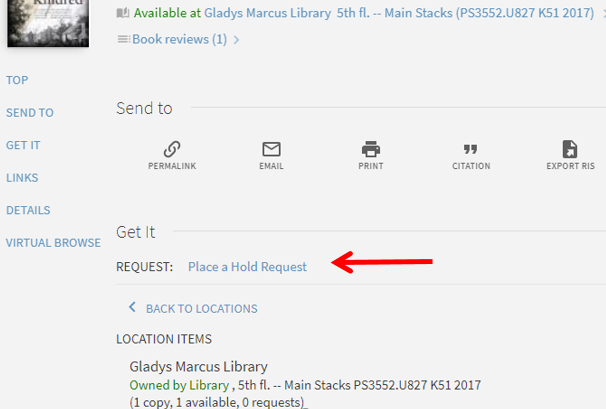 4. SELECT LOCATION
Click on the link and select "Gladys Marcus Library" as your pick up location. Enter a "not needed after date", if applicable.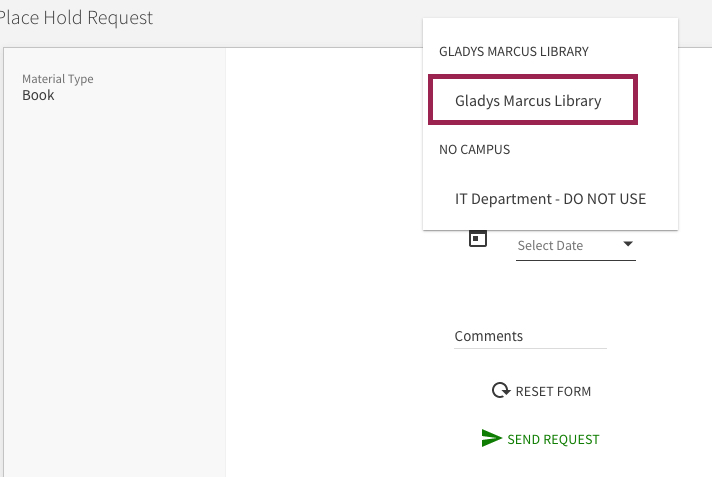 5. FINISHED!
If your hold request was successful you will receive a success message. If not, please try again or contact us for further help. You will receive an email with the subject line "Library item ready for pick up" when your item(s) are ready for pickup.

Please note: popular titles may have a wait time as multiple people have requested it. For example the title below has 6 hold requests.

If an item is checked out or has an active hold request, you will be given the option to be placed on a waitlist for our copy ("Place a Hold Request") or request it from another library (see Interlibrary Loan for more information).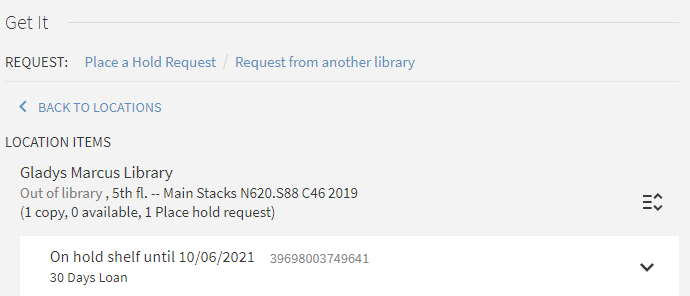 Service desks/services/hours are subject to change and may be unavailable throughout the semester due to staffing levels.
Please feel free to contact us if you have any questions or concerns at [email protected]
[Last Updated 10/1/21]
Borrowing Materials
The following groups may borrow material in General Circulation for home use:
faculty, credit seeking students, staff, administrators, and senior learners with valid FIT ID cards
faculty and students with valid ID from other SUNY institutions
Students may borrow material for only the semester they are registered for. For example, a student is registered for the fall semester, loan privileges will end at the end of the fall semester. As another example, a student currently registered for the spring semester who has not yet registered for summer OR for fall may not borrow material during the summer.
You must present a current FIT ID or SUNY photo ID in order to check out or renew books. There are no exceptions.
The following groups may borrow materials from service desks for library use only with a valid ID card:
FIT alumni
FIT models
visitors to the Library
Fragrance Foundation member
non-credit students including: high school students, Saturday Live students, Summer Live students, other Precollege Program students, EOP students, non-credit Center for Continuing & Professional Studies students (formerly "Seminar Students")
Acceptable IDs
current driver's license
any current ID from another school, college, or university
current government issued ID cards / passports
Unacceptable IDs
FIT schedule of classes, Bursar's receipt
social security card, bank and/or credit cards
keys, cellphones or other paraphernalia
club membership, business, public library cards
anything else not listed under "Acceptable"
Visitor Information for: