Fall 2020 Events

Fall 2020 Talking Trade @ FIT forums (Rescheduled from Spring 2020)
Flyer for Fall 2020 Talking Trades (.pdf)
Talking Trade @ FIT is free and no prior registration required. Simply click on the individual event links to view.
Technology in International Trade
In Partnership with the Jay & Patty Baker School of Business & Technology
International technology experts will discuss various technology solutions used by brands and manufacturers today to help streamline and positively impact traditionally labor intensive work flows.
Wednesday, September 30, 2020
5–6:30 pm
Watch Technology in International Trade
Moderator and Arranger: Ms. Irina Kapetanakis, Vice President of Marketing, Suuchi Inc. and Founder and CEO, Obscür Intimates
Panelists:
Mr. Mark Burstein, President, NGC Software
Mr. Paul Magel, President, Business Applications and Technology Outsourcing, Computer Generated Solutions and Blue Cherry
Ms. Annelise McCarthy, Head of Supply Chain Client Team, S&P Global Market Intelligence


Navigating Your Career ITM Alumni Discuss the Primary Skill for Success - Adaptability
In Partnership with the Jay & Patty Baker School of Business & Technology
This year's alumni panel will focus on how professionals build their portfolio of skills. Some evolve within companies, some move on to related positions in new companies, and some to new industries entirely, but all share a common thread of adaptability.
Tuesday, November 10, 2020
5–6:30 pm
Watch Navigating Your Career
Moderator and Arranger: Prof. Sonja Chapman, Associate Professor, Department of International Trade & Marketing, Jay & Patty Baker School of Business and Technology, FIT
Panelists:
Mr. Joseph Delaney, Product Development Manager, Caro Home, ITM '12
Ms. Jamie Gonzalez, Account Manager Strategic Partnerships, The Children's Place, ITM '10
Ms. Sufia Hossain, Founder and CEO Silly Chili Hot Sauce, ITM '14
Ms. Julianna Klepacki, Digital Marketing Manager, NBC Universal Media, LLC, ITM '13
Ms. Paris Taylor, Business Sales Manager, Coty, ITM '14
Fall 2020 ITM Field Trip (Rescheduled from Spring 2020)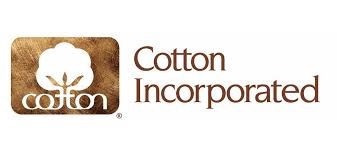 Cotton Incorporated On-Site Visit
Thursday, October 22 through Friday, October 23, 2020
Cotton Incorporated is located at 6399 Weston Pkwy, Cary, North Carolina.
Meet: October 22, 11:30 am, outside Feldman Center lobby (look for the bus on 27th Street between Seventh and Eighth Avenues)
Depart: The bus will leave FIT a noon; the flight from Newark Airport departs at 2:41 pm
Hotel Accomodations: Shared rooms at Wingate by Wyndham Raleigh Durham/Airport, 5223 Page Road, Durham, NC
The number of attendees is limited and reservations will be taken on a first come, first served basis. Reserve a spot by noon on Monday, February 10, 2020 by contacting the ITM Department and Industry Project Coordinator, Business and Liberal Arts Center, Room B436. To make a reservation, you must deposit $50 when signing up, in an envelope with your name and phone number. This amount is simply to signify your commitment to participating in the field trip, which is being funded by the department. Your depost will be returned upon completion of participation in the field trip.
Students interested must provide the following:
full name
date of birth
phone number

email address

copy of driver's license or picture ID
Any students or faculty that have a student visa and/or work visa, must also include copies of passport including this information:
passport number and issuing country

embassy that issued the U.S. visa number
Flyer for field trip to Cotton Inc. (.pdf)
This on-site visit is being organized by Mr. Mark Messura, Senior Vice President, Global Supply Chain Marketing Division, Cotton Incorporated and Sonja Chapman, Associate Professor, ITM.
---
Technical Design students big win at Gerber Ideation Conference!
"The winner, Alan Ramo, a recent graduate of Technical Design won for his coat with attachable dress that was laser cut with his design and the coat was completely biodegradable pineapple leather like fabric. He used technology and sustainable fabrics to win the competition. Technical Design had 4 out of 5 FIT Technical Design students as finalists from around the world. They all won free Accumark software and Winner won free 3D software.
The convention was held this in Fall 2019 in New York at Marriott Marquee."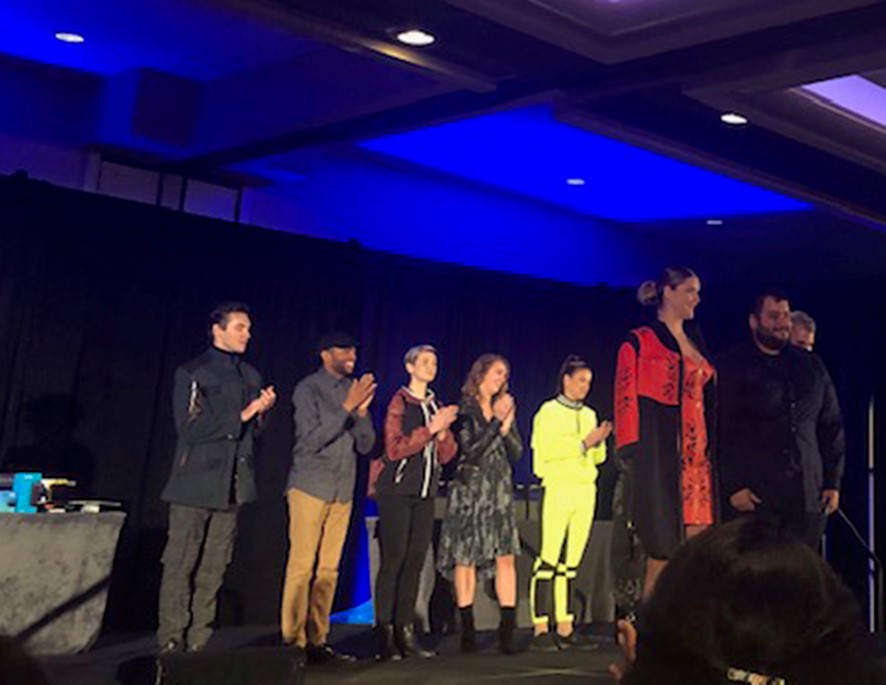 Technical Design students and their models in outfits.
Left to right. John Bell, Nicole Pearson , Taylor Byron and Alan Ramo.
---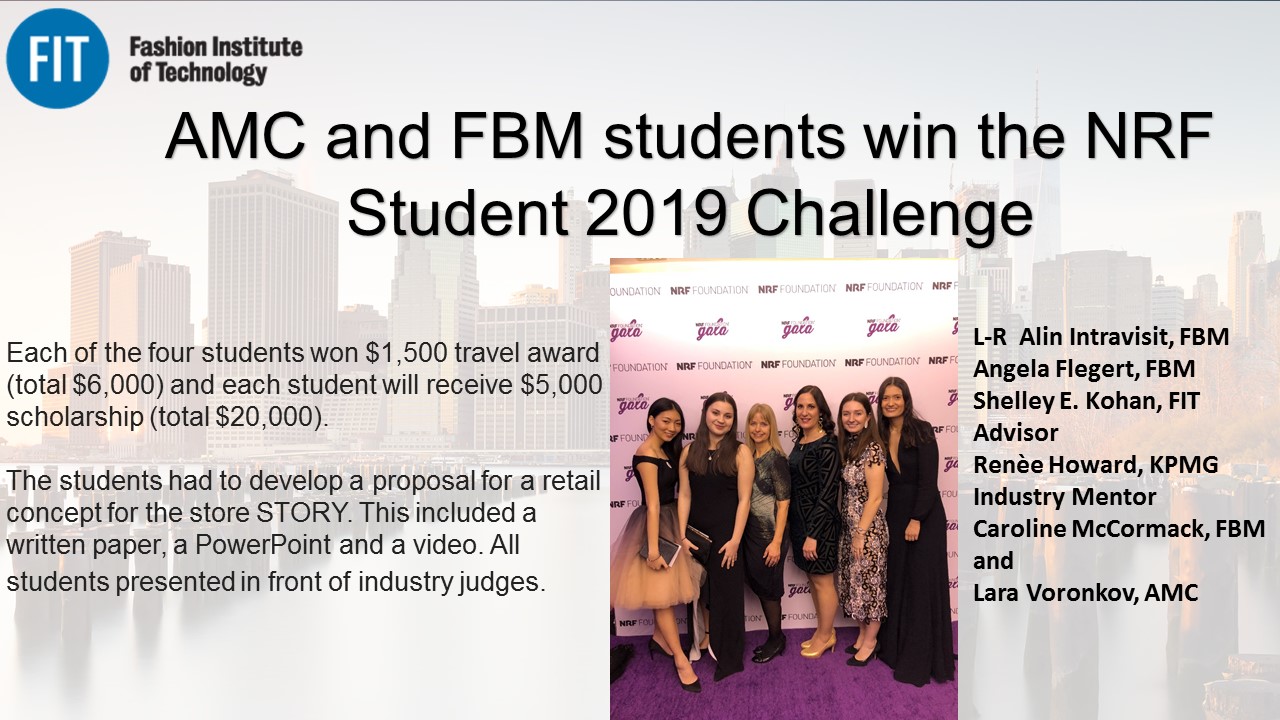 ---
Event: The Jay and Patty Baker School of Business and Technology Dean's Forum,
featuring the Business of Modest Wear
Wednesday, October 10 at 6pm in the Katie Murphy Amphitheatre
Modest wear has gained in popularity with Christian, Jewish and Muslim women thirsty for

stylish clothes that satisfy their religious preferences and for women with a preference for wearing less skin-revealing clothes.

The audience will hear from modest wear industry professionals Lisa Vogl, Director of Verona's Collection which is sold on Macy's.com and through her store in Orlando, FL., Nailah Lymus, CEO of Underwraps, the first Muslim/Modest female modeling agency, Veronica Marrinan, one of the partners in Litany, a modest wear company targeting Catholic women, and Sumiyyah Rasheed, CEO, SWH Apparel, a domestic manufacturer of plus size women's active wear and lingerie. The panel will be moderated by the renowned plus size advocate, Catherine Schuller, CEO/Executive Director of Runway the Real Way.

The panel will address and dispel myths and stereotypes commonly attributed to modest wear consumers, such as the misconception that equates modesty with drab or lack luster apparel and style. "Just because a woman dresses modestly doesn't mean she's lacking in fashion sensibility, said Ms. Rasheed. Furthermore, we want to encourage the future designers to explore a career in the lucrative modest wear industry and, armed with their technical and creative expertise, they can lead the effort in the fashion industry to bring fashionable styles and change to the market place."

There will be a Q&A session after the panel discussion.

This program is part of FIT's Civility Week, which seeks to engage the community in a
discussion of respectful ways of living and learning. Learn more at fitnyc.edu/civilityweek

To watch the Dean's Forum again, click on below link.
https://livestream.com/FIT/modestwear
---

News: FIT Awarded Accreditation of Its Business Programs
The Fashion Institute of Technology's Jay and Patty Baker School of Business and Technology has been awarded accreditation of its business programs by the Baccalaureate/Graduate Degree Board of Commissioners of the Accreditation Council for Business Schools and Programs (ACBSP).
FIT Awarded Accreditation of Its Business Programs (FIT Newsroom)
---
Event: The Business of Curves: Fashion's Future
The Jay and Patty Baker School of Business and Technology Dean's Forum, in collaboration with Technical Design
Wednesday, November 15, 6pm
John E. Reeves Great Hall
Watch the Archived Live Stream
The Dean's Forum will present "The Business of Curves: Fashion's Future," featuring industry pioneers and visionaries Emme, Susan Moses, and Catherine Schuller. This groundbreaking event will highlight the extraordinary growth and expansion of the plus size fashion marketplace. The forum is designed to introduce and encourage Business and Technology students to think about the business of design with integrity and high style for all women, to eliminate the dearth of options still faced by this demographic, and to embrace the concept that curvy women are glamorous, fashion forward, and a highly lucrative untapped market. Fern Mallis, creator of New York Fashion Week, will moderate the presentation and question and answer session. "The Business of Curves: Fashion's Future," heavily supported by fashion and beauty brands, modeling agencies and retailers, will also feature a video presentation, fashion show and exhibit. The Dean's Forum takes place at 6:00 pm in the John E. Reeves Great Hall.
About the Presenters
Emme, known as the first plus size supermodel, is a five-time author, former television show host and founder of Fashion Without Limits, a design initiative promoting the creation of size 12 and up designs.
Celebrity stylist Susan Moses' is the author of The Art of Dressing Curves, touted as the plus size fashion bible by InStyle magazine. Her talent has been showcased on red carpets from the Oscar's to the Grammy's, in print and television advertising and a host of magazines.
Catherine Schuller is a former model, image consultant, curator of Runway the Real Way, a monthly, diverse fashion event, and an instructor for FIT's Petites and Plus Size Continuing Education Studies.
Special Guest Moderator
Fern Mallis is the award winning creator of New York Fashion Week. She has also been called an industry titan, doyenne and the Godmother of Fashion. As the creator and host of the premiere conversation's series Fashion Icons w/Fern Mallis at New York's prestigious 92nd Street Y, Mallis has assembled and interviewed a stellar roster of fashion insiders.
Event funded by the Student Faculty Corporation.
---
News: Dean Frumkin interviewed by Salon
Under Armour is betting high-tech "Made in U.S.A." apparel manufacturing will revive its growth
---
News: FIT Wins World Retail Congress Competition a Third Time
FIT's winning team: Meghan McCarty (FBM), Eleonara Mazzetti (FBM), Alaina McGuihan (CFM) and Yuen wing Tai (AMC)
April 2016. For the third time in four years, a team of four students in FIT's Jay and Patty Baker School of Business, representing the U.S.A, has won the Retail Future's Challenge, an international competition that takes place at the annual World Retail Congress. The FIT team traveled to Dubai and topped teams from Portugal, Hong Kong, Italy and England with Fora., a retail concept that "revolutionizes the status quo of department stores."
---
News: FIT Wins World Retail Congress Competition for 2nd Consecutive Year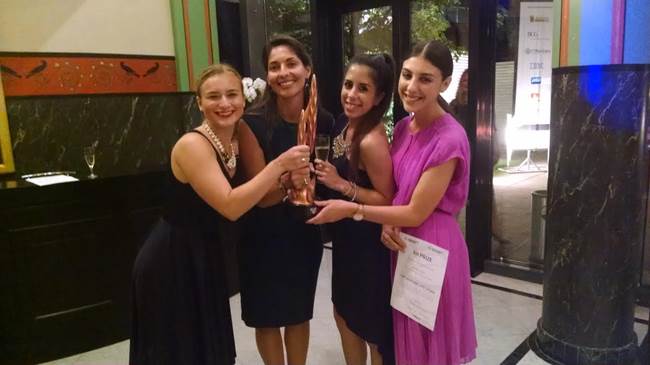 The student team with their award (left to right): Victoria Kulesza, Paula Cushman, Alison Rebozo, and Cassandra Napoli
October 01, 2014. For the second consecutive year, a team of four students in the Jay and Patty Baker School of Business and Technology, representing the United States, has won the Retail Futures Challenge, an international competition that takes place at the annual World Retail Congress. The FIT team, who traveled to Paris for the competition, bested teams from Hong Kong, London, Tokyo, and Marche, Italy, on September 30, with their concept for the Samsung Life Store "The Smart Apartment."
Paula Cushman is a second-semester student in the one-year program in Advertising and Marketing Communications. She is from Locust Valley, NY. Victoria Kulesza is a fifth-semester Fashion Merchandising Management student from Morris Plains, NJ. Cassandra Napoli is a seventh-semester International Trade and Marketing for the Fashion Industries student from Glen Cove, NY. Alison Rebozo is a seventh-semester FMM major and comes from Hillside, NY.
For the 2014 competition, the student teams were challenged to develop a new retail concept for the Samsung Life Store. They had to consider the needs of the millennial consumer in order to understand how the "internet of things"—the connected home, the convergence of products, and changing lifestyles—dictates the look, role, and delivery of a store selling Samsung appliances. Based on this, each team developed a retail store concept that included a basis for their concept, an explanation of the shoppers journey, a business model, and an earnings forecast. Samsung worked closely with the competing teams to advise and mentor the development of their ideas.
Each teams preliminary work had been submitted prior to the competition. Then, the retail concepts were displayed at the World Retail Congress, with teams on hand to discuss their concepts with executives. Finally, the teams made formal presentations to a panel of judges and an audience of retail executives.
The panel of senior retailers, design experts, editors, and Samsung executives included Ian McGarrigle, founder and chairman, World Retail Congress; Gerald Reitmayr, head of retail Europe, Samsung; Robert Thiemann, founder and editor in chief, Frame; Alexander Salzer, COO, Liganova The Brand Retail Company; Bernie Brookes, CEO and MD, Myer Holdings Limited; and Nora Fehlbaum, co-CEO, Vitra.
"It really says a lot about the students and FIT that we have won this major competition for the second consecutive year," said Robin Sackin, chair, Fashion Merchandising Management, and advisor for the FIT team. "The students gave an exceptional presentation. They worked extremely hard and made all of us at FIT so proud."
---
News: FIT Wins World Retail Congress Competition
Four FIT students participated in the World Retail Congress Competition held in Paris from October 7-9, 2013. Alexis Katsafanas (FMM), Jaime Duncan (FMM), Eleanor Arye (AMC), and Wen Jenny Zhao (TDM) presented their idea to take the retailer STORY and expand it to Paris and other cities around the world. Theirs was the winning presentation. The team was accompanied by FMM Chair, Robin Sackin.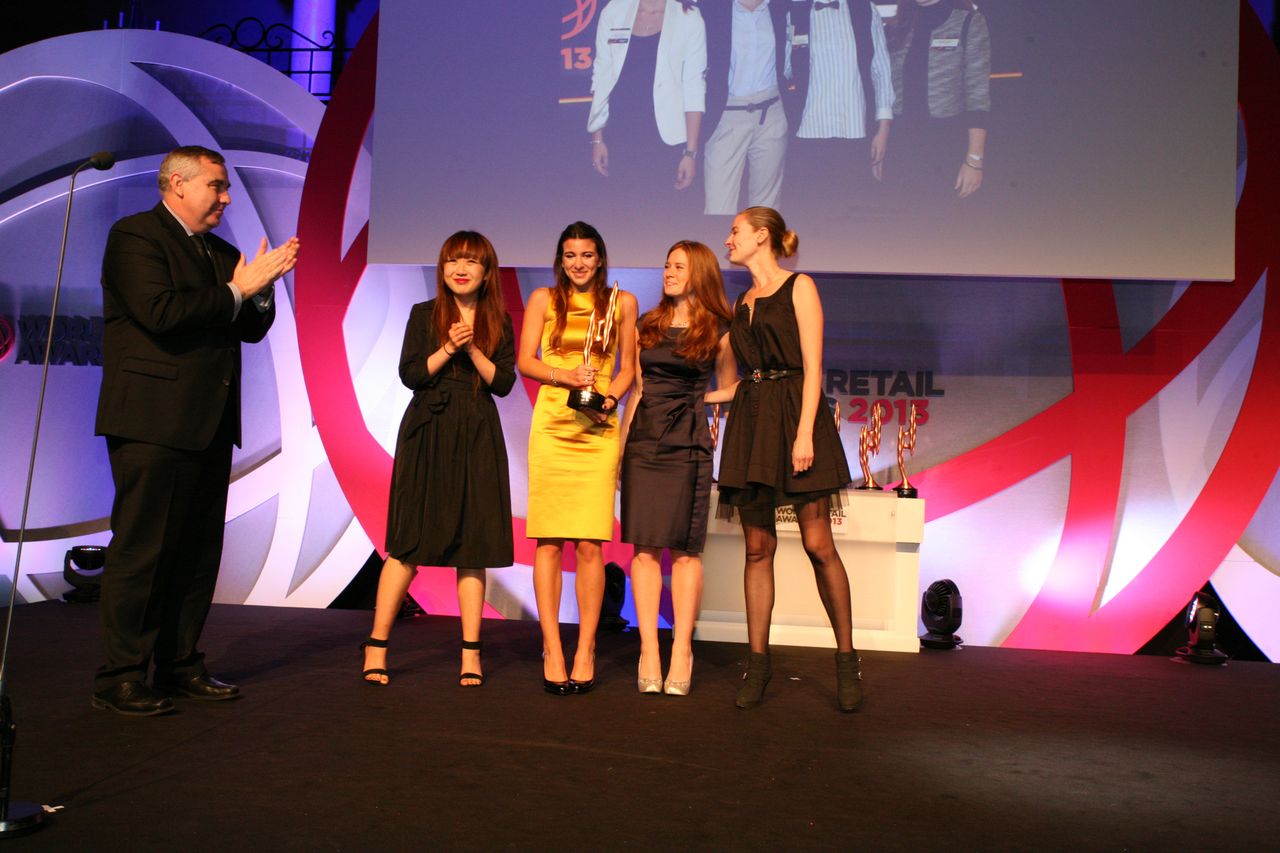 ---