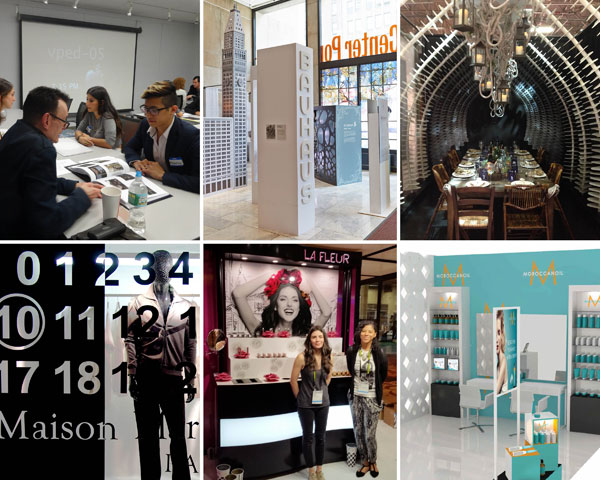 Dream it, design it, build it
The Visual Presentation and Exhibition Design program (VPED) is a unique educational experience. The program educates students to lead in the complete process of developing environments that inspire, inform, and persuade. VPED comprises Retail Development, including the development of complete stores, fixtures, window and merchandise displays; Exhibition Design, including museums, trade shows, zoos, theme parks, and visitor centers; and temporary installations like large scale events, pop-up stores, Christmas spectacles, photo shoots, and stage sets.

This program provides an in-depth, interdisciplinary education that prepares you to create displays and exhibitions from conceptualization through fabrication. In courses taught by professional designers with extensive experience, you will learn to use a variety of materials and techniques, shop construction including props, electronic media, and lighting.

You'll develop skills in graphic and spatial design, drafting for plans and elevations, and the technologies used in industry. Hands-on fabrication experience is offered through the building of displays, models, and on-campus exhibits, including a major capstone exhibition.

Networking events, field trips, and a required internship lead to multiple opportunities. Right after graduation, VPED students move on to jobs as designers, project managers, and production directors. After ten years many alumni have senior leadership positions as design directors, creative managers, and even CEOs.

Highlights
The Visual Presentation and Exhibition Design degree program—the first and only one of its kind in the country

—

is now in its fourth decade.
Students collaborate on actual projects with industry partners like Sephora, Godiva, Motorola, Brookfield Properties, and Glen Raven.
Student exhibitions are large-scale productions seen by thousands of people. The VPED Department has access to window and exhibition display space on one of the busiest blocks in New York City.
Classrooms are professional workshops fully equipped with the tools of the trade, including larger format printers and a wide array of shop tools.
In this program, you will:
Work closely with industry professionals on real-world projects like a pop-up store for Memorial Sloan Kettering and a timeline for the World Trade Center.
Use the city's museums, stores, and events as a real-life laboratory for your studies.
Display your work in a variety of on- and off-campus public venues.