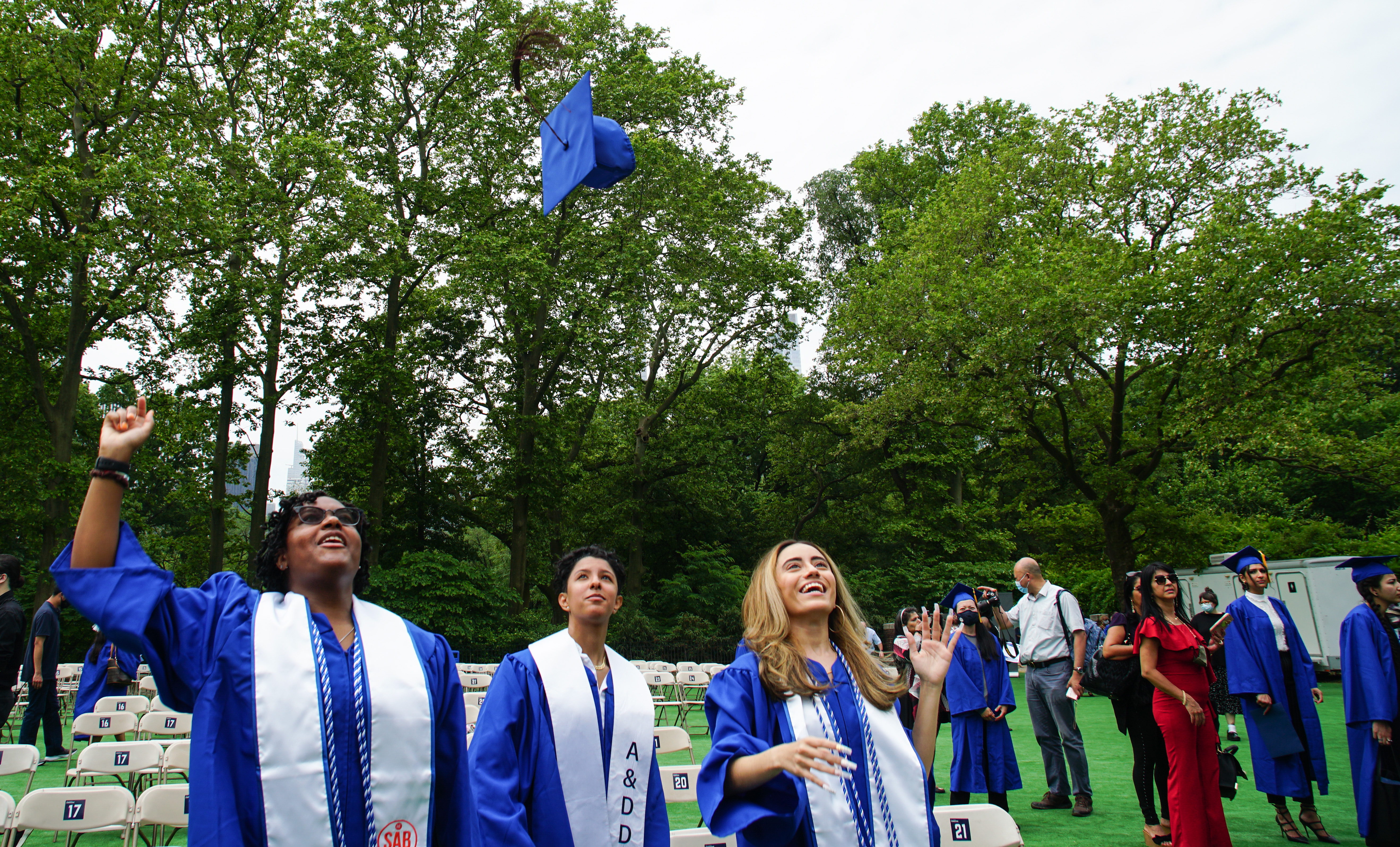 Commencement Day Details
Tuesday, May 24, 2022 • 10 am, 1 pm, and 4 pm
Wednesday, May 25, 2022 • 10 am and 1 pm
Rumsey Playfield, Central Park
We congratulate the Class of 2022 and wish the graduates and their guests a happy and memorable day!
To help ensure a pleasant experience for all attendees, FIT is pleased to provide information regarding access, logistics, and general instructions for the 2022 Commencement Ceremonies at Central Park's Rumsey Playfield.


Celebration in the Park
FIT will be commemorating your milestone at the ceremonies and invite you and your guests to participate in the graduation celebration by stopping by the celebration kiosks by the entrance gate to enjoy some light refreshments, pick up FIT mementos and gifts, pose for portrait photos with your family, purchase a floral bouquet or T-shirt, and more.

Alumni Relations and other FIT departments will join the celebration and will share information about future events and exciting networking and career opportunities.

Among the vendors that will also be present are Barnes & Noble at FIT with FIT merchandise, Island Photography with portrait photography packages, and The Commencement Group, a local floral provider, with flowers available for purchase before and after the ceremony. To browse the selection and preorder, please visit thecommencementgroup.com/fit.

The Celebration in the Park tents are open upon celebrators' arrival and will close 15 minutes prior to each ceremony.

The tents will reopen for 45 minutes after the end of each ceremony.
Venue Entrance
Use the Central Park entrance at Fifth Avenue at 69th Street; the path at this entrance leads directly to Rumsey Playfield. Visit the Rumsey Playfield website for specific directions.
Arrival Time and Ceremony Duration
Gates open to graduates and guests one hour prior to each ceremony. All tickets will be scanned at the entrance.
It is strongly suggested that students and guests arrive at least 15–30 minutes before gates open to allow sufficient time to get through security, visit the Celebration in the Park tents, and secure seats.
We estimate that each program will last 90 minutes from the start of the procession. As a reminder, multiple ceremonies are planned and setup for the next ceremony begins shortly after one ends. We kindly request that everyone proceed to the celebration kiosks or exit the Rumsey Playfield area to help accommodate the next ceremony's graduates and guests.
Attire
All graduates are required to wear academic regalia (cap, gown, and tassel). If you missed the deadline to purchase your cap and gown, Barnes & Noble will be at Central Park on the dates of the ceremonies and you will be able to purchase them there. Visit the Prepare for Graduation page for details on cap and gown pickup days.
Rumsey Playfield is a large, grassy lawn and the ground may be uneven. For this reason, we strongly suggest wearing comfortable shoes and discourage high heels. Commencement also often involves a good deal of standing and walking for both guests and graduates, so keep this in mind.
Tickets and Seating
Tickets* will be emailed directly to the graduates one week prior to the ceremony selected online from "See Tickets." Graduates and their guests must arrive together to enter the venue since no one will be admitted without an electronic ticket. Transfer of tickets is not allowed for any event to ensure proper contact tracing.
*Please note that FIT prohibits the sale or purchase of commencement tickets and the posting of advertisements offering tickets for sale or requesting tickets for purchase. FIT also prohibits the duplication of tickets as well as the production and use of counterfeit tickets. Any student who the college has reason to believe is selling tickets, has purchased tickets, has posted an advertisement offering to buy or sell tickets, or who is found to have produced or attempted to use a duplicated or counterfeit ticket will be subject to disciplinary action in accordance with the Code of Student Conduct. Penalties may include denial of permission to participate in commencement. Any guest found to be using such tickets will be refused admission to the ceremony.
Graduate Seating
Ushers will direct students to the graduates' seating area near the stage. Seating among the graduates is not assigned and will be available on a first come, first seated basis.
Guest Seating
Guests will be directed to the seating area directly behind the students or to the bleachers at the back of the venue. Seating is first come, first seated, and seats may not be reserved. If all members of your party have not yet arrived, please delay entering the venue until your party is together to ensure you will all be seated together.
Accessibility and Special Accommodations
Rumsey Playfield is an accessible venue. Accommodation requests for graduates and their guests may be directed to the Office of Disability Support Services (FIT-ABLE). Attendees with special needs (wheelchair assistance, FM systems, etc.) may submit their request via the Request for Accommodations at Commencement form. Closed captioning of the ceremonies can be accessed by selecting the captioning option on the commencement livestream, which will be available at fitnyc.edu/commencement and on Vimeo.
Limited accessibility seating is available for individuals needing accommodations and is available on a first come, first served basis.
People who will require assistance at the venue should use the Accessibility and Special Accommodations entrance on Fifth Avenue and 72nd Street.
Security
All events held at Central Park's Rumsey Playfield are required to comply with the venue's security regulations.
Note: There is no storage for personal belongings. We recommend that graduates bring only their caps, gowns, and essential personal items or a small handbag that they can keep with them during the ceremony.
Weather
All ceremonies will take place rain or shine. Ponchos will be provided if it rains. The only cause for cancellation of an event is due to lightning within a 15-mile radius and/or winds over 75 mph. The venue will be monitoring the weather for each ceremony and the general manager will make the decision, if necessary, to cancel the event. The venue will communicate a cancellation on their website and social media channels and FIT will also communicate any cancellation(s) via the college's communication channels.
Restrooms
Restrooms will be available for use by all attendees. There will also be an ADA-compliant restroom unit.
On-Site Health and Safety Requirements
At this time, graduates and their guests will not be required to provide proof of vaccination or to wear masks to attend the outdoor commencement ceremonies. However, these conditions are subject to change should federal, New York State, New York City, or venue guidelines change due to the pandemic.
Commencement Livestream
FIT commencement 2022 will be streamed live on this website, fitnyc.edu/commencement, and on Vimeo, and can be viewed from any location with internet access. Use these same links to catch the video on demand after the events.
Code of Conduct
Graduates, please remember at this event you will be held to the same expectations and standards outlined in the Code of Student Conduct. Any individuals who violate these policies will be asked to leave the ceremony.
Further details will be posted when available. This page last updated: May 26, 2022.