Loop for Good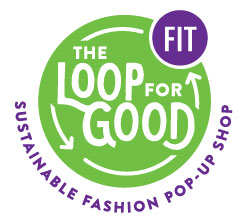 Professors Jennifer Lee, Vincent Quan, and Laticha Brown created a student run pop-up clothing swap to promote sustainable recycling and circularity in the fashion industry. Over 150 students and faculty members across FIT's campus collaborated to launch the pop-up by collecting and donating clothes, upcycling post-consumer textiles, incorporating a natural dye garden and repurposing discarded building materials. The event hosted 1,000 visitors over 2 days. For more details, please visit the Instagram page: @fitsustainabilitypopup.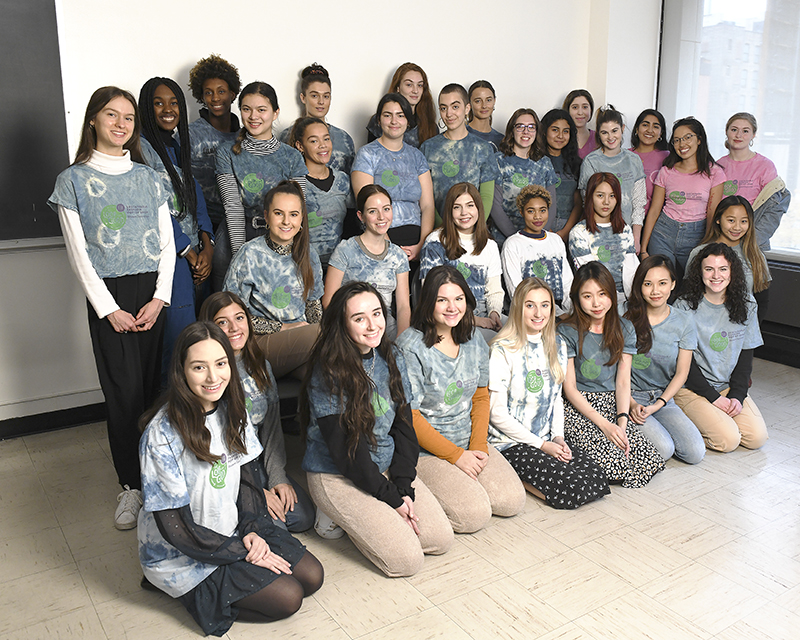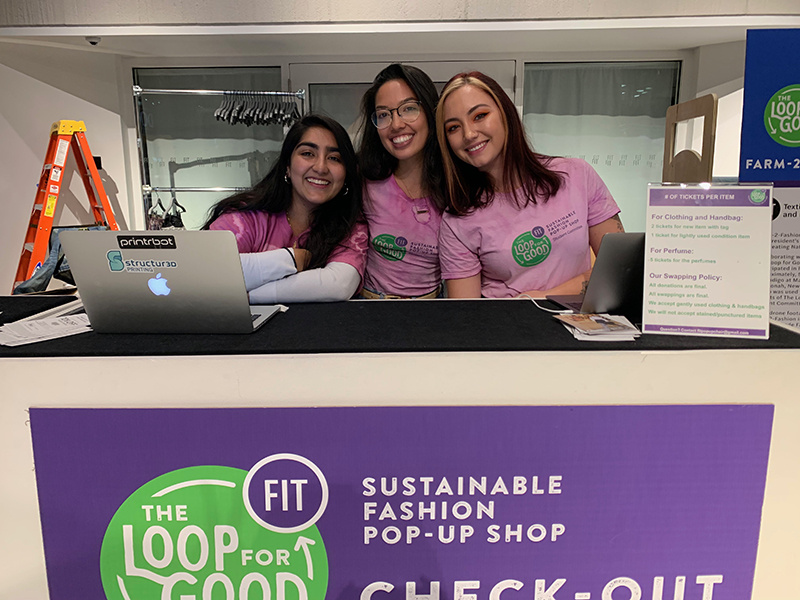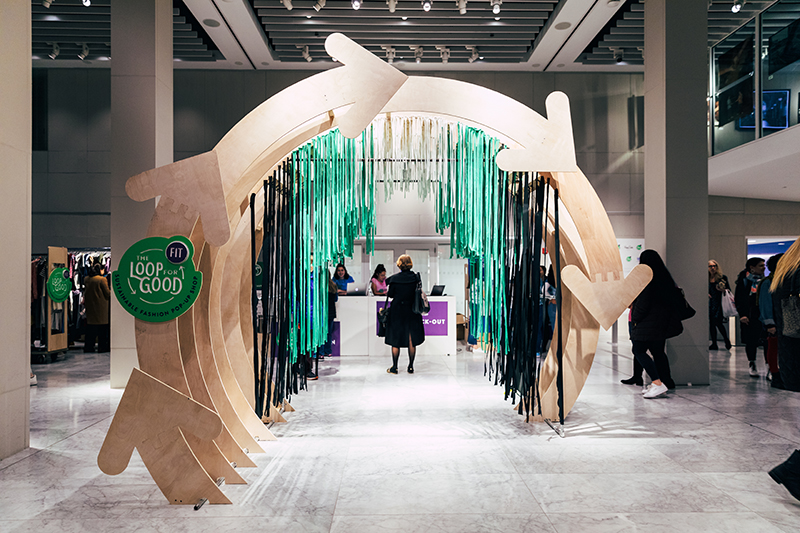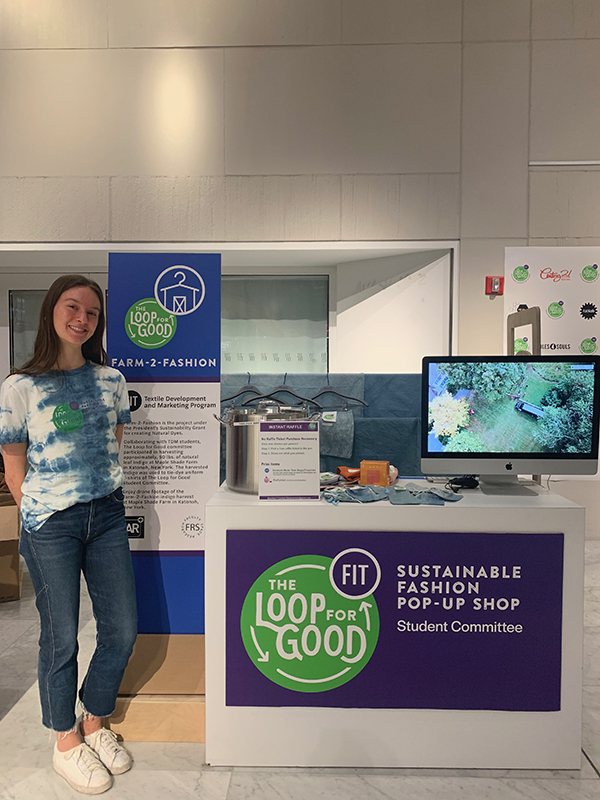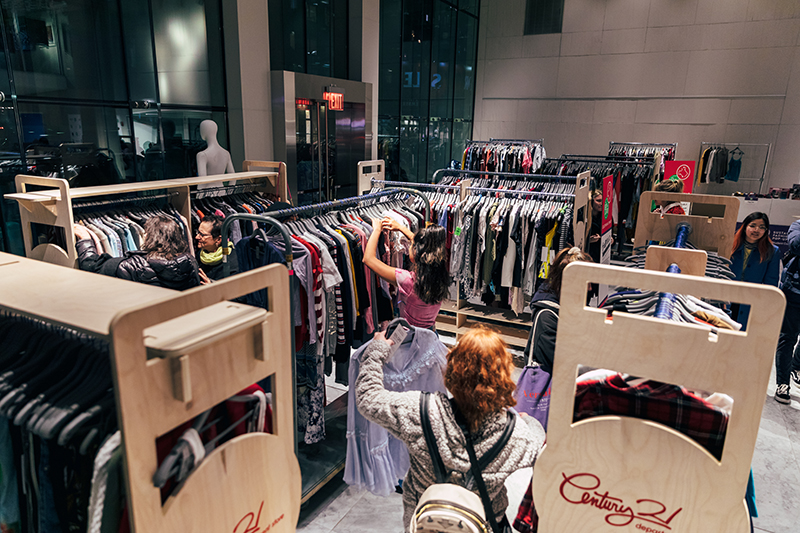 "The Most Powerful Tee" Exhibit
Empowerment tee shirts designed by students in Professor Jill Topol's "Introduction to the Fashion Industry" class were exhibited on campus to express individual ideas about gender, politics, equality, and the environment. Funded by a Diversity Council Grant, the exhibition opened during Civility Week.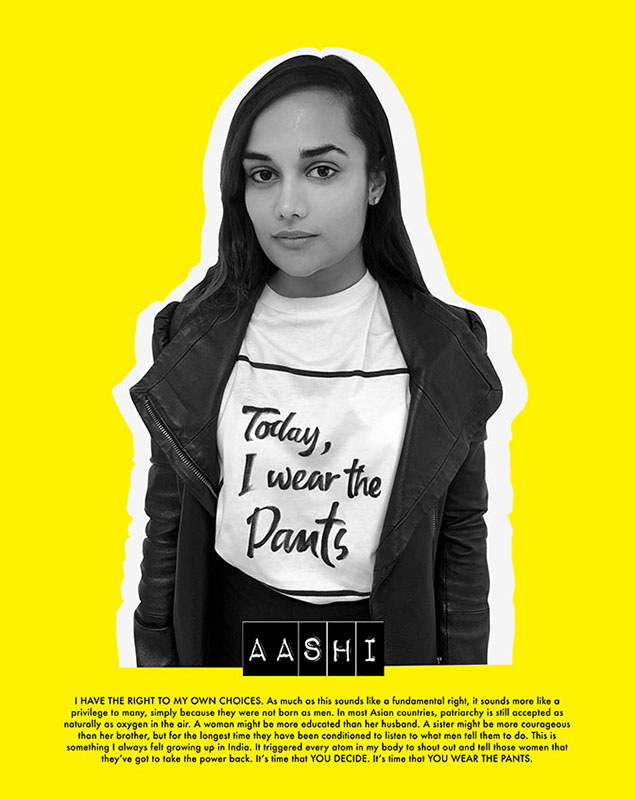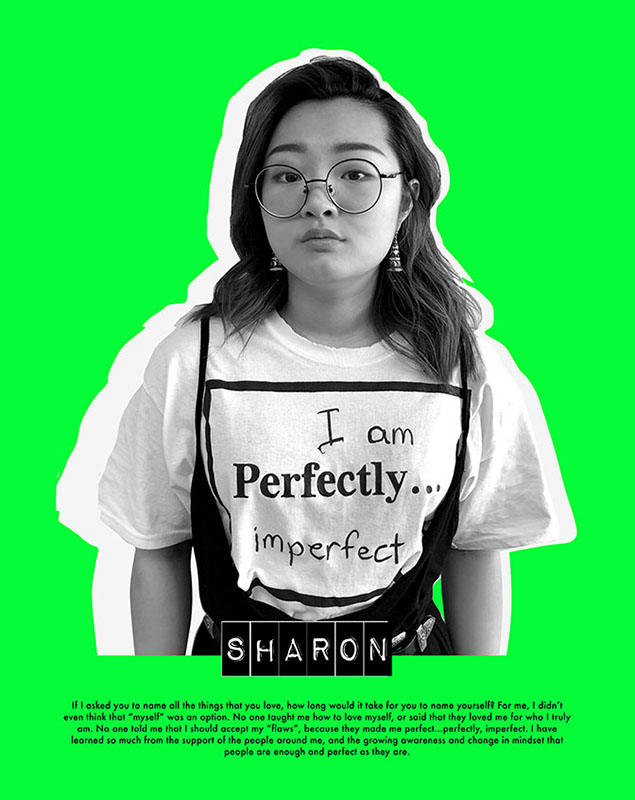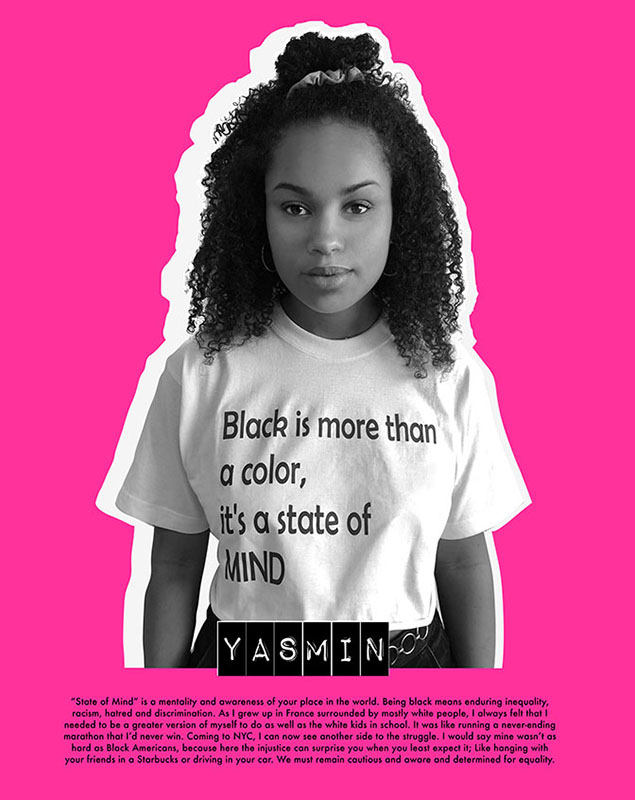 The Merchandising Society Visits Converse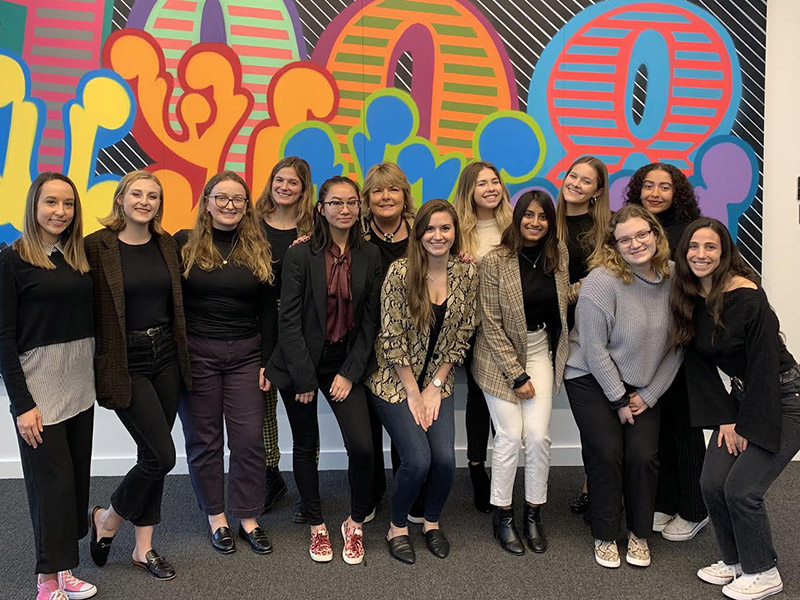 The Merchandising Society, accompanied by Professor Catherine Geib, traveled to Boston to visit the Converse Corporate offices. The students learned about their corporate culture and vision for the future.
Converse offers a summer internship program and is looking to hire our talented FIT graduates!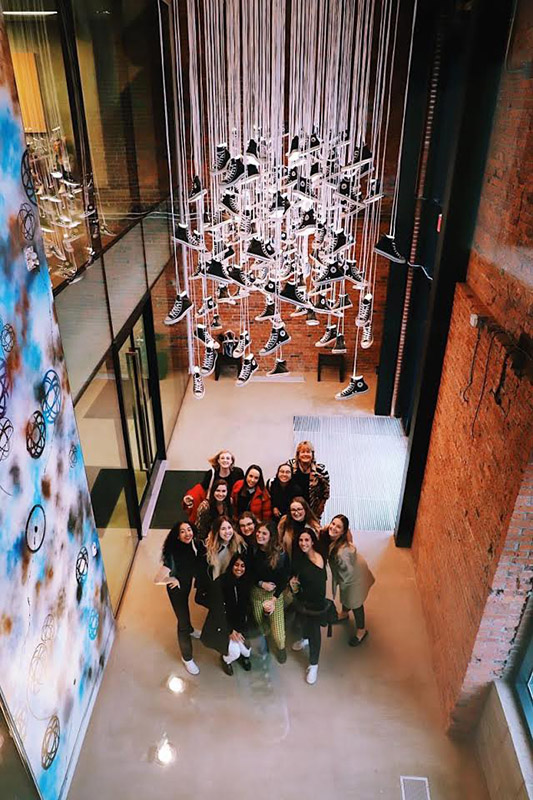 Baker School of Business and Technology Students Win NRF Student Challenge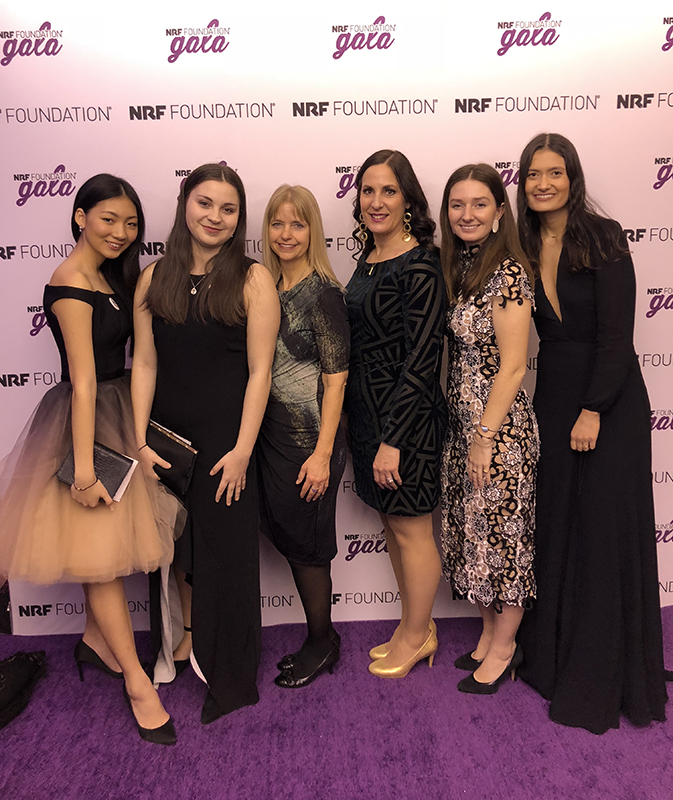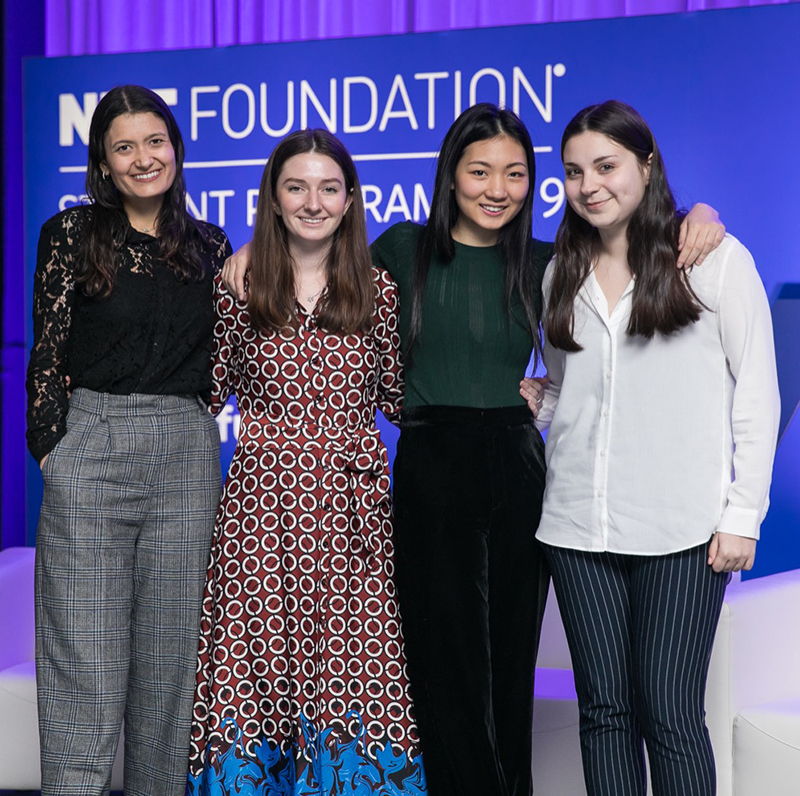 A team of students from FIT won the NRF Foundation 2019 Student Challenge. The NRF Foundation collaborated with retailer STORY and KPMG for this year's challenge. Teams from twenty-five NRF member schools created a 30-page pitch presentation and a 90-second pitch video to the chief marketing officers of various retailers.
FBM students Angela Flegert, Alin Intravisit and Caroline McCormack, and Lara Voronkov, an AMC student created a retail strategy based on the concept of experiencing the store through the five senses, along with a "sixth sense" driven by artificial intelligence developed in partnership with IBM.
For the winning concept, each of the students won a $1,500 travel award and will receive a $5,000 scholarship.
FIT DECA Club Competes at International Career Development Conference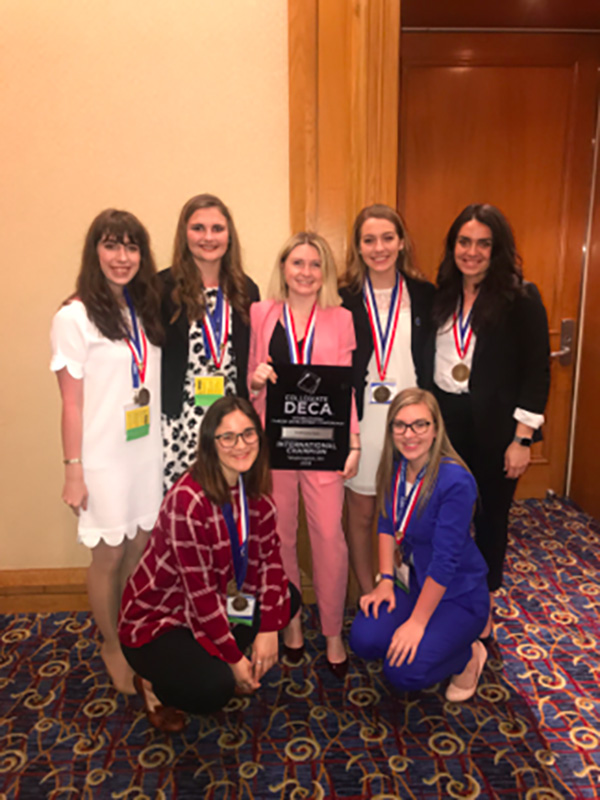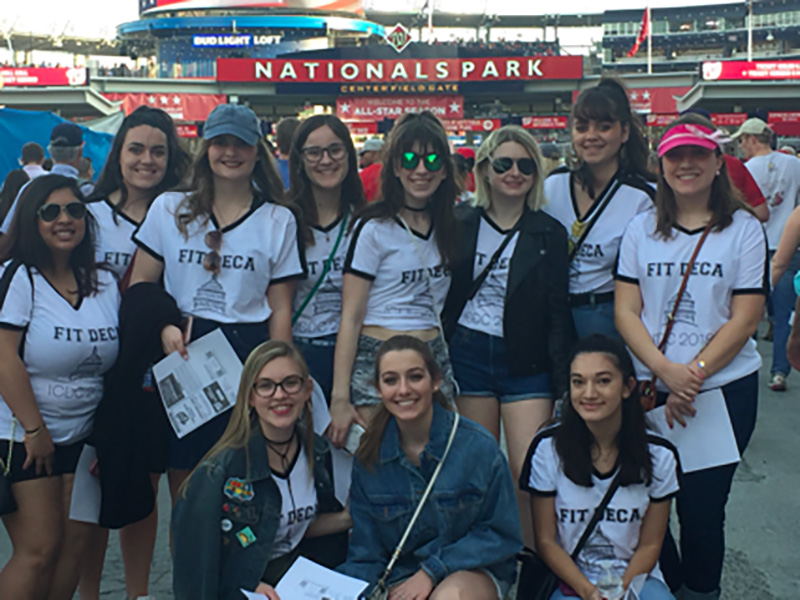 The Collegiate Division of DECA includes over 15,000 members in 275 colleges and universities. The organization's mission statement is DECA prepares emerging leaders and entrepreneurs in marketing, finance, and management in colleges around the globe. FIT's DECA participation is through the student club of DECA.
In April 2018, FIT DECA CLUB completed in the International Career Development Conference (ICDC), in Washington DC. Eleven students represented FIT in six competitions representing three programs at FIT (Fashion Business Management, Advertising and Marketing Communications and International Trade and Marketing.
Eight students moved into final rounds (+), with seven winning Top Category (*). One student won first place across all schools competing.
Ciara Lydon +* 1st Place
Katherine Zatyko +*
Emily Vaught +*
Carly Opaleski +*
Cherish Malhotra +
Julia Louise Hoggan +*
Victoria Schaff +*
Katelyn Morin
Emily Hritz
Taylor Keil +*
Tanha Patel
Congratulations to all of the students that competed! The DECA Club advisor is Professor Shelley Kohan from the FBM Department.
FIT Student Team Wins $10,000 First Price in 'RE-IMAGINE GOODWILL' Contest
Goodwill NY NJ announced the winners of "Re-Imagine Goodwill," a contest that Goodwill sponsored for students in the Jay and Patty Baker School of Business & Technology. The team members, Brianna Destratis, Alexis Helbert, Alin Intravisit, and Lara Voronkov were named winners for conceiving, designing, and presenting the best e-commerce options for a virtual Goodwill store.
Meeta Roy, an assistant professor in the Fashion Business Management Program, said: "The Goodwill contest gave our students the opportunity to consider the many factors that go into designing e-commerce solutions for an organization- and what better organization than Goodwill. It is real-world opportunities of this kind that set an FIT education apart and prepare our students to enter the workforce."
Members of the runner-up team are Megan Good, Caitlyn Kennedy, Corinna Sanni, and Gabriella Stevens.
Merchandising Society Members Visit Chico's Corporate Headquarters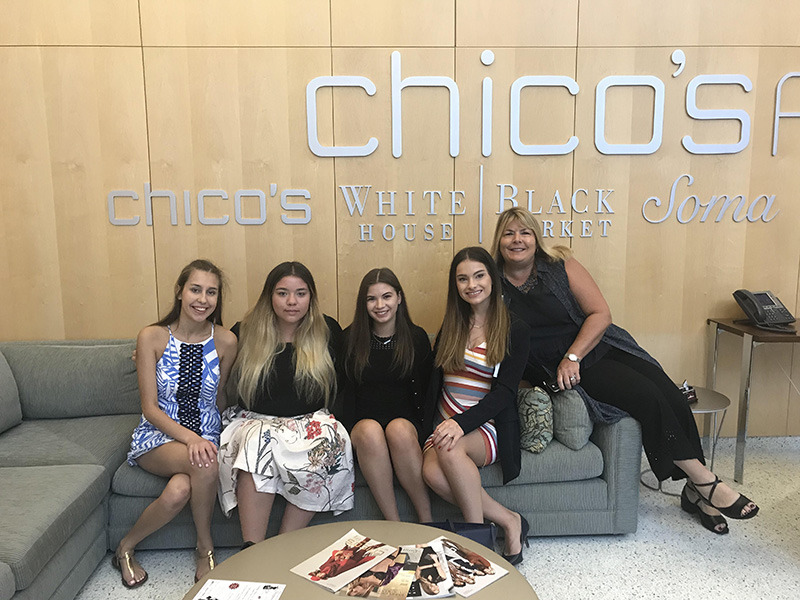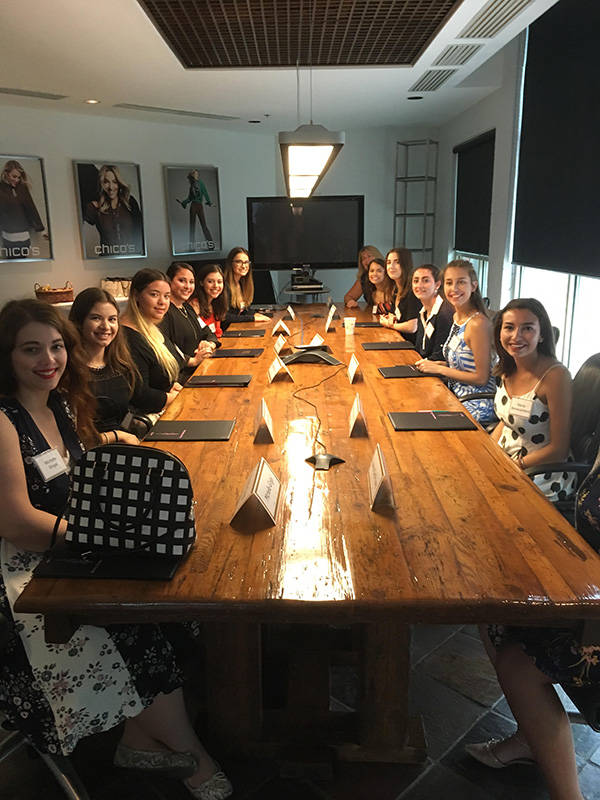 Professor Geib and a group of 12 Merchandise Society students visited Chico's FAS corporate headquarters in Ft. Meyers, Florida. Chico's brands White House Black Market and SOMA are also located there.
The students spent the day touring the corporate offices learning about the design, product development, and merchandising needed to create a vertical brand. They also had the opportunity to meet with Diane Ellis, Brand President of Chicos.
The trip affirmed the mission of the club: to expose the students to the fashion industry and get first hand experience.
International Win for FIT Students at World Retail Congress Event
For the third time in four years, a team of four students in FIT's Jay and Patty Baker School of Business, representing the US, has won the Retail Futures Challenge, an international competition that takes place at the annual World Retail Congress. The FIT team traveled to Dubai and topped teams from Portugal, Hong Kong, Italy and England with Fora., a retail concept that "revolutionizes the status quo of department stores."
The FIT members are Eleonara Mazzetti (FBM), Meghan McCarty (FBM), Alaina McGuigan (CM) and Vivian Yuen-Wing Tai (AMC).
"It's an extraordinary achievement for a team to win three out of four years, and it's a testament to the hard work and creativity of the students that they are able to do it again," said Robin Sackin, chair, Fashion Business Management, and advisor for the FIT team. "With this win, we celebrate the dedication of our students and our faculty as strategic thinkers, business entrepreneurs and industry leaders. Having the ability to think under pressure and perform as they did is thrilling for all of us and acknowledges our success in educating the future solution-driven thinkers in our industry."
FBM Assistant Professor Rings Closing Bell at the New York Stock Exchange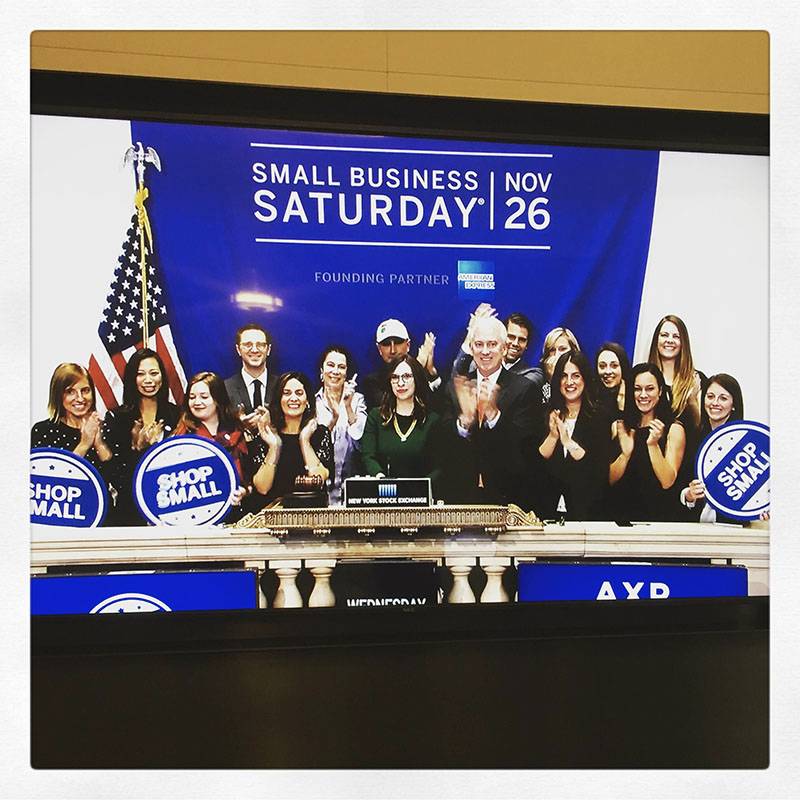 Professor Ann Cantrell was the only business owner invited to join American Express on the podium for the closing bell at The New York Stock Exchange. Ann represented independent businesses in anticipation of small business Saturday.