COVID-19-Related Information
FIT faculty and staff members are currently working remotely.
Visit Fall Return 2021 for the most recent developments regarding the fall semester.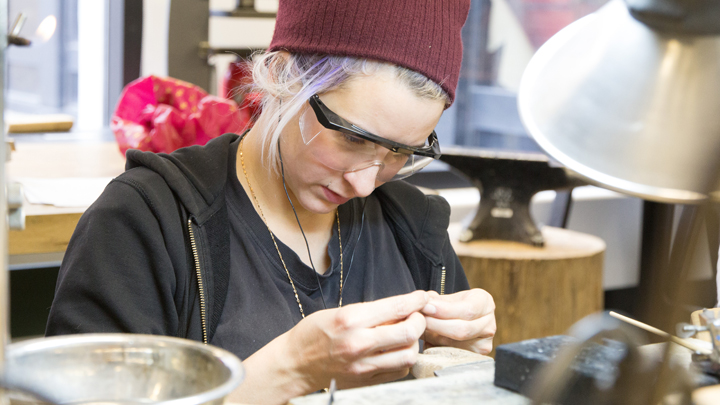 Create a luxurious ornament, a precious keepsake, a fabulous fashion statement
What was true for Cleopatra 2,000 years ago is still true today: A fine piece of jewelry is no less than a masterful work of art, one we display on ourselves rather than on a wall. These treasures from past and present can be seen in museums around the world.
Today, the creation of fine and costume jewelry is a multibillion-dollar global industry, offering many opportunities for talented people with the right professional training. FIT's program is closely tied to the industry, with a faculty of experts who bring firsthand knowledge of today's market into the classroom. As mentors, they guide you to find your own niche in this competitive, highly specialized field.
In intensive classes that combine traditional craftsmanship with digital technology and rapid prototyping, you will master hand-rendering, as well as digital modelmaking and gemology. You'll acquire the computer design skills now in demand throughout the industry, and learn to design fine jewelry, fashion jewelry, and jewelry made from alternative and sustainable materias. You'll graduate with an in-depth understanding of jewelry design, manufacture, and merchandising, prepared to forge a successful career in this multifaceted industry.
Highlights
FIT's Jewelry Design program is the only one in the world that integrates craftsmanship, professional design, and digital literacy.
FIT's facilities are cutting edge. You'll learn metal casting, high-tech welding, electroforming, etching, silversmithing, enameling, and goldsmithing from internationally-acclaimed masters of the craft.
Most graduates find full-time employment or full-time freelance work at such leading companies as Tiffany & Co., Judith Ripka, and Swarovski, among many others.
New York City provides inspiration, with its museums, galleries, and major jewelry and auction houses, such as Tiffany & Co., Bulgari, Cartier, Van Cleef & Arpels, and Christies.
In this program, you will:
meet industry leaders and have extensive opportunities to create a network of contacts.
have the opportunity to show your designs in industry-sponsored national and international competitions.
graduate with 80 pieces of finished jewelry, to serve as your portfolio.