Katherine Michaelsen, PhD
Professor | Art History and Museum Professions; History of Art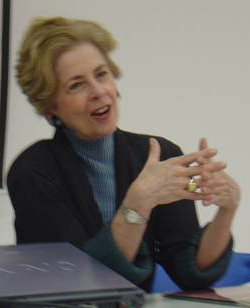 (212) 217-4661
Business and Liberal Arts Center, Room B646
Education
BA, MA, PhD, Columbia University
Biography
Before coming to FIT, Katherine Michaelsen taught at Columbia University, Brooklyn College, Marymount Manhattan College, and Stern College for Women, Yeshiva University. At Fit she spearheaded and co-authored the departments Bachelor of Science degree in History of Art and Museum Professions (formerly Visual Art Management), the first major in the School of Liberal Arts. In 2006 she co-taught a seminar on Biblical Jurisprudence at Columbia Law School, and in 2007 and 2008 she was guest lecturer at Istanbul Technical University in Turkey. From 2002 to 2015 she was chairperson of FITs Master of Arts program in the Art Market; and from 2009 to 2015 she coordinated and lectured in the Moscow Sate University Summer Seminars under the auspices of FIT International Programs.
Professor Michaelsen earned her PhD at the department of Art History and Archaeology, Columbia University, with a four-year Graduate Faculties Fellowship, and specialized in modern art. She was also a recipient of research grants from the National Endowment of the Humanities, and the Graham Foundation for Advanced Studies in the Fine Arts. Her dissertation, Archipenko, The Early Work, 1908-1920, was published in the Outstanding Dissertations in the Fine Arts series, Garland Press, New York. She is author of many articles and catalog essays, and was guest curator at the National Gallery of Art, Washington, DC of Archipenko, A Centennial Tribute, and of Andor Weininger, From Bauhaus to Conceptual Art at the Kunstverein, Dsseldorf, and exhibition that traveled to various venues in Europe, and the Neuberger Museum in Purchase, New York.
Dr. Michaelsen was formerly an art gallery administrator, and has represented artists and worked as an art consultant for private and corporate clients. She is a member of ArtTable, the College Art Association, the National Advisory Council of the Tang Teaching Museum and Art Gallery at Skidmore College (2000-2012), and the Board of Ensemble Sospeso (2002-2012). In addition to Hungarian and Portuguese, she is fluent in French and German.
Courses
Undergraduate
HA 112 Western Art and Civilization: Renaissance to Modern
HA 214 Art in New York
HA 231 Modern Art
HA 331 Contemporary Art and Culture: 1945 to Present
HA 391 Bauhaus
HA 461 Seminar: Museum Exhibition
Graduate
AM 521 History of Modern Art
AM 691 Internship