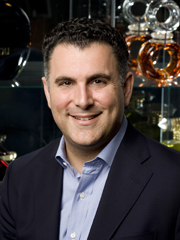 Professor Stephan Kanlian developed and serves as chairperson of FIT's unique master's degree program for emerging leaders in the cosmetics and fragrance sector, recognized as the industry's think tank in the U.S.
The Cosmetics and Fragrance Marketing and Management program is guided by an industry board of senior executives from firms including Beiersdorf, Chanel, Fairchild Publications, CEW, Coty, Elizabeth Arden, Estée Lauder, Firmenich, Givaudan, Google, Hearst Publications, International Flavors & Fragrances, Limited Brands, L'Oréal, LVMH, Meredith Publications, NPD Group, Procter & Gamble, Shiseido, The Fragrance Foundation, Unilever, and WSL Strategic Retail.
As an industry think tank, the FIT's CFMM program has organized business conferences, seminars, panels, and speaker series on topics including luxury branding, marketing, retailing, leadership and business innovation. These events have been held in cooperation with leading firms that include Target, L'Oréal, Google, Deloitte, Procter & Gamble, Estée Lauder, LVMH, Disney, Mastercard, Beirsdorf, Unilever, The Wharton School, and IDEO. Each year, the program's graduates present innovative solutions to industry issues before an audience of more than 700 cosmetics and fragrance executives, with a question and answer session moderated by the Wall Street Journal.
Often called upon as an industry expert by the press and an invited speaker by groups such as American Express, The New York Times, The Wharton School, Sotheby's Institute of Art, and BBC Radio, Professor Kanlian previously held marketing and business development positions in the corporate, public, and nonprofit sectors. He was also a diplomatic officer candidate with the U.S. Commercial Service in Washington, D.C., where he led delegations of consumer product CEOs to overseas markets for meetings with potential business partners, including organizing a Model American Home in an shopping mall on Singapore's famed Orchard Road. He continues to lead trips to Europe and Asia each year for his students, meeting with industry and thought leaders, to ensure they develop a global perspective in retail, marketing, and branding.
Professor Kanlian has served on the board of directors, the annual meeting committee, and the strategic initiatives committee of the Personal Care Products Council, the industry's regulatory and advocacy arm based in Washington, D.C. For the Fragrance Foundation, he has served for many years as a judge for the annual Fragrance Awards (Fifis), and in academe, he has served as a member of the curriculum committee of the Levin Institute in New York City and a member of the Industry Advisory Board for the business school at Durham University in Great Britain. In May 2008, he was a recipient of the Chancellor's Award for Excellence in Teaching from the State University of New York.
As a Presidential Management Fellow at the University of Pennsylvania, Kanlian earned a Master's in Public Administration and as a Rotary International Fellow, he earned a Master of Arts degree in the European Common Market from Durham University in Great Britain. He earned his undergraduate degree from the University of California, where he was a Regents Scholar.