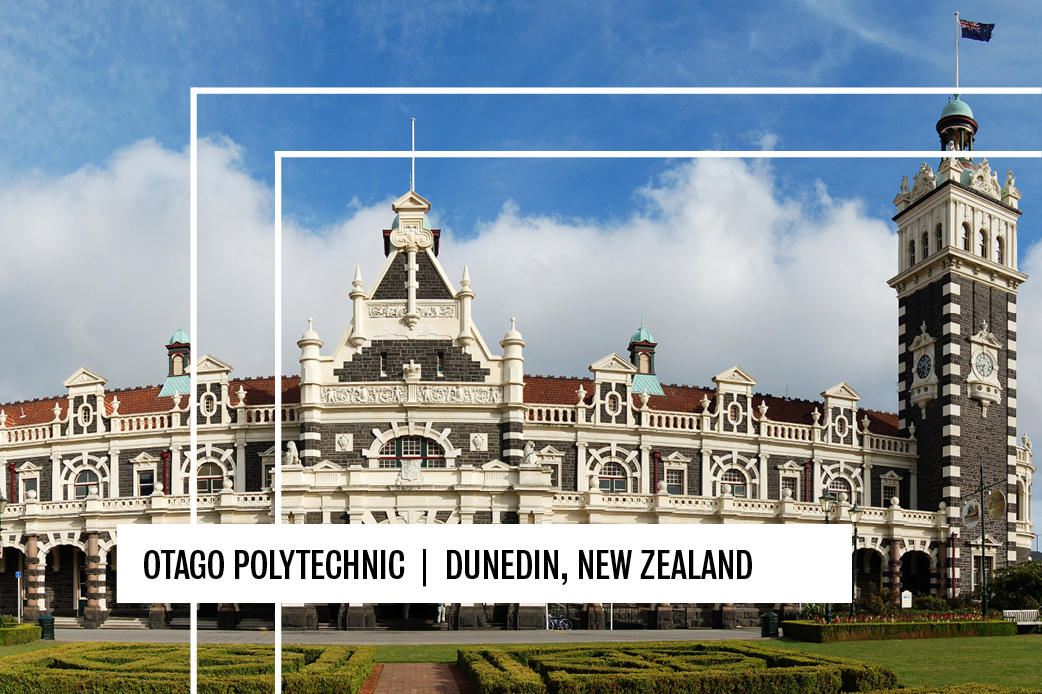 Program Type: Exchange
Established in 1966, Otago Polytechnic is nationally and internationally recognized as one of New Zealand's leaders in high quality, career-focused education. Dunedin School of Art remains the oldest teaching department at Otago and has produced some of NZ's finest artists. In 2015, Otago became the first New Zealand polytechnic to achieve Fair Trade status following Dunedin being named New Zealand's first Fair Trade city in 2009. Dunedin, home to about 30,000 students, is New Zealand's incubator for IT, entrepreneurship and fashion.
---
15-Feb: Fall
---
Minimum GPA 3.0
Matriculation in a Bachelor's degree program
Graphic Design
Portfolio: Students must submit a portfolio with 12 pieces of recent work to the department in addition to the online application
Students must obtain academic approval from the department advisor
Students may participate in their 7th semester
---
A full-time semester course load at Otago Polytechnic consists of 60 NZ credits. Major and related area courses are available. Liberal arts courses are not available, but students may take liberal arts and other courses online at FIT at no additional expense as this is an exchange program.
Graphic Design Course Information:
Students study mainly in the Bachelor of Design (Communication) program at Otago and fulfill 7th Semester major and related-area courses by taking modules from Year Three of the program (scroll down) .
Students must also take GD 491 - Senior Thesis Research (3 Credits) online at FIT while abroad.
---
A detailed Academic Calendar can be viewed on the Otago website.
Otago Semester Two (FIT Fall): July - November
Students are generally expected to arrive the weekend before orientation begins.
---
Students are responsible for making their own accommodation arrangements for the duration of their stay. Students may choose to live in Otago's Student Village, a homestay, or private/shared accommodations.
Dunedin Accommodation Resources
---
US citizens will enter as student visitors and will not require a Study Visa for the duration of their stay in New Zealand. Supporting documentation will be provided after approval.
---
Insurance
FIT requires all students to be covered in the U.S. and internationally for the duration of their study abroad program. Two types of coverage are required:
1. FIT requires students to be covered abroad for the duration of their program. This policy is mandatory, therefore students cannot waive it.
Coverage abroad: Uni-Care
*This policy is required by Otago Polytechnic in lieu of UHC Study Abroad insurance. More detailed information about coverage and claims processes will be provided post-acceptance. Students will not be billed by FIT for UHC.
2. FIT requires students to be covered in the U.S. for the duration of their program. Students may waive the Haylor insurance using the standard waiver process if they already have a U.S. based insurance policy with equal or better coverage.
Wellness & Support
Otago offers a wide range of Wellness & Support services for their students, including Learning Advisors, Disability Support, and and Counseling. For an extensive list and contacts on-site, please review Otago's Student Support website and more details here.
---
A copy of this form may be brought to Financial Aid Services so that a careful review of your program costs may be completed by an assigned financial aid counselor.
---
See the Scholarships & Financial Aid page.
---
Application, Instructions and Preparations