École des Métiers de la Culture et du Marché de l'Art (ICART)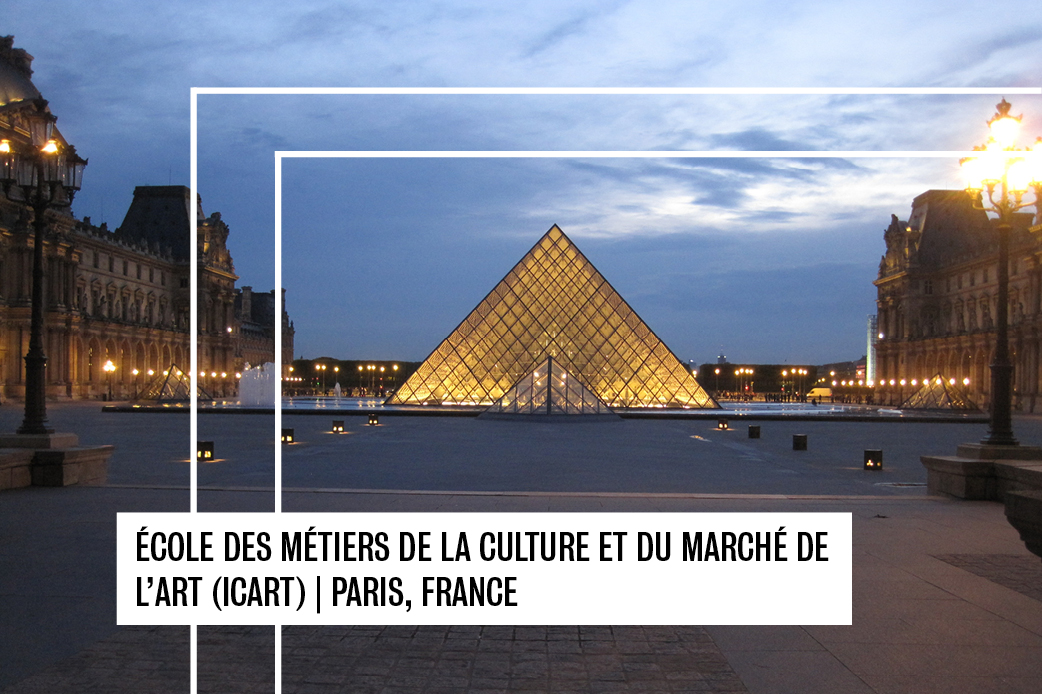 Program Type: Exchange
École des Métiers de la Culture et du Marché de l'Art (ICART) , centrally located in the eighth arrondissement and steps from the Champs-Élysées in Paris, was the first school in Europe dedicated to the pursuit of careers in the arts. ICART's unique model of immersing students into the current world of artistic and creative fields allows them to develop their professional portfolio during their time of study. Located in the cultural center of Paris, the campus is within walking distance to the Arc de Triomphe, the Grand Palais, and Place du Trocadéro.
Deadline
Approvals on an ongoing basis until 1-Oct: for Spring
Early applicants receive preference.
Eligibility
Minimum GPA 3.0

Matriculation in a Bachelor's degree program

Art History and Museum Professions

students must obtain academic advisement and the approval of the department chair/advisor. AHMP students are eligible during their

6th semester

.
Course Information
Students going to ICART will choose from the following and must take the equivalent of 12 FIT credits (typically four ICART courses) to remain full-time:
Museology (FIT equivalent of HA362)

Art Fairs - Modern Art Collection & Trends (FIT equivalent of HA020, an Art History elective)

Street Art Movement (FIT equivalent of HA030, an Art History elective)

Integrated Marketing Communication Branding (FIT equivalent of AC311)

French Culture & Civilization (FIT equivalent of SS070, Liberal Arts elective)

Introduction to French Language (FIT equivalent of FR111/FR122)
*Note: FIT AHMP students may choose to take additional courses at ICART or online FIT courses on a case by case basis at no additional cost (as this program is an exchange program). With the appropriate language level (minimum B1), students may choose from a wider offering of courses conducted in French.
Academic Calendar
ICART does not post their Academic Calendar until closer to the beginning of term. Typically the dates are from late January/early February* through mid-June
*A mandatory orientation with survival French and cultural activities workshop will take place three days before courses begin. Students are generally expected to arrive the weekend before orientation begins.
Accommodations
Students are responsible for making their own accommodation arrangements for the duration of their stay. If using ICART-facilitated housing in residence halls, students must confirm by December 15th. Location and price vary for the ICART-facilitated residence halls.
Another option that most of the other FIT Paris partners use is Estudines. These are studio residence halls that have kitchenettes and there are several locations in and just outside of Paris.
Study Visa
Students will be required to apply for a Long-Stay French Visa for the duration of their say in France. Students are encouraged to carefully review the Visa requirements . Supporting documentation will be provided after approval.

Health & Wellness
FIT requires all students to be covered in the U.S. and internationally for the duration of their study abroad program. Two types of coverage are required:
1. FIT requires students to be covered abroad for the duration of their program. This policy is mandatory, therefore students cannot waive it.
Coverage abroad: UHC Study Abroad Insurance
*Students will be enrolled and account will be billed before start of program. More detailed information about coverage and claims processes will be provided post-approval.
2. FIT requires students to be covered in the U.S. for the duration of their program. Students may waive the Haylor insurance using the standard waiver process if they already have a U.S. based insurance policy with equal or better coverage.
Program Budget
A copy of this form may be brought to Financial Aid Services so that a careful review of your program costs may be completed by an assigned financial aid counselor.
Scholarships
See the Scholarships & Financial Aid page.
Application, Instructions & Preparations