Falmouth University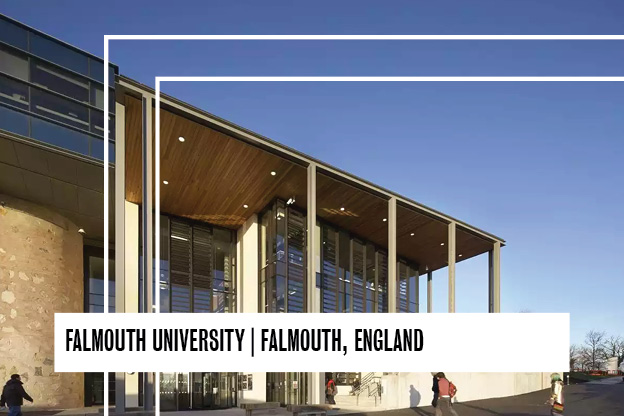 Program Type: Exchange
Falmouth University (FU) , located in Cornwall, England, is one of the world's leading international specialist creative universities, with a focus on infusing innovation into technology and science. FU encourages students to push the boundaries of originality and craftsmanship as they develop their creative identities. Cornwall is synonymous with arts and culture, with a vibrant music and cinema scene.
---
15-Feb: Fall
---
Minimum GPA 3.0
Matriculation in a Bachelor's degree program
Advertising Design

Portfolio: Students must submit a portfolio of recent work to the department in the online application.
Students must obtain academic approval from the department advisor.
Students may participate in their 7th semester.
---
A full-time semester credit load at Falmouth University consists of 60 UK credits. Major and related area credit is available. Liberal arts credit is not available, but students may take liberal arts and other courses online at FIT at no additional expense as this is an exchange program.
Advertising and Digital Design Course Information:
Students fulfill 7th semester major and related area courses by taking a module worth 30 UK credits in Year 2 of the Creative Advertising BA (Hons) program at Falmouth.
Students must also take AD 494 - Senior Thesis Project Planning (2 Credits) online at FIT while abroad.
---
A detailed Academic Calendar (term dates) can be viewed on the FU website.
Students are generally expected to arrive the weekend before orientation begins.
---
Students are responsible for making their own accommodation arrangements for the duration of their stay. Students may apply to live in one of FU's halls of residence (not guaranteed) or search for a privately-rented home with support from FU's Accommodation Office.
---
US citizens do not need to apply for a visa in advance of arrival. Upon entering the UK with proper documentation, US citizens are granted Standard Visitor (short-term study) status by the border officer. All non-US citizens must carefully review UK visa requirements as they may need to apply in advance for a short-term study visa. Supporting documentation will be provided by FU after admission.
---
Health Insurance
FIT requires all students to be covered in the U.S. and internationally for the duration of their study abroad program. Two types of coverage are required:
1. FIT requires students to be covered abroad for the duration of their program. This policy is mandatory, therefore students cannot waive it.
Coverage abroad: UHC Study Abroad Insurance
*Students will be enrolled and account will be billed before start of program. More detailed information about coverage and claims processes will be provided post-approval.
2. FIT requires students to be covered in the U.S. for the duration of their program. Students may waive the Haylor insurance using the standard waiver process if they already have a U.S. based insurance policy with equal or better coverage.
Wellness
FU's multidisciplinary Student Support team offers a range of options that can be tailored to any students needs. See how their Student Support services can help you.
---
A copy of this form may be brought to Financial Aid Services so that a careful review of your program costs may be completed by an assigned financial aid counselor.
---
See the Scholarships & Financial Aid page.