Central Saint Martins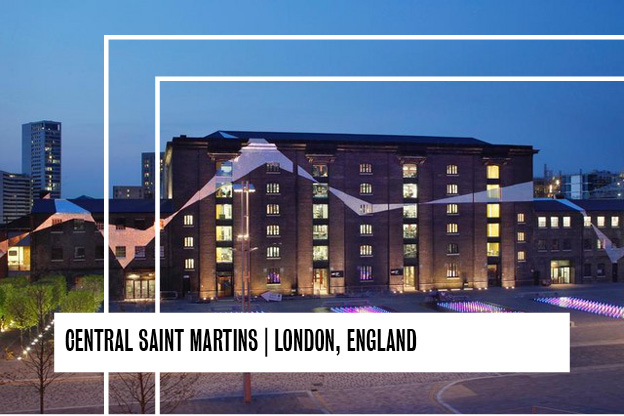 Program Type: Semester Study Abroad
Central Saint Martins (CSM) , located in the center of London's King's Cross, England, is a world-renowned arts and design college of the University of Arts London. CSM offers a legendary, top-ranked program in Fashion, among a diverse range of creative programs that focus on merging the intellectualism of design with practical skills of production. London is a leading global city from almost every perspective, from arts to education to finance, with a diverse range of peoples and cultures and more than 300 languages spoken.
---
1-February: Fall
---
Minimum 3.0 GPA

Matriculation in the Fashion Design Bachelor's degree program

FD Students may participate in their

5th semester (Fall only)

, and must complete academic advisement and approval of the department advisor prior to acceptance.

FD students must obtain

three faculty recommendations

:




- one from a Fashion Design Apparel professor




- one from a Fashion Design Art professor




- one from a Liberal Arts professor

Interview process


- Using the contact information that you receive after submitting your application, schedule an interview appointment (at the beginning of the Spring 2020 semester).




-

Interview Requirement:

If you are selected for an in-person interview, please be sure to bring your portfolio that includes:

Your fashion art work

Garments you have made. These should be represented as real garments and NOT just photos of garments.

Your creative journal

Portfolio Requirements

: After submitting your application there is also a preliminary digital portfolio submission requirement.




- Digital portfolios need to be submitted a minimum of 2 days prior to interviewing.




- Portfolios must include

PDFs (max 10 MB)

of each of the following:

8-10 images from your journal

4-6 images from your portfolio (artwork from your FF classes)

3-4 images of garments you have made (can be current drapes and muslins, but real garments are preferred)

2-3 images of "Fine Art" work (model drawing can be included)
For further guidance on creating and submitting your portfolio visit the CSM application portal .
A full-time semester credit load at Central Saint Martins consists of 60 UK credits. Major and related area credit is available.
Fashion Design Course Information :
Students apply to participate in the University of the Arts London (UAL) Integrated Study Abroad program at Central Saint Martins and fulfill certain 5th and 6th semester major and related area courses by taking two units worth 40 UK credits in either the BA (Hons) Fashion: Fashion Design with Knitwear or BA (Hons) Fashion Design Womenswear program.
Liberal Arts Course Information:
Students may fulfill one 3-credit Art History (G7) course by taking an optional study abroad module with UAL at additional expense. Alernatively, students may take liberal arts courses online at FIT while abroad at the applicable per-credit hour tuition rate.
---
A detailed Academic Calendar can be viewed on the CSM website.
Students are generally expected to arrive the weekend before orientation begins.
---
Students are responsible for making their own accommodation arrangements for the duration of their stay. Students may choose to live in one of the UAL's Halls of Residence (recommended) or in a privately-rented home. Typically, only certain halls allow residents for one term, and the contract period begins in early September, up to 2 weeks before the start of classes.
UAL Housing for Study Abroad Students
---
US citizens do not need to apply for a visa in advance of arrival. Upon entering the UK with proper documentation, US citizens are granted short-term study clearance by the border officer. All non-US citizens must carefully review UK visa requirements as they may need to apply in advance for a short-term study visa. Supporting documentation will be provided by CSM after admission.
---
Health Insurance
FIT requires all students to be covered in the U.S. and internationally for the duration of their study abroad program. Two types of coverage are required:
1. FIT requires students to be covered abroad for the duration of their program. This policy is mandatory, therefore students cannot waive it.
Coverage abroad: UHC Study Abroad Insurance
*Students will be enrolled and account will be billed before start of program. More detailed information about coverage and claims processes will be provided post-approval.
2. FIT requires students to be covered in the U.S. for the duration of their program. Students may waive the Haylor insurance using the standard waiver process if they already have a U.S. based insurance policy with equal or better coverage.
Wellness
UAL's Student Services team provide a wide range of counseling, health and disability services to all enrolled students. Refer to their Student Services site for details on what services are available to you.
---
A copy of this form may be brought to Financial Aid Services so that a careful review of your program costs may be completed by an assigned financial aid counselor.
---
See the Scholarships and Financial Aid page.
---
Application, Instructions and Preparation