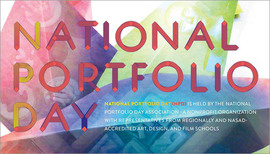 National Portfolio Day in New York City took place on Saturday, October 26th, 2019. This event is designed specifically for visual artists and designers. It is an opportunity for those who wish to pursue an education in the visual and related arts to meet with representatives from colleges accredited by the National Association of Schools of Art and Design (NASAD). Representatives will be available to review your artwork, discuss their programs and answer questions about professional careers in art and design.
National Portfolio Day is free and open to the public. Pre-registration is not required. High school students, parents, teachers, guidance counselors and college transfer students are encouraged to attend. Your portfolio can include finished pieces, work in progress, and sketchbooks.
Stay tuned for upcoming dates.