Speakers and Honorary Degree Recipients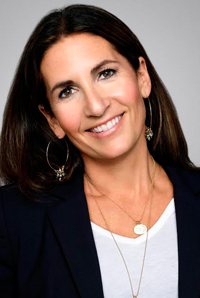 BOBBI BROWN
Makeup Artist and Founder of Bobbi Brown Cosmetics
Commencement Speaker and Honorary Degree Recipient
Bobbi Brown is the Founder and CCO of Bobbi Brown Cosmetics. Bobbi arrived on the beauty scene in 1991 with the launch of Bobbi Brown Essentials, and changed the face of makeup with ten brown-based lipstick shades created to fill a void in the market of simple, flattering and wearable makeup. Bobbi's philosophy was simple: "Women want to look and feel like themselves, only prettier and more confident." Her unique approach to cosmetics caught the attention of cosmetics empire Este Lauder Companies, which acquired Bobbi Brown Cosmetics in 1995. Today, Bobbi Brown Cosmetics is a global color cosmetics, fragrance and skincare brand with a presence in more than 60 countries.
In addition to running her company, Bobbi regularly shares her expertise on television, in magazines and newspapers, and online. She is the Contributing Beauty & Lifestyle Editor of Health magazine, the Beauty & Lifestyle Editor of Elvis Duran and The Morning Show, a nationally syndicated morning radio show, and was recently named Editor in Chief of Yahoo! Beauty. A sought after lifestyle expert, Bobbi resonates with diverse audiences and has appeared on high profile shows including Good Morning America, The Today Show, Oprah, and Dr. Oz. Also a New York Times best-selling author, Bobbi has written eight instructional and engaging beauty and lifestyle books. She continues to work editorially and creates makeup looks for some of the industry's most influential designers as part of New York Fashion Week.
Furthering her message of self-confidence, Bobbi launched the Pretty Powerful Campaign in 2010, inspired by her belief that all women are pretty without makeup, but with the right makeup can be pretty powerful. The campaign was the first in the beauty industry to feature before-and-after photos of real women. In spring 2013, she further amplified this message with the launch of The Pretty Powerful Campaign for Women & Girls, the brands first-ever global charitable initiative aimed at empowering women and girls with education. Beneficiaries include The Broome Street Academy charter high school, Dress for Success, and most recently The Girl Rising Fund.
Bobbi's impact extends well beyond the beauty and fashion industries. In 2008, she received an honorary doctorate from Montclair State University. In 2010, Bobbi was appointed by President Obama to the Advisory Committee for Trade Policy and Negotiation.
As the brand continues to grow globally, Bobbi's message remains the same: "The secret to beauty is simple: be who you are.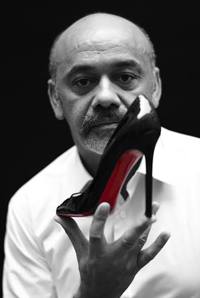 CHRISTIAN LOUBOUTIN
Designer and Founder, Christian Louboutin
Commencement Speaker and Honorary Degree Recipient
Born in Paris in 1964, shoe designer Christian Louboutin began his career as an apprentice at the famous cabaret Folies Bergeres in 1980, creating designs for the music halls exotic dancers. In 1982, he landed an internship at Charles Jourdan, Christian Dior's shoe manufacturer, which also networked him to freelance opportunities at prestigious design houses such as Maud Frizon and Chanel, and Yves Saint Laurent.
Later, after a successful working relationship with Roger Vivier, Louboutin left the shoe design industry for a time and pursued his other passion of landscape gardening. However, in 1992, upon hearing of a newly available boutique in the Galerie Vro-Dodat, a historical Parisian passage located close to the Palais Royal, Louboutin rented the space, began designing again, and formed a company with two business associates. A few months after the boutique opened, W magazine published an article about him and the business took off.
Louboutin created an exclusive label for Yves Saint Laurent's final runway show in 2002the first time the YSL brand was joined with another designers name. In 2008, The Museum at FIT and FIT's Fashion and Textile Studies graduate program mounted the first exhibition of his work, Sole Desire. Also in 2008, Christian Louboutin was ranked the most prestigious luxury shoe brand in a survey by the Luxury Institute.
Over the years, despite investors offers and other licensing offers, Louboutin maintains private ownership of his company. He says this allows him more creative freedom and to maintain a singular vision, one based on his love of travel, his taste for the exotic, and his passion for the arts, from landscape architecture to cinema.
Louboutin currently has 90 stores worldwide including a number of dedicated Men's boutiques. A seminal volume entitled Christian Louboutin charts the success of the company over the last two decades and is available now, published by Rizzoli. Recent collaborations with legendary Parisian Cabaret Crazy Horse and the Walt Disney Company, along with special projects with those from the worlds of music, art and film typify the creative dexterity of the designer. A retrospective exhibition of his inventive designs was held in 2012 at London's prestigious Design Museum and more recently at the Design Exchange in Toronto, Canada.
As a woman's beauty has always been the centerpiece of Louboutin's inspiration, the Summer of 2014 will see the designer lending his creative prowess to the company's first beauty line, Christian Louboutin Beaut.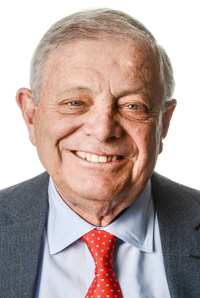 JOHN J. POMERANTZ
President, JJP Advisory, LLC
President's Lifetime Achievement Award Recipient
John J. Pomerantz, president of JJP Advisory, LLC, is former chairman and chief executive officer of Leslie Fay Company, Inc., a manufacturer of women's fashions. Pomerantz retired in 2000 after more than four decades with the company.
Pomerantz joined Leslie Fay in 1955, became president in 1971 and chairman and CEO in 1980. At the 2002 American Image Awards, the fashion retailing world honored him for nearly three decades at the helm of one of the country's oldest dressmakers.
Pomerantz is a trustee emeritus of FIT, and was a director of its foundation from 1976 to 2010, serving more than ten years as chairman. In 1984, Pomerantz and his wife, Laura, donated $1 million to help launch FIT's $5 million development campaign. In recognition, FIT named its Art and Design Center in honor of his father, Fred P. Pomerantz, founder of Leslie Fay.
Pomerantz is a founder and supporter of Albert Einstein College of Medicine and serves on its board of overseers. He supports the arts and is involved in community service, including the Boy Scouts, where he was past chairman of the Greater New York Council. He sits on the executive board of City Meals-on-Wheels. Other board memberships include UJA Federation of New York, Fashion Delivers, and Bachmann-Strauss Dystonia & Parkinson Foundation.
Pomerantz graduated from Admiral Farragut Naval Academy in 1951, and earned his BA from the Wharton School of the University of Pennsylvania.
The Pomerantz family includes Johns wife Laura, daughters Andrea Pomerantz Lustig and her husband Mathew, Susie Davis and her husband Kevin, and Marnie Pomerantz MacLean and her husband, Neil. He has five grandchildren, Anna, Michael and James Lustig, and Chelsea and Zachary Davis, and a dog, Oliver.