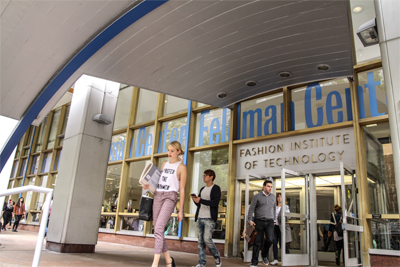 Are you coming to FIT for a conference or another event unrelated to admissions?
Take a tour and learn more about FIT!
The best way to get to know FIT is to visit our campus. Prospective students, applicants, and their families are invited to join us for one or more of the events listed below. We look forward to showing you all that FIT has to offer!
For Spring 2022, most Admissions events will be held virtually. The Admissions team is available to assist you by email, web chat, and phone.
If you are a current applicant or student, please email FI[email protected].
If you are a prospective applicant seeking more information, please email [email protected].
Virtual Information Sessions
To help you explore all FIT has to offer, we invite you to a virtual information session with an admissions representative. Virtual information sessions are hosted by a member of the Admissions office and take place on Tuesdays, Fridays, and on select weeknights.
» Register for an Information Session
Virtual group information sessions are for 10 or more high school or college students representing an educational institution or a community agency. Group visits consist of a virtual presentation by an Admissions Office representative.
» Request a Virtual Group Information Session
Please email us your preferred date and time.
Virtual Meetings
Individual meetings with an admissions representative are available. Interested students can sign up for a 15-minute virtual meeting. These meetings are available on Mondays from 3–4 pm EST and Wednesdays from 10–11 am EST.
Transfer students are welcome to sign up for a 20-minute individual meeting with an admissions representative. These meetings are available every other Wednesday from 3–5 pm EST.
Meeting dates and times are limited. Please do not register for multiple appointments.
» Register for a Transfer Student Meeting
If any disability related accommodations are needed for the meeting, please contact Admissions at 212-217-3760.
Meet with Admissions
Meet with an admissions representative on campus. Interested students can sign up for a 20-minute meeting. Appointments are available on Tuesdays from 10–11 am and 3–4 pm EST, Thursdays from 11 am–1 pm EST, and Fridays from 11 am–12 pm and 3–4 pm EST. On-campus visits are limited to 2 guests. Virtual visits are strongly recommended.
Please note we are not offering campus tours at this time. However, we welcome you to take a virtual tour of campus.
» FIT COVID-19 Guidelines and Policies
» Request a Meeting with Admissions
Virtual Admissions Events
Although FIT will not be traveling this fall you can connect with us virtually at many different online events.
Annual and Special Events