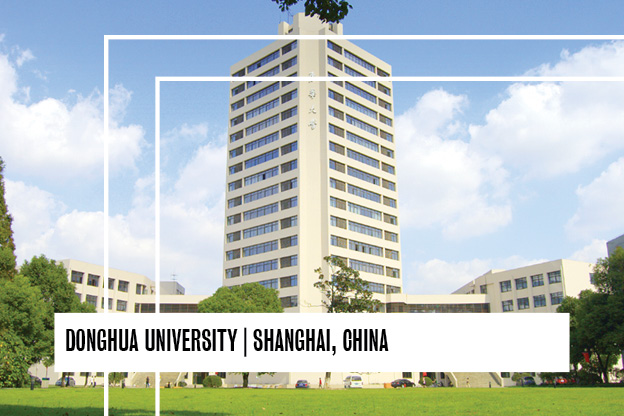 Program Type: Semester Study Abroad
Donghua University (DHU), located in downtown Shanghai, China, is one of the most highly regarded universities in China and internationally recognized in the fields of textile, fashion and materials. DHU offers specialized programs in the Fashion Design, Textile Engineering and International Trade disciplines. As the most populous and modern city in China, Shanghai is a global financial center with distinct Western influences while maintaining historic landmarks like City God Temple and The Bund.
Approvals on an ongoing basis until 1-Oct: Spring
Minimum GPA 3.0
Matriculation in a Bachelor's degree program
Fashion Business Management students must obtain academic advisement and the approval of the department Chairperson/Advisor.
International Trade & Marketing students must obtain academic advisement and the approval of the department Chairperson/Advisor. Students should be in contact with Prof. Christine Pomeranz, department chair, prior to submitting an application regarding program choice.
A full-time semester course load at DHU is at least 12 credit hours. Students may take additional liberal arts and other courses online at FIT at no additional expense as this is an exchange program. FIT students must take at least four of the designated approved courses:
Global Merchandising (FIT equivalent of FM424)
International Product Development (FIT equivalent of FM492)
Global Marketing (FIT equivalent of IN422)
Cross Cultural Studies (FIT equivalent of SS374)
Elementary Chinese Language (FIT equivalent of CH111)
early March - mid-May
Students are generally expected to arrive the weekend before orientation begins.
Students are responsible for making their own accommodation arrangements for the duration of their stay.
DHU Housing - Yan An Road Campus
Students will reside in the residence halls on the Donghua campus. Each shared/double room contains a private bath, furniture, A/C, telephone, Television, refrigerator, and internet. Each floor has washing machines as well as a community kitchen with electric stoves and microwaves.
Students will be required to apply for a Study Visa for the duration of their stay in China. Students are encouraged to carefully review the DHU Study Visa requirements document, as well as the DHU site. Supporting documentation will be provided after approval.
FIT requires all students to be covered in the U.S. and internationally for the duration of their study abroad program. Two types of coverage are required:
1. FIT requires students to be covered abroad for the duration of their program. This policy is mandatory, therefore students cannot waive it.
Coverage abroad: UHC Study Abroad Insurance
*Students will be enrolled and account will be billed before start of program. More detailed information about coverage and claims processes will be provided post-approval.
2. FIT requires students to be covered in the U.S. for the duration of their program. Students may waive the Haylor insurance using the standard waiver process if they already have a U.S. based insurance policy with equal or better coverage.
Donghua Financial Budget Sheet
A copy of this form may be brought to Financial Aid Services so that a careful review of your program costs may be completed by an assigned financial aid counselor.
See the Scholarships & Financial Aid page.
Application, Instructions and Preparations