Writing and Speaking Studio
Looking for writing or speaking support? You're in the right place. We'll work with you one-on-one to help you develop and hone your ideas into thought-provoking papers and presentations.
Communicate. Collaborate. Learn.
Get feedback on writing projects, speaking projects — all your projects. Because another perspective never hurts. Make an appointment to speak with a consultant.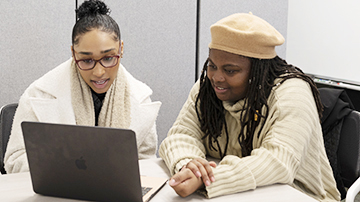 The writing process is just that—a process. Learn how you can take on your project strategically through each step of the writing process.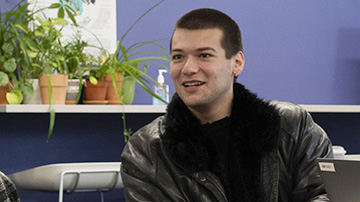 Make the most of our resources to boost your speaking skills for any setting: a presentation, an internship, or even for personal reasons.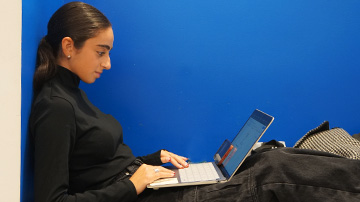 Visiting us in person isn't always feasible. So set up an online appointment and chat with a consultant who can help you work through your assignment remotely.
What Can You Expect?
The FIT Writing and Speaking Studio is a diverse and inclusive space where students can plan, prepare, or put their final touches on assignments for class, personal, or professional use. So, what will your next writing or speaking assignment look like?
An Introduction to the Writing and Speaking Studio
A Place to Develop Your Ideas
Want a second opinion to make sure you understand an assignment correctly? Or are you generating ideas for application or professional materials like a resume or personal statement?
Writing and speaking consultants take time to get to know you and your communication goals.
The Writing and Speaking Studio (WSS) can help you with brainstorming, researching, drafting, revision and editing strategies, and presenting your ideas, written or verbal. We strive to be an open and constructive space where you can learn from peers.
Our consultants offer individual feedback on any type of writing or speaking, from class assignments to personal and professional writing and presentations. Walk-ins, appointments, and online consultations are welcomed.
Need help creating an account, scheduling an appointment, or navigating an online session?
Visit our Consultations page for instructional videos, or contact us via Google Meet or email at [email protected].
More About the Writing and Speaking Studio
Our Impact
Our consultants understand that all writers and speakers are unique, drawing from linguistic and cultural backgrounds that make their work truly theirs.
I believe the most valuable thing I can do in a teaching position is to teach how to self-teach. My role is not to unlock all the secrets of the universe, but to be a guide and motivator.