Emily Dunn Picked to Receive Jacqueline Pomeranz Scholarship
Emily Dunn was selected from an exceptional pool of applicants as the second recipient of the Jacqueline Pomeranz ITM scholarship. The scholarship was established by the Pomeranz family, in honor of their beloved mother, along with other generous donors, in the spring 2020 term.
The selection committee included the following ITM advisory board members:
Marc D. Schein, national co-chair, Cyber Center of Excellence, Marsh & McLennan Agency
Elizabeth Hodur (ITM '92), senior director of International Trade, Ascena Retail Group Inc.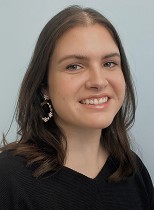 Dunn uniquely impressed the committee with her fortitude to bounce back from a personal setback and turn it into an opportunity to be a strong, positive, and motivational voice for women. As a triathlete and ardent reader, she personifies Jacqueline Pomeranz's athleticism as well as her keen ability to engage in deep discussions relating to current events as well as her appreciation for classical music. These are qualities that remind the family of Ms. Pomeranz.
As Staffing Supervisor at American Eagle Outfitters, Dunn motivated and inspired her team by developing and delivering a compelling vision and purpose of the company's core values. As Stock Lead, Dunn trained, developed, and coached her team on merchandise handling skills needed to consistently achieve brand productivity standards. At Gap Factory, she organized the store, stocked merchandise, and operated the cash registers. She was also Independent Data Consulting Intern at Rain Realty and Marketing Intern at American Universities International Program. She plans to augment this through an international internship with Global Experiences next fall with the scholarship funds supporting the likelihood of this initiative materializing.
Dunn is a member of the International Trade Student Association, where she has engaged in lively conversation with the Managing Director of Gemini Shippers Association on the west coast port congestion and its resolution. She aims to achieve a leadership position in the club next semester.
After graduating from ITM, Dunn plans to pursue a career as International Marketing Manager or Global Sourcing/Product Development Manager to develop strategic export marketing strategies and support product development to create positive impact in the fashion and creative industries.