Graphic Design Alum to Serve on AIGA NY Board of Directors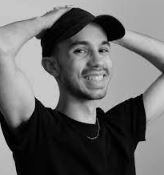 Troy Vasilakis, Graphic Design '20, has been selected to serve on the board of directors of AIGA NY. He was also selected by the Type Director's Club as the 2021 Winner in Communication Design for his senior thesis project "This is Not You."
Other recognition for his work includes accolades from Graphis and from Cargo for two sites he designed/developed, one in collaboration with other Graphic Design alumni. He is currently a designer at WØRKS.