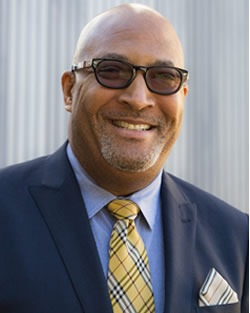 Dr. Ronald Anthony Milon is chief diversity officer and a member of the President's Cabinet. Milon provides leadership and vision for diversity and inclusion initiatives, ensuring their alignment with the principles and goals of the college's Diversity, Equity, and Inclusion Strategic Plan. Milon serves as co-chair of the FIT Diversity Council and participated in the development of its strategic plan.

Milon has long been active in diversity activities, and has attended diversity conferences and LGBT training sessions. At the New School, his master's thesis focused on human rights and their application to non-Western cultures. At Bergen Community College, he managed a federal and Kessler MOSAIC grant designed to place people with disabilities in jobs. Before coming to FIT, he conducted diversity workshops for students, and retreats for students and staff, at Bergen Community College and at DeVry University. In 2014, he ran a diversity workshop for staff in the Division of Enrollment Management and Student Success entitled, "Training across Cultures."

Milon has been at FIT since 2014. Before becoming chief diversity officer, he served as associate vice president for Academic Affairs, working closely with the schools, faculty, and administration in areas as varied as budget and fiscal resources, facilities, personnel, and academic technology infrastructure. Previously, he was interim dean for the Center for Continuing Education and Professional Studies.

Before joining FIT, Milon was vice president of administrative services at Bergen Community College, and served as dean of business and technology programs at DeVry University.

Milon has a PhD in adult education from Capella University, an MA in political science from the New School for Social Research, an MA in history from the State University of New York at Buffalo, and a BS in political science and history from SUNY/Brockport. For three years, he was a Ralph Bunche Fellow as part of a program at the Graduate Center, City University of New York. He earned certificates in leadership from Penn State University and Leadership New Jersey, completed a workshop in Diversity and Inclusion Initiatives Training at Cornell, and diversity certification on the professional standards provided by NADOHE and SUNY for chief diversity officers.