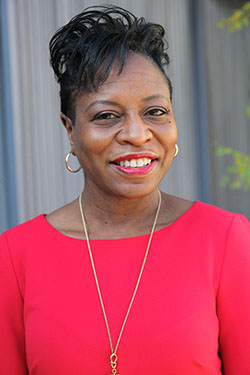 Jacqueline M. Jenkins is the acting executive director of Strategic Planning and Innovation. In this role, she oversees the development of FIT's strategic plan and the fulfillment of the college's commitment to innovation.
Previously, Jenkins was the dean of graduate studies at LIM College, where she led the development and execution of graduate-level programs including the MBA and the Master of Professional Studies (MPS) programs in fashion merchandising and retail management, fashion marketing, and visual merchandising. She was the founding dean of the global fashion supply chain management degree. She co-authored a textbook, Fashion Supply Chain Management (Fairchild).
At the Wharton School of Business, Jenkins served as the program executive for the University of Pennsylvania Energy Efficiency Buildings Hub. Before joining Wharton, she was the COO for Milligan & Co., a regional accounting firm. In both of these roles, she built relationships with local entrepreneurs and public officials to generate contracting opportunities for minority- and women-owned businesses.
In 2000, Jenkins founded Add Value Day 1, an advisory business that developed operational strategies and raised capital for early-stage companies. As a consultant, she completed extensive economic development and business strategy engagements in the U.S. Virgin Islands. Before that, she held corporate finance and supply-chain management positions with Ann Taylor, Inc., after beginning her career with the First National Bank of Boston.
Jenkins has held the following board appointments: Pennsylvania Private Investors Group (investment fund), the Ben Franklin Technology Partners Enterprise Growth Fund (microloan program); and the Philadelphia 100 (business conference). She currently serves as a board member of the supply-chain trade organization APICS New York City–Long Island Chapter.
The Philadelphia Business Journa l named her a Forty Under Forty honoree; the journal also honored her as one of its Women of Distinction. The Networking Journal recognized her as one of the most influential African-American businesswomen.
Jenkins earned her BA in economics from Spelman College and her MBA in finance from the Wharton School of the University of Pennsylvania. She is the founder of Sophisticated Curation, a web community for the mature fashionista.