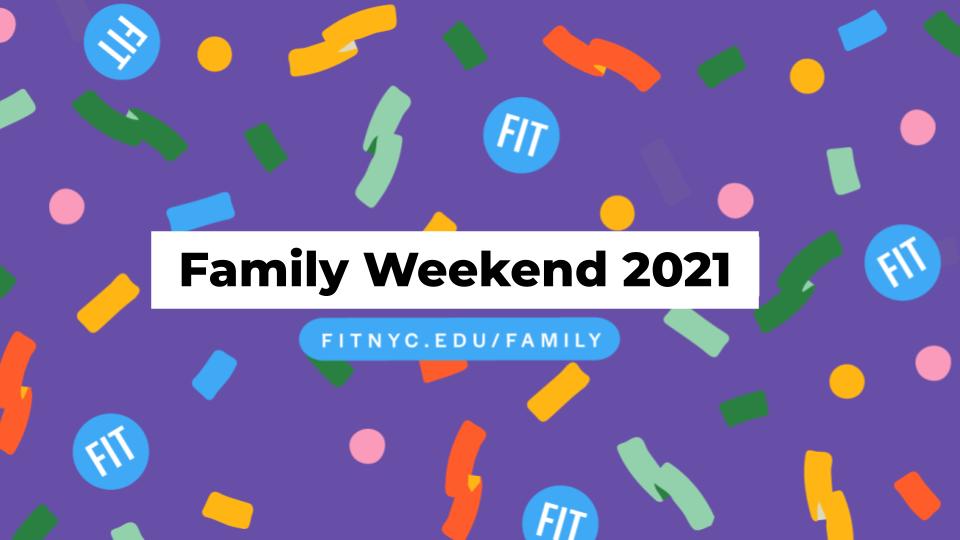 Fall 2021:
Saturday, November 6
The FIT campus is a student's home away from home, and each year we invite family members and friends to make it theirs as part of Family Weekend. Share the FIT experience as you spend time connecting with your student, interacting with faculty and staff, and experiencing what makes being an FIT student so special.
On November 6, we invite all students and their family members, wherever they are, to join us to celebrate. Although Family Weekend will not happen in person, we hope you will still take this opportunity to spend time together to strengthen your bond as a family.
Check out the Museum at FIT virtual tours, take a virtual tour of the FIT campus, see what amazing alumni the HUE Magazine has interviewed, or simply check the Barnes and Noble at FIT website for your favorite FIT swag item.
Most of the events and activities listed below will be live or prerecorded, but we encourage you to make plans with your family to participate in the events of your choice.
We'd love to see how your family is participating in Virtual Family Weekend, so share your photos and videos on social media with #FITFamilyWeekend. We may even feature you!
PLEASE NOTE YOU WILL NEED TO DOWNLOAD WEBEX TO PARTICIPATE IN THE VIRTUAL ACTIVITIES.
Click on the session title to join the session.
10 am
10:30 am

Join us for a Live Community Conversation around FIT's Commitment to Diversity with FIT's Chief Diversity Officer, Dr. Ron Milon.

11 am

Student Leader Panel & Getting Involved Session

Join the Student Life team as we share various ways to get involved with the campus community. Afterward, hear LIVE how our very own Student Leaders were able to get involved. Check out the panelists' proviles before the panel begins.

12:15 pm

Virtual Dance Company Showcase

Dance Frees the Soul! Check out a specially made promotional video featuring members of the current FIT Dance Company followed by a throwback to last year's exciting Fall Showcase, which took place in person. This performance will be sure to get you out of your seat and grooving along with the squad; good thing you will be watching from home!

Sponsored by Athletics and Recreation.

12:30 pm

Virtual Community Meet and Greet

FIT offers students a wealth of resources and information. Drop-in for a LIVE presentation and or meet and greet with the many offices that make up the division of Enrollment Management & Student Success along with the College's academic and support partners.

Participating Partners:

Meeting Links:

1:30 pm

Cooking With Carla - Sausage and Egg Breakfast Bake

After a morning of activities, the family is sure to be hungry for a brunch favorite: sausage and egg bake! Grab your ingredients, prep your kitchens, and join us for a LIVE cooking demonstration the whole family can follow!