OPC Newsletter—Issue 1
The Right Thing:
Turning Good Practice Into Best Practice Starts With You
Feature Article

Help Us Help You:
Who Is OPC and What Do We Do?
You may recognize the Office of Policy and Compliance from training emails, but we're more than that. We're here to help the entire college community work together to comply with important federal, state, and city laws and to protect FIT through improved governance and risk management. Compliance is all about doing the right thing to make FIT better for everyone; it means we stick to the rules. It promotes integrity, creates transparency and trust for FIT and our partners, helps us become better at what we do, and protects the college from potential risks that could threaten funding and weaken its stellar reputation.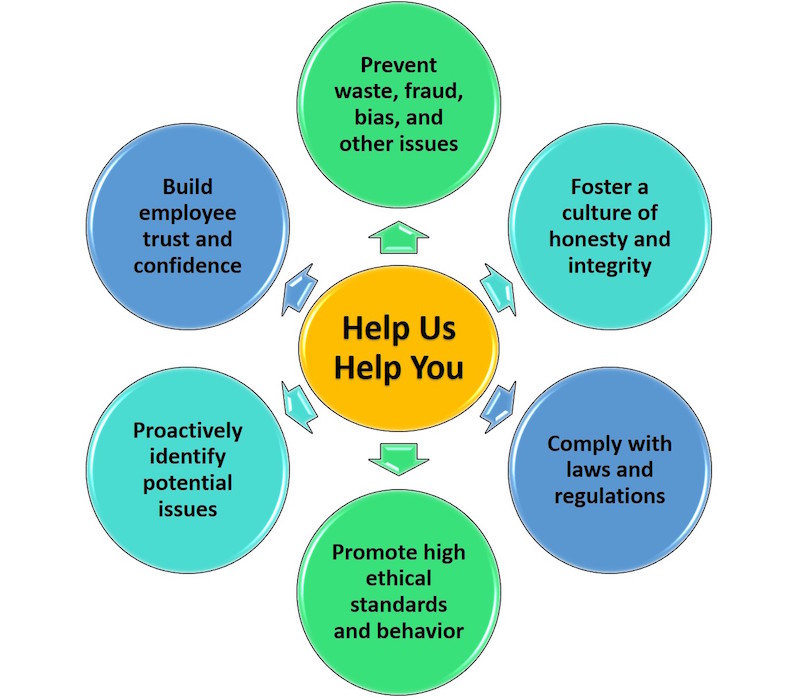 We are all about teamwork and improvement; after all, who knows your operations better than you? Our motto is "Help Us Help You" because you're the most knowledgeable when it comes to helping us understand the how our operations can be strengthened to protect the college from risk and liabilities, and ensure we're working the most efficiently. College policies and training programs are the vital tools we use to make sure everyone at FIT knows their roles and responsibilities. Policies and training help us reduce mistakes and costs while improving our response to unexpected circumstances.
Compliance is about everyone. Our office can help your area identify and reach your compliance goals but for compliance to be truly effective, we must do more than check a box—we have to care! Take a look at this success story from Temple University. A lawsuit was filed against the university in 2018 by a blind man because their website was non-ADA-compliant. They responded to this challenge by embodying accountability, responsibility, and a genuine concern for the needs of this man and other visually impaired users. They facilitated a culture shift that not only helps keep the university out of legal trouble, it aligns them more closely with their mission of equity and inclusion and shows they're united and committed to those values.
FIT is committed to the highest standards of integrity. We aim to do the right thing and hold ourselves accountable. While supervisors and division leaders have a special duty to enforce code standards, ethical behavior is everyone's responsibility. Learn more about the ways you can make the right choices by reviewing the Employee Code of Ethical Conduct policy.
While ethics can affect us in very big ways, here are some everyday situations that could make us think about how we approach workplace ethics. Discuss them within your areas and see how you'd react!
You take office supplies home to use to make party invitations. You often do FIT work at home, so you decide it's an even swap. Is this unethical?

You notice the restroom toilet is leaking. What do you do next?

You witness a colleague bullying another staff member. You know their actions are wrong but are afraid to ruin the friendship you've developed if you report them. What should you do?
For more examples and an article on the subject, see Did You Bring Your Ethics to Work Today? on The Balance Careers website.

At Your Fingertips: Links to Helpful Information
Education and Training Programs (in MyFIT on the Office of Policy and Compliance pages within the Division of Legal Affairs)

Inspiration Station: Compliance Wit and Wisdom
"Every great mistake has a halfway moment, a split second when it can be recalled and perhaps remedied." —Pearl S. Buck
"Our character is what we do when we think no one is looking." —H. Jackson Brown, Jr.




Contact Us!
Want to learn more? Suggest a future topic? Ask about compliance in your area? We're here for you! Email us at [email protected].