Paula Cáceres, Textile Development and Marketing '12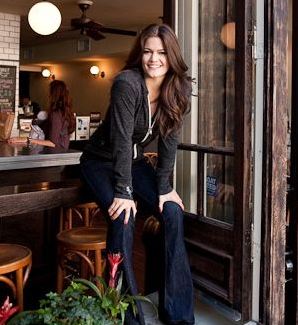 My senior textiles portfolio was my most challenging project because I took everything I learned and created a full line of knit and woven fabrics. It's a design presentation that is a year in the making, complete with story and color lines, technical structure analyses, costing models, and fabric swatches that we physically create on hand looms and knitting machines. It's the culmination of my understanding of fabric, and how it relates to the fashion industry. It's very intense.
Knit fabrics are, in general, structurally much more complex than wovens, so when it came time to design and knit the fabric on the machines, it was a lot of trial and error. I could envision in my head what I wanted, but translating it into a physical structure was frustrating. Getting from dream to reality is hard.
I was enamored with Prada's spring 2011 ready-to-wear show; it was very much in line with my own aesthetic and that's what inspired this knit. Miuccia Prada used stripes throughout her garments and fabrics and showed some in very bright colors, and I loved it!
I was researching knit structures when I came across one that created a puckering effect. I played around with it and designed a knitting sequence that manipulated the fabric to fold in on itself. In the fabric I named Mermaids Tail, the marigold stripe captures the illusion of scales on a mermaids tail, layered one on top of another. Except in my fabric it really does! You can lift up that stripe and its a 3-D piece of scales, so to speak.
During my studies I interned with Marc Jacobs, Ralph Lauren, Oscar de la Renta, and Conde Nast. I was awestruck as I walked through Mr. de la Renta's atelier at night—it would be empty so I could admire the work all on its own. Working with a group of really amazing women in the beauty editorial department for Allure magazine was loads of fun.
I had accepted a position with a major retailer when an opportunity came up that I could not pass up. I will be working in New York City for a venture capitalist on a portfolio of companies he owns and invests in. It's a confluence of fashion, technology, and branding. I'm very excited!