Kristyn Corino, Production Management Alum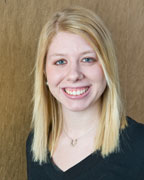 Everything opened up for me between my second and third years at FIT. That was when I got to do a couple of internships, and got heavily involved with the Merchandising Society, a student organization that runs an on-campus boutique. We visited a lot of showrooms here in New York, and traveled to corporate offices, like Nordstrom in Seattle and JC Penney in Texas. We were even invited to Gucci headquarters in Milan, and had a private tour of their archives—they're not even open to the public. I really started to see why I had come to FIT and what my future looked like. I was getting to network, make good contacts and great friends.

I grew up down south so I had no real exposure to the fashion industry, other than the shows I saw on TV, and pretty soon I began to notice a lack of fashion and glamour where I lived. I heard about FIT through word of mouth, but didn't think I had much chance getting in. Up north, they have high schools devoted to the fashion industry, and my only experience was working in a retail store. My regional manager traveled a lot to New York, and she told me a lot about it, so I decided to make it a goal for myself. Then that December, a big envelope showed up saying I had gotten in and I just couldn't believe it.