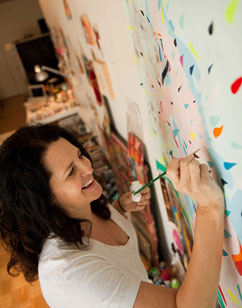 Her commercial clients include Rolling Stone, Entertainment Weekly, Penguin UK, McSweeney's, Portland Mercury, Y&R, Village Voice, Bon Appetit, San Francisco Chronicle, Henry Holt Publisher, and Country Music TV to name just a few.

Her work has been featured in the Beck video Girl and a book Sketchbook Expressionism, featuring artwork from her sketchbooks was published by Murphy Design. Rich's artwork has been shown in galleries throughout the U.S. and internationally and she is a past President of ICON: the Illustration Conference.

She is currently living in her hometown of Philadelphia and recently received her MFA in Painting from the University of Pennsylvania.