Smoking & Tobacco Cessation
Available to:
• Students enrolled for credit courses
Available as:
• Appointment
Make an appointment:
• Online @ the
health portal
• By phone, 212 217.4190
• In person, David Dubinsky Rm A402
In order to provide an environment that promotes the health, well-being, and safety of students, faculty, staff, and visitors, the Fashion Institute of Technology is now a 100% smoke & tobacco free campus.
Living tobacco-free is one of the most important things you can do to improve your health, quality of life and longevity. Quitting isn't always easy, but it is within your power to become a non-smoker forever. Health Services is offering our students access to free over-the-counter nicotine replacement therapy products (patches and gum). Students participating in the program also meet with a health educator who provides individual support and helps students understand the process of quitting, along with developing a personal plan to stop using tobacco.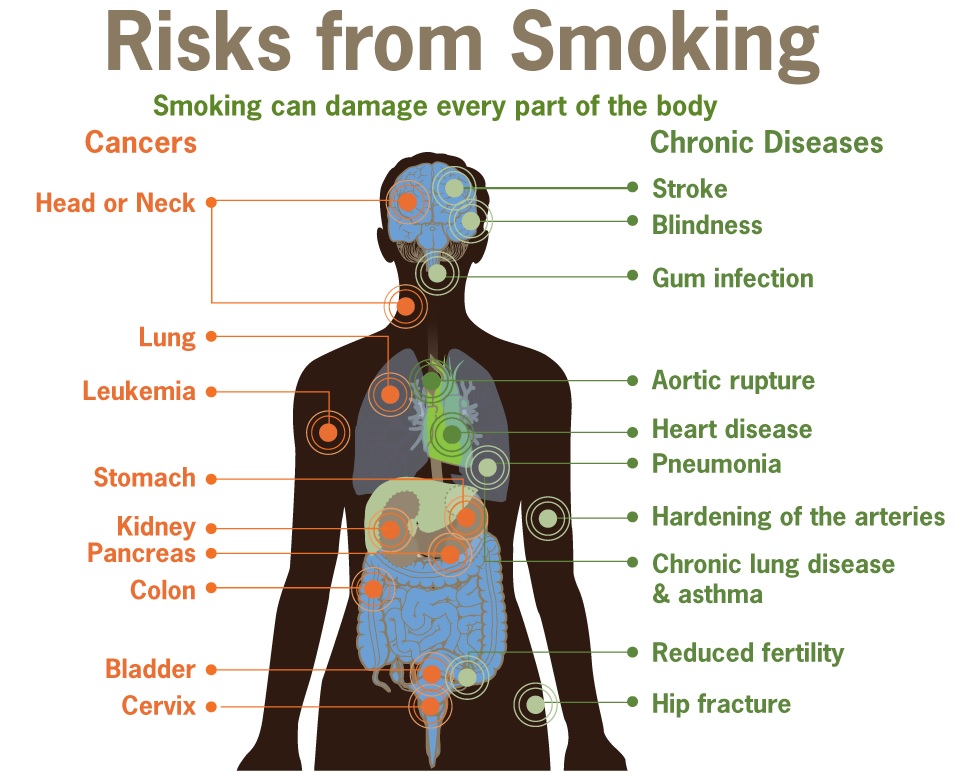 During the initial session, your health educator will talk with you about your goals, the history of your tobacco use as well as previous efforts at quitting. Together you will come up with a plan that will include support from the health educator as well as nicotine replacement therapy, when appropriate.
After the initial session, brief individual coaching sessions, no more than 30 minutes, are offered. It is recommended that students participating in this program meet with the health educator regularly (every week or every other week) during the first month or two of their quit.
Internet and Social Media Resources
New York State Smokers' Quitline
A free service that provides New York State residents with help when they are ready to stop using tobacco.
SmokefreeTXT
Try this mobile text messaging program that provides 24/7 tips, advice, and encouragement to help you quit smoking.
The Case for Quitting
Provides a timeline of health milestones individuals can look forward to once they've quit smoking.
The EX Plan
A free quit smoking program that helps you re-learn your life without cigarettes. Before you actually stop smoking, we'll show you how to deal with the very things that trip up so many people when they try to quit smoking. So you'll be more prepared to quit and stay quit.
CDC Tobacco Free on Twitter
Learn about the harmful effects of smoking, smokeless tobacco, and secondhand smoke, while also getting tips from former smokers.
TobaccoFreeU.org
The official BACCHUS Network website devoted to tobacco control with college and university campuses and young adults.
New Jersey Quit Net
Provides tools, information, and support, including message boards, chat rooms, interactive questionnaires, and personalized quitting suggestions.
The Great American Smokeout
Resources for quitting on the day of the annual Great American Smokeout, held on the third Thursday of November each year.
Reasons To Quit Smoking That You Might Actually Care About
More reasons to quit smoking from Ohio State University
Smokeout Countdown Clock
Download the American Cancer Society's Countdown Clock and receive daily tips right on your desktop that will help you prepare to quit. When your quit day arrives the Countdown Clock will continue to provide practical support tips for your first month as a nonsmoker.
QuitNow Cost Calculator
Quitting smoking really does lead to a richer life. Use this quit calculator tool to see just how much you'll be saving once you're tobacco-free. You'll be amazed at how much it all adds up!
Fight Back Against Tobacco
ACS CAN, the nonprofit, nonpartisan advocacy affiliate of the American Cancer Society, is holding lawmakers accountable for their words and their actions. We demand that our leaders not only talk about fighting cancer but take real steps toward decreasing the number of people suffering and dying from cancer.