FIT DECA CLUB COMPETES AT INTERNATIONAL CAREER DEVELOPMENT CONFERENCE
The Collegiate Division of DECA includes over 15,000 members in 275 colleges and universities. The organization's mission statement is DECA prepares emerging leaders and entrepreneurs in marketing, finance, and management in colleges around the globe.
FIT's DECA participation is through the student club of DECA.
In April 2018, FIT DECA CLUB completed in the International Career Development Conference (ICDC), in Washington DC. Eleven students represented FIT in six competitions representing three programs at FIT (Fashion Business Management, Advertising and Marketing Communications and International Trade and Marketing. .
Eight students moved into final rounds (+) with seven winning Top Category (*).
One student won 1st Place across all schools competing.
Ciara Lydon +* 1st Place
Katherine Zatyko +*
Emily Vaught +*
Carly Opaleski +*
Cherish Malhotra +
Julia Louise Hoggan +*
Victoria Schaff +*
Katelyn Morin
Emily Hritz
Taylor Keil +*
Tanha Patel


Congratulations to all of the students that competed! The DECA Club advisor is Professor Shelley Kohan from the FBM Department.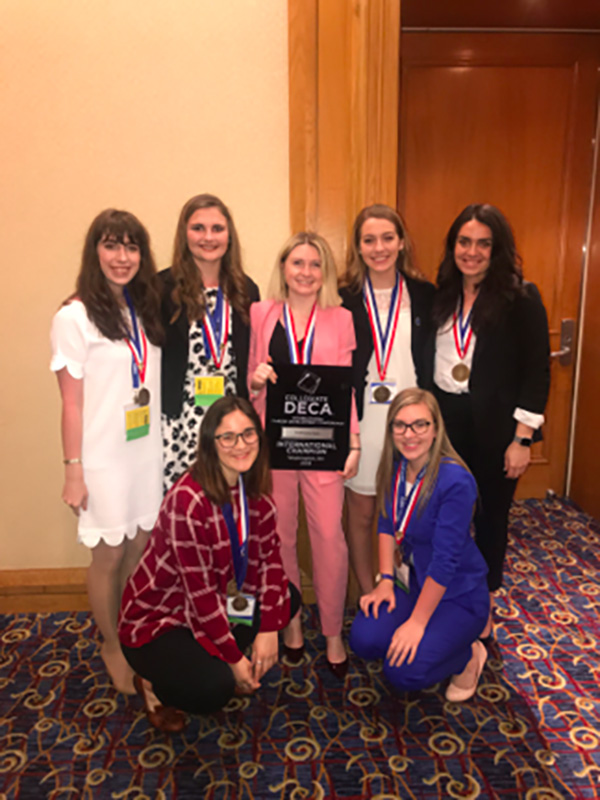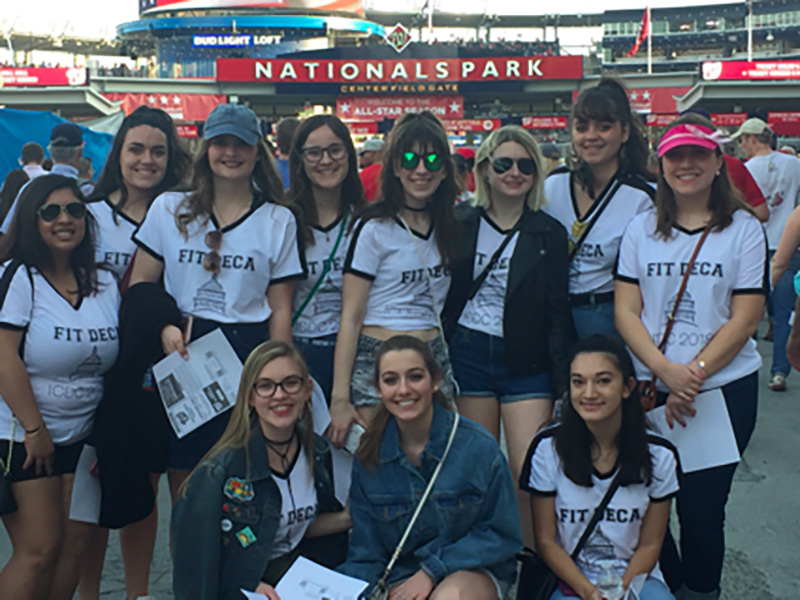 KUDOS TO FASHION BUSINESS MANAGEMENT FACULTY
Congratulations to Joseph Antee for winning the Fulbright Specialist Grant! Professor Antee will be teaching at the Universidad de monterrey in Mexice this June.
Congratulations to Shawn Grain Carter for winning the National Endowment for Humanities Grant!
Congratulations to Naomi Gross who will be receiving a Faculty Excellence Award on May 21, 2018!
And, the FBM Department proudly announces that Shelley Kohan's article, "All Roads Lead to Personal Commerce" was published in The Robin Report on March 28, 2018.
FIT STUDENT TEAM WINS $10,000 FIRST PRIZE IN 'RE-IMAGINE GOODWILL' CONTEST
GoodwillNYNJ announced the winners of "Re-Imagine Goodwill," a contest that Goodwill sponsored for students in the Jay and Patty Baker School of Business & Technology. The team members, Brianna Destratis, Alexis Helbert, Alin Intravisit, and Lara Voronkov were named winners for conceiving, designing, and presenting the best e-commerce options for a virtual Goodwill store.
Meeta Roy, an assistant professor in the Fashion Business Management Program, said: "The Goodwill contest gave our students the opportunity to consider the many factors that go into designing e-commerce solutions for an organization- and what better organization than Goodwill. It is real-world opportunities of this kind that set an FIT education apart and prepare our students to enter the workforce."
Members of the runner-up team are Megan Good, Caitlyn Kennedy, Corinna Sanni, and Gabriella Stevens.
MERCHANDISING SOCIETY STUDENTS VISIT CHICO'S CORPORATE HEADQUARTERS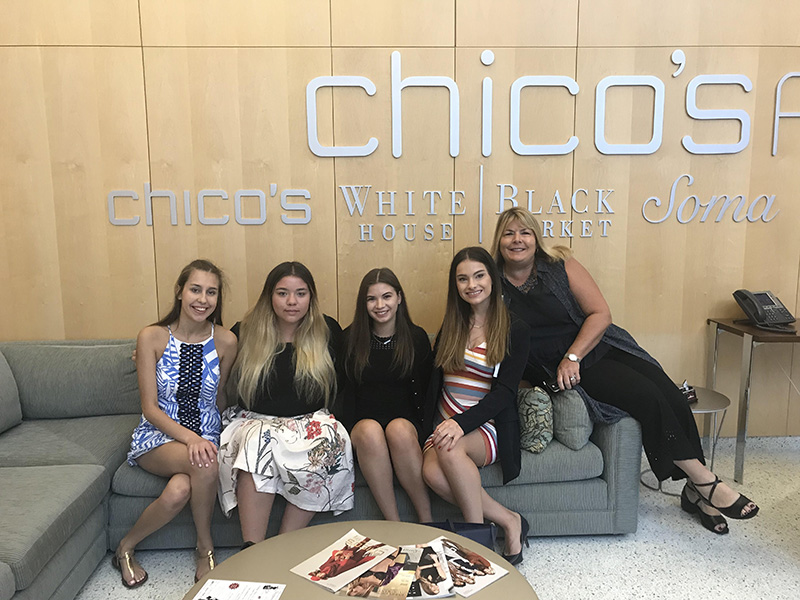 Professor Geib and a group of 12 Merchandise Society students visited Chico's FAS corporate headquarters in Ft. Meyers, Florida. Chico's brands White House Black Market and SOMA are also located there.
The students spent the day touring the corporate offices learning about the design, product development, and merchandising needed to create a vertical brand. They also had the opportunity to meet with Diane Ellis, Brand President of Chicos.
The trip affirmed the mission of the club: to expose the students to the fashion industry and get first hand experience.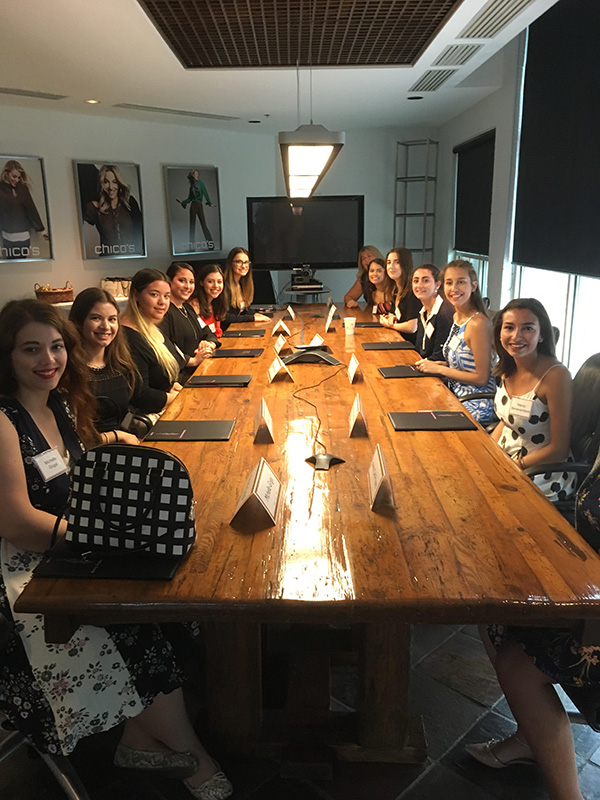 INTERNATIONAL WIN FOR FIT STUDENTS AT WORLD RETAIL CONGRESS EVENT
For the third time in four years, a team of four students in FIT's Jay and Patty Baker School of Business, representing the US, has won the Retail Futures Challenge, an international competition that takes place at the annual World Retail Congress. The FIT team traveled to Dubai and topped teams from Portugal, Hong Kong, Italy and England with Fora., a retail concept that "revolutionizes the status quo of department stores."
The FIT members are Eleonara Mazzetti (FBM), Meghan McCarty (FBM), Alaina McGuigan (CM) and Vivian Yuen-Wing Tai (AMC).
"It's an extraordinary achievement for a team to win three out of four years, and it's a testament to the hard work and creativity of the students that they are able to do it again," said Robin Sackin, chair, Fashion Business Management, and advisor for the FIT team. "With this win, we celebrate the dedication of our students and our faculty as strategic thinkers, business entrepreneurs and industry leaders. Having the ability to think under pressure and perform as they did is thrilling for all of us and acknowledges our success in educating the future solution-driven thinkers in our industry."
FIT STUDENTS WIN THIRD PLACE IN NATIONWIDE KOHL'S INVITATIONAL CASE COMPETITION
On April 4th and 5th, four students and their faculty advisor traveled to Milwaukee as one of twelve semi-finalist groups in this year's Kohl's Invitational Case Competition. The case, "How can Kohl's increase foot traffic to stores?" initially received more than 200 applications from colleges across the country. Our students, Charlotte Collins, Ashley Guilois, May Hein and Martyna Opiela worked tirelessly in the preceding months to develop a business plan around their initiative, entitled "Kohl's Culture."
As semi-finalists, the team was in weekly contact with their mentors, which included VP Regional Manager Frankie Pipes, Kohl's "millennial mentors" and Meeta Roy, their FIT faculty advisor. In Milwaukee, the students attended a networking session, a dinner to honor their achievement, and received a tour of the new Kohl's Innovation Center in addition to presenting in the semi-final rounds.
The group was announced as finalists and continued on to present "Kohl's Culture" to a room of 500 Kohl's team members, and a panel of judges that included senior Kohl's executives, including CMO Michelle Gass. The students gave a stellar presentation, and answered questions from the judges with knowledge, enthusiasm and composure.
Ultimately placing 3rd, FIT can be proud of the students and their exceptional achievement. They spent many hours preparing an outstanding business plan as well as an engaging, professional presentation. A very well organized and high profile competition, FIT looks forward to participating in next year's Kohl's Invitational Case Competition!
FBM INTRODUCES NEW COURSE: "PREDICTIVE ANALYTICS FOR PLANNING AND FORECASTING: CASE STUDIES WITH WEATHERIZATION"
In Fall 2016, the Fashion Business Management department launched the first interdisciplinary course in the School of Business and Technology. The course was written collaboratively by Fashion Business Management and Math faculty. Both faculty members are in the classroom at the same time, teaching content specific to their discipline and supporting one another and the students.
The course "Predictive Analytics for Planning and Forecasting: Case Studies with Weatherization" ran for the first time fall 2016.
Predictive Analytics is an area for growth in the fashion industry. Offering a course where students learn to apply techniques for predictive analytics gives students an edge when looking for an internship or job placement after graduation.
On November 27, 2016, an article appeared in the Wall Street Journal highlighting this new inter-disciplinary course. The article, The Next Fashion Trend: Weather Forecasting, was written by WSJ reporter Ray A. Smith.
As a result of this article, NPR reached out and ran a story on-air and online on Marketplace on Predictive Analytics for Planning and Forecasting: Case Studies with Weatherization on February 13, 2017.
PROFESSOR FROM REUTLINGEN UNIVERSITY ADDRESSES FIT
Dr. Jochen Straehle, a Professor from Reutlingen University in Germany, was an international guest and speaker at FIT on February 28, 2017. Hosted by the FBM department and The Merchandising Society in collaboration with Professor Catherine Geib, Dr. Straehle presented his lecture "A New Take On The Fashion Industry" to students and faculty. Professor Geib is collaborating with Dr. Straehle on a future IFFTI faculty exchange that will further link the schools and its students in the ever evolving international fashion business.
FBM ASSISTANT PROFESSOR RINGS CLOSING BELL AT THE NEW YORK STOCK EXCHANGE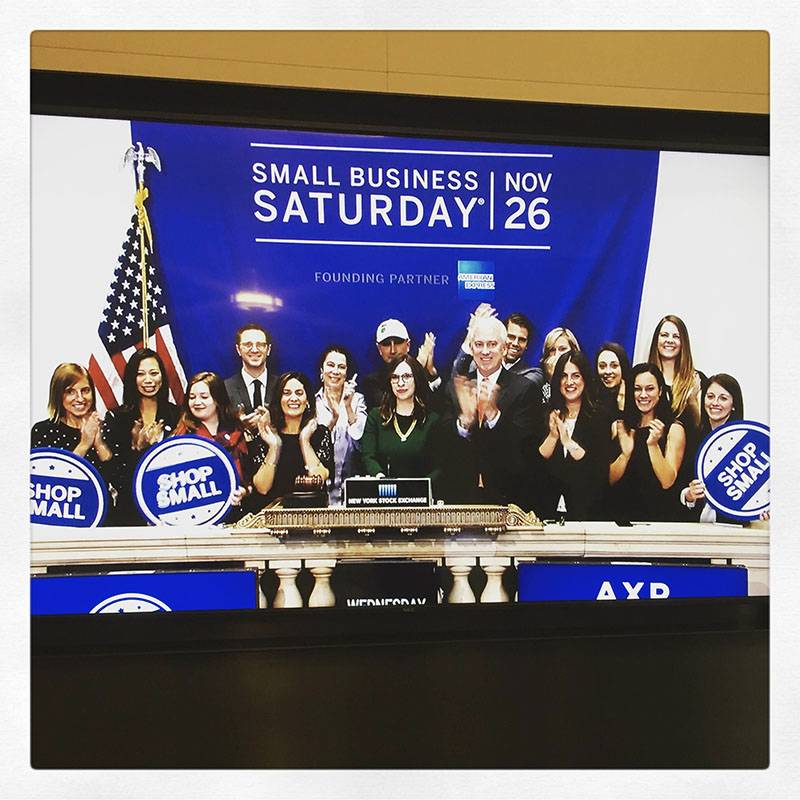 Professor Ann Cantrell was the only business owner invited to join American Express on the podium for the closing bell at The New York Stock Exchange on Friday, November 25, 2016. Ann represented independent businesses in anticipation of small business Saturday, November 26th.