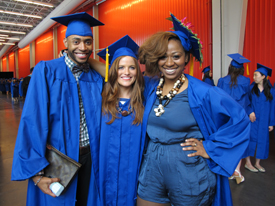 Academic regalia—the traditional cap, gown, and tassel—is required attire for all students participating in commencement exercises. ALL graduates will be required to purchase academic attire.
All academic attire will be made from sustainable materials, supporting the continued efforts of FIT in environmental sustainability.
Regalia must be ordered online from Herff Jones. (deadline is April 21) Prices are as follows:
Cap, Gown, and Tassel
Associate
$53.98
Bachelor's
$53.98
Master's (plus hood)
$99.96
Guest Tickets
Each graduate is entitled to four (4) guest tickets.
Complete information about commencement tickets can be found on the Tickets page.
Pick Up
Guest tickets and academic regalia will be available for pick up Monday, May 8 through Friday, May 12 at Barnes & Noble at FIT.
Graduate students will pick up tickets and regalia from the School of Graduate Studies.
Portraits
Students may schedule a commencement portrait session with Thornton Studios at www.thorntonstudio.com (enter school code 02866) or by calling 212 647.1966.