The Power of the FIT Network
FIT's Alumni Shadow Program gives students the opportunity to connect with an alumnus/a and gain insight to the spectrum of career paths that are possible after graduation. A student's one-on-one experience with industry professionals is inspiring and it empowers them to make decisions today that will impact their careers tomorrow. We encourage alumni working in all industries and at all professional levels to volunteer to host a student for a day. Industry connections have always been a hallmark of the FIT experience, and we are grateful to count on our alumni to continue the traditions of giving back to those just starting out in their careers.
The Experience
Students will spend most of their time observing others, asking questions, and getting advice and information. Students' experiences may include, but are not limited to, touring the organization, assisting with office tasks, attending meetings, participating in informational interviews, or meeting with other colleagues.
The Shadow Program for the Spring 2014 semester is now closed. If you are interested in participating during the Fall 2014 semester, please sign up here:Alumni Shadowing Form.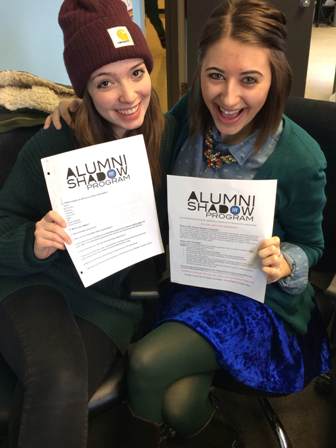 Shadowing Success Stories
A Day with Mallory Kaufman (Fashion Design '09), Designer at es + es
"I shadowed Mallory Kaufman, an amazing entrepreneur, and got to see how she interacts on a day-to-day basis with different people and the responsibilities that go into running your own fashion design business. I had a hunch that I one day want my own company... Now I am 100% sure that it is what I want to do!"
A Day with William Randy Elles (Advertising Design '08), Art Director at T3 Advertising Agency
"Working full time puts me at a disadvantage in terms of getting internships in my field, so this one-day program was a great way to make connections making a long-term commitment. Randy was so helpful! He took time at the end of the day to look at a few pieces of my work and offered great advice about how to structure an online portfolio. His advice is helping me to focus my energy on how to develop each piece into a fuller campaign."
A Day with Jenna Rosen (AMC '08), Publicist at Razor & Tie
"Jenna was awesome and I learned so much shadowing her, not just about her job but about FIT and, in particular, the study abroad in London, which I had been thinking about doing. She had such a positive experience with it that now I am definitely going to do it. I also learned a great deal about music PR, what goes into it and how things can go wrong. In fact, while I was there I was able to observe how Jenna approached a problem with one of their band's music videos and saw firsthand how she fixed the problem in a very short amount of time. Overall I was happy that Jenna and I got along well and I will definitely be keeping in touch with her in the future!"
Tell Us How You Want to Get Involved
If you would like to discuss how you can best host a student, or if you have questions about other ways to get involved with the college, please email us at alumnirelations@fitnyc.edu.