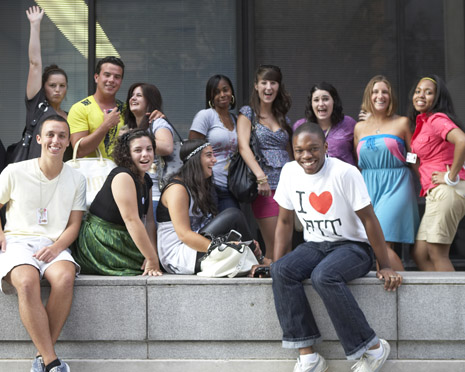 The best way to get to know FIT is to visit us! The Admissions office hosts information sessions several times a week, giving you an opportunity to see FIT first-hand. As part of the session, you will learn more about FIT's unique majors and programs, the SUNY application process, and take a student-led tour of the campus and residence halls. See FIT through the eyes and experiences of a current student. We look forward to showing you all that FIT has to offer!
Click here to Schedule a Visit
Walk-In Tour Availability
If you are unable to attend one of our regularly scheduled information sessions please note that the Office of Undergraduate Admission provides walk-in tours at 2:00 pm and 3:00 pm.
An Admissions representative is also available to speak with you Monday-Friday from 9:00 am - 5:00 pm. No appointment is necessary.
Accommodations for Guests with Disabilities
If you will require special accommodations during your visit, please visit our Disability Support Services (FIT-ABLE) Office for more information.
Group Visits
Designed for groups of ten or more, these visits are for high school or college students representing an educational institution or a community agency. Group visits generally consist of a presentation by an Admissions Office representative and a guided tour of campus.

When submitting your request please note that group visits are only available to be scheduled on Mondays and Thursdays.
Click here to schedule a Group Visit
Upcoming Events

FIT will be hosting additional events throughout the year that offer great opportunities to learn more about the college.
FIT on the Road
If you cannot visit us in NYC, we may be at an event near you.