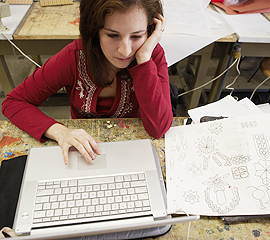 FIT offers an Associate in Applied Science (AAS) degree and a Bachelor of Science (BS) degree in Textile Development and Marketing. See eligibility requirements before you apply.
In the AAS program, the curriculum teaches the fundamentals of producing textiles for the apparel and home products industries, with an emphasis on global sourcing. You'll work hands-on in textile labs, using the latest professional-grade equipment.
The BS curriculum provides advanced study, with a more comprehensive view of the textile supply chain, including courses in product management, styling, and international marketing.
FIT's New York City location provides many internship opportunities for students at major companies including Polo Ralph Lauren, Cotton Incorporated, Liz Claiborne, Armani Exchange, West Point Home, and Marc Jacobs.
Students also have the opportunity to study abroad in Mexico.
FIT also offers a one-year AAS degree program for eligible students with transfer credits.