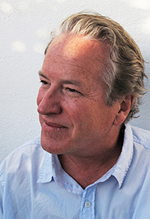 Jon Bowermaster

Jon Bowermaster is a six-time grantee of the National Geographic Expeditions Council and an award-winning writer and filmmaker. His ten-year OCEANS 8 project took him and his teams by sea kayak on expeditions ranging from the Aleutian Islands to Vietnam, French Polynesia to South America, and Tasmania to Antarctica, giving him a one-of-a-kind look at the health of the planet's oceans and the lives of the billions of people who depend on them. His film series documenting the project has shown in 150 countries on the National Geographic Channel.

Recently named one of a dozen Ocean Heroes by the National Geographic Society, Bowermaster continues to report, via his website Notes from Sea Level, on the world's coastlines and issues concerning the oceans.

Bowermaster's most recent books are Descending the Dragon, about his travels in Vietnam (National Geographic Books), and Wildebeest in a Rainstorm, profiles of conservationists and explorers (Menasha Ridge Press). His companion book to the Jacques Perrin/Disney Nature film Oceans coincided with the film's premiere on Earth Day 2010.

His most recent documentaries are Terra Antarctica, Rediscovering the Seventh Continent, What Would Darwin Think? Man v. Nature in the Galapagos, and the prize-winning SoLa, Louisiana Water Stories. His films Dear Governor Cuomo looks at fracking in New York State; and Sink or Swim, Learning the Crawl in the Maldives considers why many coastal residents never learn to swim, though they live just a few feet above sea level.

Bowermaster's 2014 film, On the Edge, Antarctica 3D, was the first 3D film to be shot there. He is at work on a new film, Dear President Obama, due out in 2015, that takes a nationwide look at fracking.

Bowermaster lives in New York's Hudson Valley.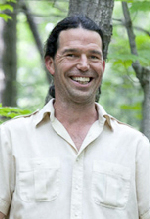 Andrew Faust

Andrew Faust is one of the premier permaculture teachers and designers in North America, with over two decades of experience in the field. Faust creates homes and communities rooted in a sense of the sacred in the eastern Appalachian bioregions. He is turning on hundreds of New Yorkers to the beauty of applying permaculture design to a wide range of landscapes and projects.

Demonstrating in classes how to practice permaculture in the midst of America's largest city, Faust integrates his lifelong wisdom of "reading" the northeast corridor through permaculture perspectives for clients and students. Being immersed in this landscape, he can read it, sense it, and design/build in tune with the natural lay of the land. This is possible only because he has homesteaded off the grid for eight years, with an intentional pursuit of a deeper understanding of permaculture and all its facets.

"I am here on this Earth to help my fellow human beings achieve a higher quality of life in sustainable, beautiful, and resilient ways," says Faust.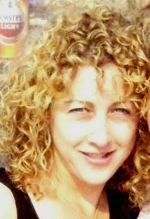 Jennifer Grossman

With more than 20 years of strategic environmental legal work in both the public and not-for-profit sectors, Jennifer Grossman is a conservation consultant in her own firm. Now working with the Natural Resources Defense Council on a Regional Foodshed Initiative, she is forging collaborative platforms between rural and urban communities to establish sustainable economic growth through local agriculture.

Grossman is the founder and president of FarmCo New York, a Catskill-based company creating economically viable and environmentally conscious family farm business ventures. FarmCo's initial venture, Mauer's Mountain Farms, is the first and only New York State farm raising heritage French jumbo guinea hens. A subsequent venture, Catskill Mountain Dairies, is a unique producer of kosher organic farmstead yogurt.

Grossman is also a founding partner of Longdrift, an ecotourism company providing unique angling adventures in Argentina.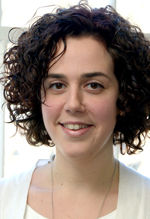 Nancy Kohn is the Director of GreenThumb for NYC Parks, where she oversees programming, material and technical support provided to over 600 community gardens throughout NYC and an additional 500 school gardens through the Grow To Learn program. She works with city agencies and over 20,000 volunteer community gardeners, citywide, to develop new garden sites, promote healthy living through programming and education in the gardens, and support policies that enhance urban agriculture across NYC and nationwide.

Before joining GreenThumb, Nancy was with the School District of Philadelphia directing one of the largest nutrition education programs in the country; emphasizing the importance of healthy eating, nutrition education, and connecting children to their food source with gardening. Nancy's experience ranges from finance and clinical research before making the leap to public health. She holds a BA from Temple University and an MA from Columbia University. Nancy is passionate about creating strong, vibrant communities, ensuring equal accessibility to open space and food, while improving the quality of life for all New Yorkers.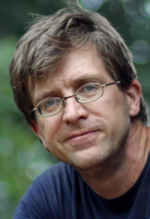 Joseph Trumpey

Joseph Trumpey is an associate professor of art and natural resources at the University of Michigan. He earned his A.B. in art and biology from Wabash College and his M.F.A. in medical and biological illustration from the University of Michigan. Trumpey was chief medical illustrator for the College of Veterinary Medicine, North Carolina State University. He founded and directs Michigan Science Art, one of North America's largest groups of science illustrators. The group's notable achievement is the 5,000 illustrations for the award-winning Grzimek's Animal Life Encyclopedia. Trumpey has worked with numerous zoos, museums, and publishers.

As former director of international engagement, art and design, Trumpey is instituting a school-wide international requirement. His teaching focuses on sustainability, culture, experiential observation, and creative processes connecting nature to society. He is a recipient of the University of Michigan's Undergraduate Teaching Award and has been a TedX speaker.

With an emphasis on biodiversity, modern agriculture, and ecological sustainability, Trumpey's creative work has been exhibited in a wide variety of venues. His devotion to these issues is evident in the fact that he, his wife, and his two daughters live and work on a small farm dedicated to their own food production and the preservation of genetic diversity in heritage livestock. He designed and built their solar powered, off-grid, straw-bale home.