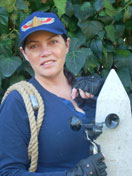 Dr. Maureen Clemmons holds both an EdD in Organization Change and an Executive MBA from Pepperdine University. She is the president of Transformations, a consulting practice located in Winnetka, California whose associates specialize in Innovation, Change Management and Entrepreneurship. Her clients include Interorbital Space Systems, Taberco Inc, U.S. Biofuels, The Traveling Space Museum, and others. She has lectured at NASA, JPL, Caltech, the Museum of Flight, the American Institute of Architects and various colleges, universities, and centers of innovation.
Her documentary Flying Pyramids, Soaring Stones airs internationally on the History Channel, profiling her theory and research demonstrating the ancient Egyptians could have harnessed the wind to build their monuments. Her book Soaring Stones is currently available on Amazon.com in paperback and electronic versions.
In addition to being the designated Leader of National Geographic Society Expedition EC-Y02, she has been made a Fellow of the Explorers Club, Wings World Quest and National University. In addition, she was honored with carrying Wings World Quest Expedition Flag #11 and Expedition Flag #22 in her field expeditions.