Mark Dorfman is the Biomimicry Guilds Green Chemistry Naturalist. He serves as Project Manager and Principal Research Consultant for clients seeking biomimetic green chemistry solutions to their sustainability challenges. He also frequently gives lectures and presentations on biomimicry and green chemistry. From his home base in New York City, he represents the Guild in partnership with Dr. John Warner at the Warner-Babcock Institute for Green Chemistry to develop proof-of-concept materials based on Biomimicry Guild research. His past environmental research and writing has led to public policy innovations including the federal Pollution Prevention Act of 1990 and the federal BEACHES Act of 2000.
---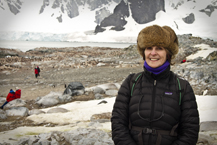 Anne L. Doubilet is an underwater explorer, writer and photographer. She has logged thousands of dives worldwide working as a freelance team member for National Geographic Magazine on over 30 stories about the seas. She is a Fellow of The Explorers Club where she serves on the Board of Directors and as Chair of Lectures and Programs. A member of the National Arts Club, she premiered her photography exhibition Coral and Ice there and has traveled it to several locations.
Anne received a Bachelor of Arts degree from Boston University with a major in English Literature and a minor in Education. She also studied photography and taught Creative Writing and Photography to disadvantaged children in the Boston area. After graduating from college, she lived for a year at Small Hope Bay Lodge, Andros Island, Bahamas where she worked in the SCUBA diving industry and taught at a local school.
A member of the Women Divers Hall of Fame, Anne has worked in the Red Sea, Papua New Guinea, Palau, Hawaii, Fiji, Tahiti, Indonesia, Madagascar, Japan, the Galapagos, all around Australia's coasts, and throughout the Caribbean. Now officially bi-polar! she has recently photographed melting and shifting ice in the Arctic and Antarctic. Recipient of a Scuba Schools International Platinum Pro Award, she has completed over 5,000 dives. Author and contributing photographer of the award-winning children's book, Under the Sea from A to Z, Anne's work has also appeared in various National Geographic Society publications and The Explorers Journal. She is featured in Vogue Magazine August 2009 and is an Ambassador of the Sea in the book Ocean Portraits published in Fall 2010 from Scott Polar Research Institute/University of Cambridge. Lecturing at various venues throughout the country, Anne speaks to the issues of oceans in peril as seen through her 40 years of working underwater.
---
Dr. Arthur Kopelman is a population ecologist whose research interests, since 1987 include the population dynamics and feeding ecology of fin and humpback whales of New York and New England; and since 1995, the population dynamics of harbor, grey, harp and hooded seals of NY. He received his Ph.D. in Biology in 1982 from The Graduate School and University Center of CUNY. Dr. Kopelman is a full professor of Science in the Department of Science and Mathematics at FIT since 1981, and teaches courses in biology, ecology and environmental problems. He is also an adjunct associate professor of Marine Science at Dowling College, where he teaches a course titled "Whales of Long Island." Dr. Kopelman is also the president, co-founder, and webmaster of the Coastal Research and Educational Society of Long Island (CRESLI).
For nearly 30 years, Dr. Kopelman has been one of the strongest voices propelling FIT towards embracing the issues of sustainability, and was pivotal in the establishment of the annual SUNY-wide Sustainable Business and Design Conference. Dr. Kopelman is a member of FIT's Sustainability Council and is the chair of the Ad-Hoc Sustainability Committee of the FIT Faculty Senate.
In May 2010, Dr. Kopelman was appointed to Distinguished Service Professorship rank by the State University of New York Board of Trustees. Distinguished Professorship is the highest honor conferred upon instructional faculty in the State University of New York (SUNY) system.
---
Kevin McAllister was selected in 1998 to serve as the Peconic Baykeeper, a position dedicated to safeguarding the ecological health of Long Islands Peconic and South Shore estuaries.

Kevin has extensive academic and professional training in biological sciences and coastal zone management. His work involves patrolling the bays, monitoring water quality, identifying pollution problems, enforcing environmental protection laws and working with government officials and civic leaders to develop progressive conservation policies.
---
Joshua Onysko's personal devotion and commitment to inspiring social sustainability sparked the inception of Pangea Organics in 2000. Throughout Pangea's growth, from its inception in 2000, Onysko, founder and CEO, has retained private ownership of his company, never straying from its vision: Ecocentric Bodycare: Always Beneficial, Never Artificial. He realized that corporations were inheriting the earth and that, by leading by example, there was potential to influence others to reconsider their ways. To propel the momentum of this new paradigm of social responsibility, he created the Pangea Institute, an emerging non-profit organization dedicated to researching and teaching all aspects of sustainable living and business practices.
Through his stewardship, Pangea Organics became the first company to introduce (and be awarded for) biodegradable, compostable, plantable packaging; Facebook/Twitter on packaging; and origami fold packaging. His efforts and products have been lauded by Entrepreneur, O (The Oprah Magazine), Time Style & Design, among many other top tier media outlets.
To date, Onysko and Pangea's efforts have been recognized in 47 notable awards since 2006, including: Entrepreneur of Distinction (Espirit) Award 08, Ernst & Young Entrepreneur of the Year 2007 & 2008 (Rocky Mountain Regional Finalist in the category of Socially & Environmentally Responsible), Redbook's 2007 MVP Beauty Awards (for Facial Creams, Facial Scrub and Facial Cleanser), Gala Spa Award (Germany), and the New Business Journal Business Achievement Award 07 (in the category of Environmental & Sustainability). With his feet rooted on the ground and his head admirably in the clouds, Onysko is also a renowned sustainable eco-living speaker, and has been profiled in numerous leading print, online, radio and broadcast media outlets.
---
Jeff Rumpf took the helm as the executive director of Clearwater, America's flagship environmental organization, in 2007. Since that time he has evolved the organization in multiple ways, including the establishment of an endowment, successfully relocating the organizations offices to Beacon, NY, and effectively repositioning Hudson River Sloop Clearwater as a leading Hudson Valley non-profit, working to create a new generation of environmental leaders while preserving and protecting the Hudson River.
During Jeff's tenure as executive director, Clearwater has received multiple recognitions, including an award for Environmental Impact from the New York State Educational Association, and the Business Excellence Award from the Dutchess County Economic Development Corporation. Clearwater also received the Dutchess County Executives Arts Award for Art in Public Places and was recognized as an Environmental Stewards of the Hudson Valley by the Southern Dutchess NAACP.
Recently Clearwater has been working with the Obama Administration to highlight the Next Generation of Environmental Leaders program as a national youth environmental model as part of the America's Great Outdoors Initiative. Clearwater was selected for its strong connection to youth, environmental education, and its agenda to create the Next Generation of Environmental Leaders, all part of an effort to build and strengthen green initiatives for a green economy and creating a more inclusive and diverse environmental movement.
---
Dr. Martin Schreibman has had a career of teaching and research at Brooklyn College that spans more than 50 years. He is the founder and Director Emeritus of Brooklyn Colleges Aquatic Research and Environmental Assessment Center (AREAC), a 2.5 million dollar teaching and research institute that studies aquatic organisms and the environments that they inhabit. AREAC's state of the art water reuse (recirculation) systems permit the growth and maintenance of most aquatic organisms (at a complete range of temperatures and salinities). It also facilitates the formation of mesocosms to study the impact of environmental challenges to organisms under controlled experimental conditions. Dr. Schreibman is credited with over 190 scientific published citations and seven books. His topics of research have ranged from issues and concerns of space travel and extraterrestrial habitation and biomedical concerns (cancer and aging) to the impact of urban communities on surrounding estuaries and aquatic ecosystems. His current passion and research is on urban aquaculture (fish farming in the city), hydroponics and aquaponics and their impact on global environmental and social issues, such as economic development, job training, world fisheries management, feeding the hungry of the world and ecosystem sustainability.