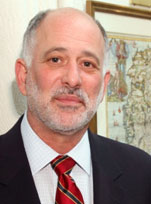 [email protected]
Department: Textile Development and Marketing
Initiative: Course module - Cotton Sustainability in the Textile Complex
"Sustainability in the textile complex is measured by the ability to improve processes and ingredients that will enable the responsible creation of viable products." - JS
How would you categorize your initiative?
This is a module within an existing course and I use a variety of approaches, including student design projects, case studies, course topics, and panel discussions--any of which are related to our capstone course.
Please describe your activity and its relevance to sustainability in the curriculum.
Students in their senior year develop a line of jeans from cotton in their capstone course. Offshoots of this program have been panel discussions, guest lecturers, and a case study that is used as material to support the course. Creating sustainable denim fabric is important, as 20% of the cotton consumed in the world goes into denim fabric, and nearly 90%of consumers worldwide own at least one pair of jeans, with the average American owning 6 pairs of jeans. This initiative has been incorporated within the last academic year
Briefly describe your experience implementing your activity.
Students care about sustainability in textiles, but there is a lot of green washing, and the students are not always clear on what sustainability means. The generally accepted meaning is that the activity or product supports responsible social, economic, and ecological viability. I plan to expand the topic to address cottons role in food security.
Based on your experience, do you have any suggestions or advice you might give to other faculty interested in incorporating sustainability into the curriculum?
They should always acknowledge and respect all of the different points of view, as there are many, and not just one concise answer.
Does your initiative have applicability to other curricular or program areas?
This initiative could have positive implications for the entire fashion global supply chain, all of which is taught at FIT. This topic should continue to be highlighted. It will not go away, nor should it. Do not make the assumption that "organic" means sustainable. There are many factors to consider.