Students interested in participating in FIT study abroad programs should attend informational meetings held each semester. Check here for dates and times of the informational meetings.
---
FM226 International Buying and Marketing
Students, under faculty supervision, visit principal European cities to study the factors involved in fashion marketing and the international customer's attitudes about fashion. To apply to participate, you must attend an information session and then schedule a one-on-one appointment with Professor Jane Werner. You must have a 3.0 GPA or better. Juniors and Seniors are preferred but Sophomores and Freshmen are welcome to apply. For further information, contact Professor Jane Werner, FBM.
---
International Fashion Business Merchandising Program
Our international FBM program is designed for students pursuing a BS who want exposure to the international fashion business. Students may spend one full academic year (fifth and sixth semester) or half an academic year (fifth or sixth semester) at Polimoda International Institute of Fashion Design & Marketing in Florence, Italy. Admission to the program is highly selective and you should begin planning as early as possible.
IFMM Students Visit Ferragamo - April 2011
by Molly Harris - IFMM 2012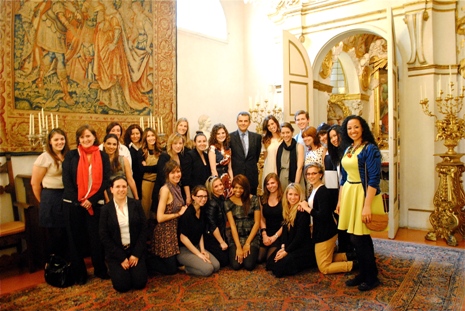 Recently the students studying abroad in the International Fashion Merchandising Management program in Florence, Italy at Polimoda had the unique opportunity to attend a meeting at the Ferragamo headquarters located in downtown Florence for their FM 321 Workshop in Apparel Merchandising class. Accompanied by Professor Madeleine Kaplan, the students had the opportunity to meet Mr. Ferragamo along with several of their corporate manager including the head merchandisers of the shoe and leather good departments in order to better understand the history of the brand, the merchandising activities and their link with buying, and the distinct process by which products are taken from conception to the consumers at Ferragamo.
For more information on all Study Abroad opportunities, visit the Office of International Programs (Study Abroad).