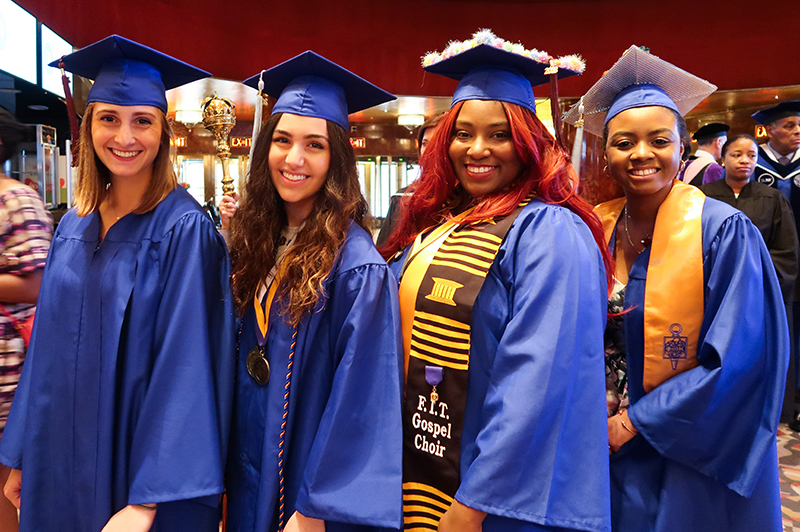 Further details will be posted when available.
To prepare for commencement, you should do the following:
Apply for Graduation (Deadline: April 5, 2021)
Students completing their course requirements should apply for graduation by the extended deadline of April 5 to be included in the virtual ceremony and to assure that your name is listed in the printed program.
Pre-Commencement Celebrations
Visit

fitnyc.edu/fitcelebrates

about celebratory and capstone events leading up to commencement.
Virtual Ceremony
Each ceremony will provide the opportunity to highlight each individual graduate. You will receive an email from StageClip, a vendor partner, which will provide directions with a link to creative assets. Look for this message in your FIT email.
Regalia
While caps and gowns are not mandatory for the virtual ceremony, we encourage you to wear one to celebrate. Regalia is required to participate in the in-person ceremony and may be ordered directly from Herff Jones.
Orders placed by May 13th will arrive on or before May 31st. Any order placed May 14th or later is not guaranteed to arrive before the in-person ceremony.
The price for a cap, gown, and tassel is $50.98; plus shipping and handling.


All academic attire is made from sustainable materials, supporting the continued efforts of FIT in environmental sustainability.


» Track Your Regalia Order from Herff Jones
Portraits
Students may schedule a commencement portrait session online with Thornton Studios or by calling (212) 647-1966. Please use code: studio.
This page last updated: June 3, 2021