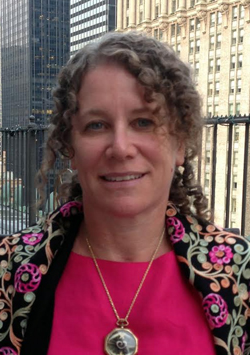 Professor
American Studies Minor Coordinator

Office Location: Business and Liberal Arts Center, Room B650
Phone: (212) 217-4673
Email: [email protected]
Amy Werbel joined the department in 2013 as a specialist in art of the United States. She is the author of numerous works on the subject of American visual culture and sexuality, including Lust on Trial: Censorship and the Rise of American Obscenity in the Age of Anthony Comstock (Columbia University Press, 2018), winner of the 2019 Peter C. Rollins Book Prize of the Northeast Popular and American Culture Association. Lust on Trial has been praised in the Times Literary Supplement as "richly detailed, deeply researched, and lavishly illustrated," and in the Los Angeles Review of Books as "an amazing feat of pop-cultural scholarship." Werbel's previous publications include Thomas Eakins: Art, Medicine, and Sexuality in Nineteenth-Century Philadelphia (Yale University Press, 2007), which was designated an "Outstanding Academic Title" by Choice magazine and praised in The New England Journal of Medicine as "a rigorous academic review that is readable and enjoyable."
Dr. Werbel is the recipient of fellowships and scholarships from numerous institutions, including the Frick Center for the History of Collecting, Smithsonian American Art Museum, Gilder Lehrman Institute of American History, and Metropolitan Museum of Art. She served as a Fulbright Scholar for 2019-2020 in the United Kingdom, and for 2011-2012 in China. She was honored to receive the 2018-2019 State University of New York Chancellor's Award for Excellence in Scholarship.
Education
BA, Harvard and Radcliffe Colleges
PhD, Yale University
Selected Publications
Books
Lust on Trial: Censorship and the Rise of American Obscenity in the Age of Anthony Comstock (New York: Columbia University Press, 2018). Read reviews.

Lessons from China: America in the Hearts and Minds of the Worlds Most Important Rising Generation (Self-published. Printed by CreateSpace, 2013).
Thomas Eakins: Art, Medicine, and Sexuality in Nineteenth-Century Philadelphia (New Haven and London: Yale University Press, 2007). Read reviews.
Recent Essays
"The Influence of Art Censorship on New York Collectors in the Gilded Age," Journal of the History of Collections (February, 2021).
"John Haberle's A Bachelor's Drawer: Censorship, Geologic Time, and Truth," Metropolitan Museum Journal, vol. 55 (Fall 2020).
"Is Art Censorship on Social Media Leading Us to Tyranny?" blog post, Institute of Art and Law (June 25, 2020).
"How the Postal Service helped stamp identity on America - and continues to deliver a common bond today." theconversation.com (June 2, 2020).
"Reaching Broader Audiences through Book Projects," Panorama: Journal of the Association of Historians of American Art (Fall, 2019).
"State v. Charles Conroy: New York City Photographers' Battle for Free Speech in the Late-Nineteenth Century," New York History Journal vol. 99, 3-4 (Summer/Fall, 2018): 356-369.
Recent Lectures
"The Confederate Flag in the Capitol and the Future of American Expression," panel discussion, Reframing the Legacy of the Capitol, Pennsylvania Academy of the Fine Arts - Art at Noon (January 26, 2021)
"Art in the Age of Social Media" with Mikaela Gross and Irina Tarsis, Center for Art Law Lunch Talk (July 29, 2020)
"Off Limits: Art, Social Media and Censorship," with Michael White and Kyveli Lignou-Tsamantani, York Festival of Ideas (June 9, 2020)
"What Would Benjamin Franklin Think About Facebook?" Fulbright Annual Lecture, Benjamin Franklin House, London, (May 28, 2020)
Transcript available on Medium
"Censorship, Social Control, and the Nude in 19th C. Britain vs. the United States," University of York, Department of the History of Art Research Seminar (February 27, 2020)
"Censorship and Obscenity in Law and Culture," Institute of Art and Law, York, UK (February 22, 2020)
"Obscenity in Law and Culture in the Age of Anthony Comstock," University of New Hampshire School of Law, The Franklin Pierce Center for Intellectual Property, March 27, 2019.
"From Charles Willson Peale to Robert Mapplethorpe: Philadelphia on the Front Lines in the Fight for Artistic Freedom," Pennsylvania Academy of the Fine Arts, March 6, 2019.
"First Amendment Salon" with Nadine Strossen at Ballard Spahr LLC, December 4, 2018.
"Lunchbag Book Talk: Lust on Trial," Smithsonian American Art Museum, November 14, 2018.
"The Quagmire of Government Censorship Efforts in the Age of Anthony Comstock" Archer Center, The University of Texas System in Washington, D.C., November 14, 2018.
"The Past, Present, and Future of American Free Speech: A Conversation with Nadine Strossen and Daniel Levinson-Wilk," Fashion Institute of Technology, Katie Murphy Amphitheater, October 23, 2018.
"John Haberle's Bachelor's Drawer: Public and Private (Still) Life in 1894," Center for Advanced Studies in the Visual Arts, National Gallery of Art, October 19, 2018.