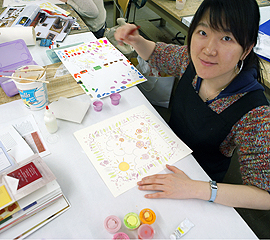 FIT offers an Associate in Applied Science (AAS) degree and a Bachelor of Fine Arts (BFA) degree in Textile/Surface Design. See eligibility requirements before you apply.
The curriculum integrates theory with traditional and digital hands-on application using the latest computer-aided design (CAD) techniques. You'll also learn about the business of textile surface design with courses in project management, costing, and sourcing.
Associate in Applied Science
In the AAS program, you will study creative principles, color fundamentals, and studio practices. You'll select an area of specialization, in decorative fabrics, screen print, or woven design.
Bachelor of Fine Arts
The two-year Bachelor of Fine Arts offers more advanced study and includes a required internship. Students have interned at such leading companies as Donna Karan, Nautica, Nicole Miller, Pyramid Accessories, Waverly Home Fabrics, Federated Department Stores, Macy's, and Martha Stewart, among others.
Study abroad programs in Canada, England, and France give you a global perspective on the international market for textile/surface design.