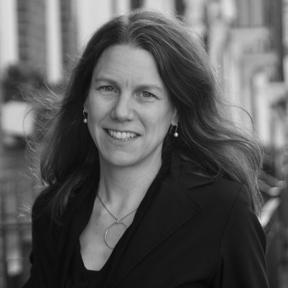 Lorraine Smith is a Director at SustainAbility, a global think-tank and strategy consultancy founded in 1987 with a vision of a just and sustainable world for present and future generations. Based in SustainAbility's New York office, Lorraine directs client projects on strategy, stakeholder engagement and value chain or life cycle thinking. She has facilitated strategic development and diverse stakeholder engagements with global corporations in apparel, retail, agriculture, manufacturing and mining and metals, with a focus on the inter-connectivity across multiple sectors, and across functions within companies. Additionally, she brings extensive expertise in sustainability reporting and transparency initiatives involving external stakeholders.
Prior to joining SustainAbility in 2012, she worked as a sustainability consultant beginning in 2004. Her work included projects with organizations from a range of sectors, including aluminum products manufacturer Novelis, garment manufacturer Gildan Activewear, retailer Walmart Canada, grocery products manufacturer Libert, networking organization Canadian Business for Social Responsibility, environmental not-for-profit Evergreen Foundation, sustainability reporting and strategy consultancy BuzzWord, and consumer branding company Green Living Enterprises.
Prior to her focus on sustainability, Lorraine worked as a Senior Business Analyst for Manulife Financial, as a Manager of Logistics for a New Zealand-based electronic engineering firm, as well as supporting fundraising and communications for World Wildlife Fund Canada.
Lorraine has an Honors BA from Mount Allison University in Sackville, New Brunswick, Canada and lives with her husband, sustainability professional and documentary filmmaker Christopher Foss. Lorraine can be contacted at [email protected].