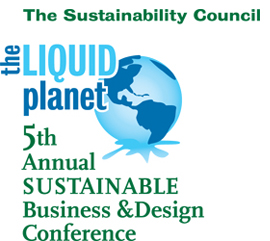 The Liquid Planet
Tuesday, April 12, 2011
The 5th Annual Sustainable Business and Design Conference featured speakers addressing a variety of issues pertaining to the sustainable use of aquatic systems and resources, from local rivers and bays to oceans, from pollution to sustainable fisheries.
A panel of keynote speakers representing organizations from the tri-state area (Kevin McAllister - Peconic Baykeeper, Adrienne Esposito - Citizen's Campaign for the Environment, and Jeff Rumpf - Hudson River Sloop Clearwater) discussed regional water issues and their far-reaching consequences.
Other speakers included Mark Dorfman, green chemist and water expert from the Biomimicry Guild and Joshua Onysko from Pangea Organics. Additionally there were afternoon breakout sessions, student exhibits, and more. See the schedule for a complete listing of the day's activities.
Each year, the Sustainable Business and Design Conference aims to inform, involve and inspire the entire FIT community to incorporate sustainability into all aspects of what we do.