Download the Consent Form below: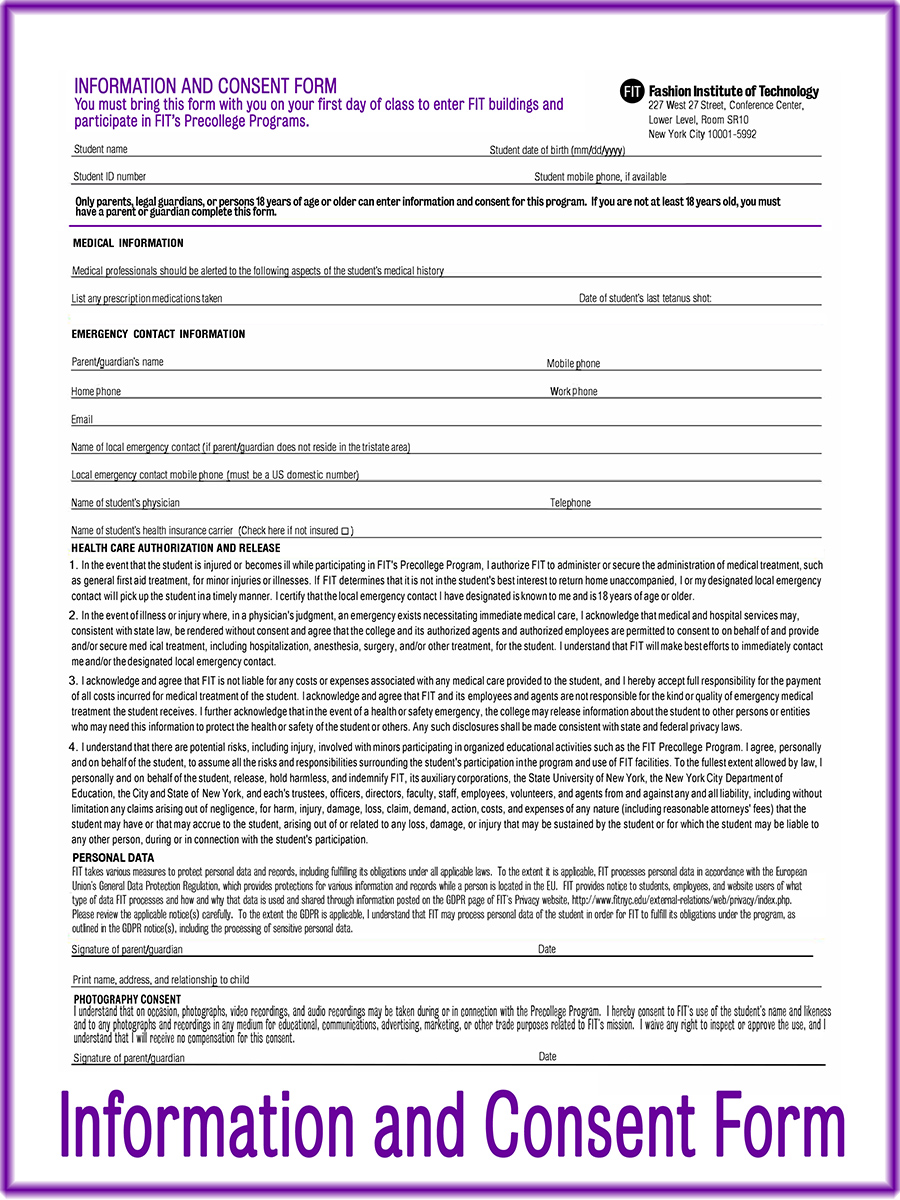 Every student participating in FIT's Precollege Programs (new and returning) must submit a new or updated INFORMATION AND CONSENT FORM each semester, signed by the students parent or legal guardian. This form is mandatory for participation in FIT's Precollege Programs. The form must be presented by the student in-person, either at our New Student Orientation Sessions or at the door on Opening Day. See our information below regarding the various fields on this form and how to best complete them.
How to complete the mandatory INFORMATION AND CONSENT FORM: Student name, date of birth and cell phone number are self-explanatory. If you do not know your child's FIT Student ID number, leave the field black and we will enter for you.
Medical Information: Please provide us with information that will assist us in case of a medical emergency or to better support your child if s/he needs support in the classroom or special learning accommodations. Also share with us any prescription medications your child may be taking in case of a medical emergency.
Emergency Contact Information: In addition to the name and contact information requested for a parent or legal guardian, we need the parent to designate a LOCAL EMERGENCY CONTACT person if the parents do not live in the commutable tri-state area. This is required and the reason for this is quite simple: If an appointed adult cannot pick-up a sick or injured child from the FIT Health Service Office within a reasonable time, the child will be sent to the local pediatric emergency room for continued medical supervision. New York State hospitals will not release a minor without an adult to take responsibility for the child. If a local contact is not available, the child will remain in the hospital until an adult can be present to sign the child out. The LOCAL EMERGENCY CONTACT person must be known to the parent or guardian and be 18 years of age or older.
Health Care Authorization and Release: All parents of participating students in FIT's Precollege Programs must consent to the Health Care Authorization and Release policy.
Photography Consent: This is optional. It allows FIT to publish photos of Precollege students in FIT catalogs and brochures and on its informational website.