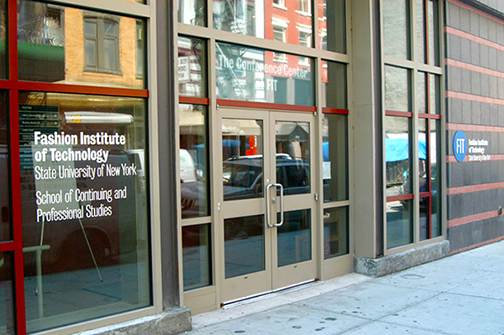 New students are strongly encouraged to attend a New Student Orientation Session.
The Orientation presentation lasts about 40 minutes and includes an additional 20 minute question and answer period. After the presentation parents and students are encouraged to explore the campus and obtain FIT ID cards. FIT will not be able to provide a make-up orientation therefore, your child should follow the instructions for the first day of class. Orientation highlights are posted below. Directions to FIT

---
Fall Orientation for New Students
Choose from the following dates (no RSVP needed):
Date: Saturday, September 21, 2019 Time: 11:30 am
Location: John E. Reeves Great Hall, 28th Street just off of 7th Ave, Conference Center entrance.
Date: Saturday, November 9, 2019 Time: Welcome Session begins at 1:40 p.m.
Location: Katie Murphy Amphitheater, 28th Street just off of 7th Ave, Conference Center entrance.
---
What To Bring
Please bring your completed Information and Consent Form and your printed Schedule of Classes. If you are unable to print at home, we will direct you to our office in SR-10 prior to the event to obtain print-outs there.
NOTE: Orientation Days are the only days that parents and other guests are permitted on the upper floors of the campus. If you wish to visit the school and view your child's classroom, you may do so only on Orientation Days. You may visit the campus any other time, but you will only have access to the campus lobbies and first-floor offices.
At this session families will learn about:
Rules and policies of the program (calling in sick, earning grades, leaving early, security protocol, etc)
Classroom assignments
Navigating the campus (with your family)
Making changes to your schedule (pending course availability)
Our surrounding neighborhood
Meeting other Precollege students from your area
Obtaining your Security ID card (required only for the 10 or 11-day Live Program students)
WHAT IF I AM UNABLE TO ATTEND ORIENTATION?
If you are unable to attend an Orientation session, our office will email you the Orientation video after the first Orientation session for the semester.
For new, 10 or 11-day Live Program students only: you must get an FIT ID card before the start of classes. To obtain an FIT ID card, bring a copy of your schedule to the Public Safety Office located in D-404. You may get your card on Orientation Day, but lines may be very long. No ID cards will be issued on the first day of classes. Please make arrangements with Public Safety to obtain an FIT photo identification card before the first day of class (212 217.4999) to enter the building on Opening Day. More about FIT Identification Cards
Returning students do not need to get new ID cards, they will be issued an updated sticker in their first class.
Precollege Workshop students do not get a photo ID card. They will be given a special ID at check-in on Opening Day.