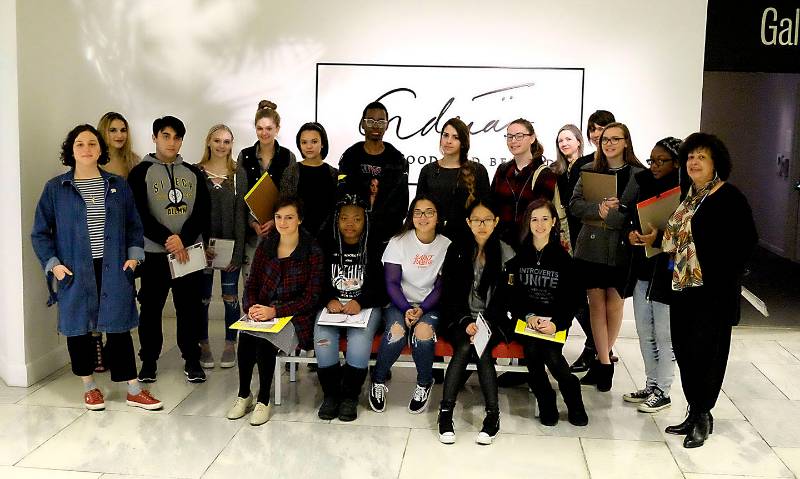 Spring 2017: Adrian: Hollywood and Beyond

This exhibition, Adrian: Hollywood and Beyond, highlights both Adrian's ready-to-wear and his costumes, while focusing on his innovative use of textiles. Beginning during his Hollywood days, fabric was central to Adrian's aesthetic. He employed an arsenal of techniques — such as appliqué, piecing, mitering, pleating, and draping — to build dynamic garments in which the materials are as celebrated as they are integral to the design. Adrian worked with and endorsed different textile manufacturers throughout his career. Indeed, his final collection in 1952 was dedicated to the "beauty" and "integrity of fabric."

Spring 2016: The Women of Harper's Bazaar, 1936–1958

The Women of Harper's Bazaar, 1936–1958 explored the dynamic collaboration among Harper's Bazaar editor-in-chief Carmel Snow, fashion editor Diana Vreeland, and photographer Louise Dahl-Wolfe during their time at the magazine. Capturing a transformative period in the magazine's history, this was the first exhibition to focus on the interaction between these three individuals. Organized by the graduate students in the Fashion and Textile Studies: History, Theory, Museum Practice MA program, the exhibition drew from The Museum at FIT's extensive collection of Louise Dahl-Wolfe color photographs donated by the photographer herself. The exhibition presented 37 Louise Dahl-Wolfe photographs shown alongside 9 garments by Christian Dior, Charles James, Mainbocher, Claire McCardell, and Carolyn Schnurer. Related materials such as behind-the-scene photographs further highlighted the creative process that made Harper's Bazaar the definitive fashion magazine of the time.

Spring 2015: Lauren Bacall: The Look

Lauren Bacall: The Look was the first exhibition to exclusively celebrate the film and theater stars unique style. Bacall's own garments took the spotlight in this exhibition, which also explored Bacall's personal relationships with several of the fashion designers who dressed her. Organized by graduate students in the Fashion and Textile Studies: History, Theory, Museum Practice MA program, this exhibition examined Bacall's distinctive style within the context of her modeling, film, and theater careers.

More information on this exhibition

Precollege students were invited to create work inspired by the exhibit as part of a contest.
Click here to see the winners


Spring 2014: Beyond Rebellion: Fashioning the Biker Jacket

The black leather motorcycle jacket was conceived as a utilitarian garment meant to protect riders from wind, rain, and cold. Yet as a symbol of rebellion and non-conformity, it quickly developed its own mystique—and that, along with the jacket's sleek, sturdy design, excited the imaginations of high-fashion designers. They began to feature biker jackets in their collections, and the appeal of the jacket continued to grow...

Spring 2012: Youthquake! The 1960s Fashion Revolution

This exhibition explores the dramatic impact of young people on fashion during a decade of sweeping political, social, and cultural change. Fashion of this era was driven by two leading subcultures of the era, the Mods and the Hippies who rejected the societal and sartorial traditions of the establishment. Their daring, individualistic styles were quickly adapted by high fashion designers and mass marketers alike.

Spring 2011: Vivienne Westwood 1980-1989

Vivienne Westwood, 1980-89 examined Vivienne Westwood's transformation from street provocateur to high-end fashion designer during the 1980s. Westwood began the decade outside the mainstream, as a designer of subcultural style, but as her work evolved so did her level of press coverage and the breadth of her clientele. By 1989, she was a celebrated vanguard in the fashion world. The magnitude of her remarkable rise was confirmed when she was named British Designer of the Year in both 1990 and 1991.

Spring 2010: Scandal Sandals & Lady Slippers

Generations of women have found a perfect combination of elegance and comfort in Delman shoes. When Herman Delman started his shoe company in 1919, he set out to "beautify the female foot." Delman wanted to promote his ideal vision of a "lady": fashionable, graceful and in a pair of Delman shoes a more glamorous version of herself. A purveyor of custom-made as well as ready-to-wear shoes, the company became known for fine construction, much of it hand-crafted.

Spring 2009: Muriel King: Artist of Fashion


Muriel King (1900-1977) was an American designer who began her business in the early 1930s and helped form a distinctive American style. King's clothes were worn by glamorous women in New York society and in Hollywood, including Ginger Rogers and Katherine Hepburn. But her work was not limited to the elite. She designed for dress pattern companies so women who couldn't afford her couture originals could own one of her designs. She also contributed to the war effort in 1943 by designing work-wear for the women of the Boeing Aircraft Company.

Spring 2008: Sole Desire: The Shoes of Christian Louboutin

The Shoes of Christian Louboutin traces the course of Louboutin's career and places him in context with other important designers. The exhibit also examines the major influences and themes that have informed his designs. His previous work as a landscape designer and his love for exotic destinations, such as Asia and North Africa, have found expression in the breathtaking colors and unexpected details of his shoes. The playfully seductive nod to fetishism and sex in his later work can be traced back to his fascination as a teenager with the Paris cabaret, Les Folies Bergère. And the image-conscious surge of celebrity influence on fashion has been serendipitous for Louboutin, providing him with an even wider audience...