The National Arts Club Wil Barnet Student Show 2019
Congratulations to Alecia Fuschetto and Jessica Karpishin. Their works were selected to represent FIT in the National Arts Club Will Barnet Student Show. The 2019 Will Barnet Student Show and Competition will be held April 4th - April 23 in the Gregg and Marquis Galleries of the Landmark Clubhouse at 15 Gramercy Park.
| | |
| --- | --- |
| Elena | Poison Ivy |
Illustrations by Alecia Fuschetto Class 2019
| | |
| --- | --- |
| Equilibrium | Toby |
Illustrations by Jessica Karpishin Class 2019

Awarded Honorable Mentions with Cash Prize of $200
2019 Society of Illustrators Student Scholarship Competition Winners
Congratulations to Emma DeBobes, Monet Kifner and Caitlin Taduran, their artwork was selected for the 2019 Society of Illustrator's Student Scholarship Competition. Exhibition Dates: May 7 through to June 8, 2019.
Student: Emma DeBobes, Class 2019
Medium: Oil on Wood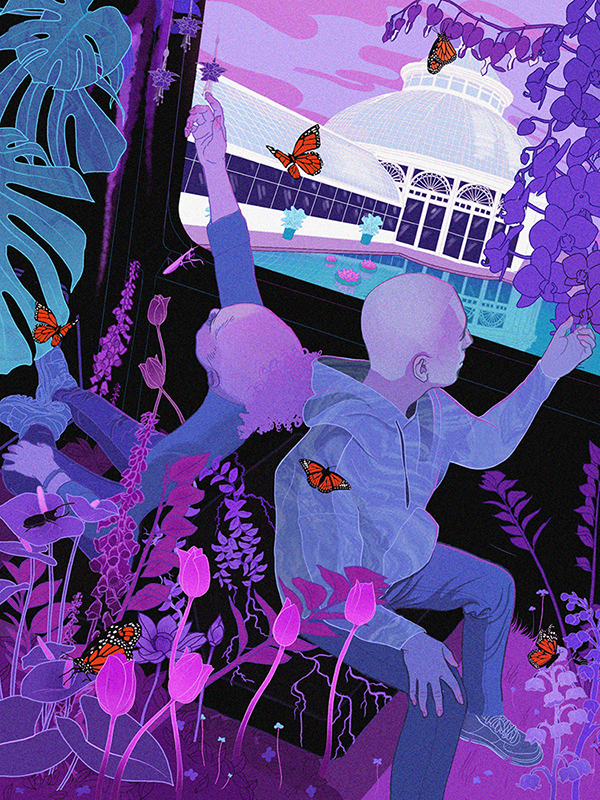 Student: Monet Kifner, Class 2019
Medium: Digital
Student: Caitlin Taduran, Class 2020
Medium: graphite, digital
Exhibition: The Italian Way, Lessons From the Masters for Our Time
This month-long study abroad program is held in Florence, Italy and focuses on bridging the art of the Italian Renaissance to the contemporary artist. Participating students, sophomore through senior years, are from programs in the Fine Art, Illustration, Packaging Design, and Graphic Design departments within the School of Art and Design at FIT. Florence is the birthplace of the Italian Renaissance and home to many famous artists such as Michelangelo, Botticelli, Brunelleschi and Leonardo da Vinci. The program offers students a rich opportunity to spend the majority of class time on location, exploring the city's magnificent architecture, paintings and sculptures of the era. Visits to museums, churches and nearby towns give inspiration to the group. On view in the exhibition are paintings and sketchbooks that reflect the rich culture, and history of the region. Students are taught to paint with egg tempera, a medium of choice of many Renaissance artists. The egg tempera medium was used to create all of the paintings in this exhibition. The choice and instruction of this medium was designed to bridge the students and their painting experiences to the artists of the Renaissance. The goal was not to have a finished painting, but to give each student a first-hand experience of what the artists of the Renaissance did to create their masterpieces. Through the process, students gained a better understanding of and appreciation for the craftsmanship in the work of artists in 15th century Italy.
Professor Melanie Reim Receives "Distinguished Educator in the Arts" Award
The Illustration Department is proud to announce that Professor Melanie Reim was awarded the "Distinguished Educator in the Arts" Award. The award ceremony took place at the Society of Ilustrators on May 11, 2018.