National Arts Club present Salvatore Catalano associate professor in the Illustration Department with a one person exhibition of his latest work.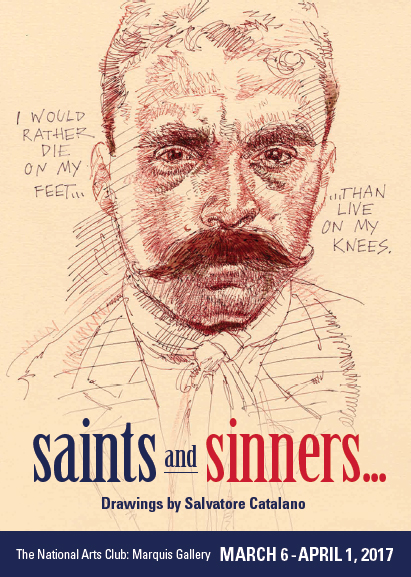 Salvatore Catalano
"Saints & Sinners"
March 6, 2017 – April 1, 2017
"Often a silent face has voice and words."----Ovid
New York, NY (March 6, 2017) – Artist and long-time Fashion Institute of Technology professor, Salvatore Catalano, will showcase drawings for the first time in an exhibit titled "Saints & Sinners" in The Marquis Gallery at the renowned National Arts Club. This is a unique opportunity to see original works by an artist whose career in illustration has spanned over five decades.
Catalano has been commissioned by prestigious clients including The Smithsonian Institution, The American Museum of Natural History, the Rockefeller Group, The United Nations and many more. His work is part of private and corporate collections.
"Saints & Sinners" is a continuing series of portraits inspired by two outstanding influences in his life: the church and the streets. "In the streets, I heard stories about gangsters and organized crime. In church, I learned about heaven and hell. Growing up in Brooklyn in the 1950s and 1960s, I was surrounded by neighborhood kids who started out good and grew up to be mobsters. Others belonged to street gangs and later became priests. If it wasn't for my ability to draw, I could have easily ended up going in very different direction . I think we all have that duality inside of us," says Catalano. "These portraits are of people, good and evil and somewhere in-between." Catalano will showcase over sixty drawings to be featured in this exhibit. His subjects include gangsters, artists, musicians, saints, writers, actors, politicians and world leaders including: Jane Goodall, Bill Murray, Rosa Parks, Al Capone, Gandhi, Mussolini and Mike Tyson. See his website, www.salvatorejcatalano.com.
The National Arts Club is a historic club founded in 1898 as a gathering place for artists in America. Today it hosts both members-only and public events, including exhibitions, theatrical and musical performances, lectures and readings. For more information visit: www.nationalartsclub.org.
---
USPS Unveils Holiday Stamps by William Low
---
click this image to view the BFA illustration exhibition 2016

---

Michele Floria, first prize winner of The National Arts Club student show 2015 was also awarded a one person show at the National Arts Club . Here is the detail information on her exhibition.
---
Artist: Mandi La
Artist: Raissa Oliveira Silva
Congratulation to Mandi La and Raissa Oliveira Silva, Theri painting were selected to represent FIT at The National Arts Club student exhibition 2016.
You can view both paintings at he NAC from April 31st to April 27th
---
FIT ALUMNI MOLLY CRABAPPLE INTERVIEW from Al Jazeera America
---
Illustrations beyond the printed pages
Jianrong Lin (Class of 2016) recently created a magnificent mural and wall decoration for Incheon Seafood Restaurant at Fulton Square in Flushing, New York. It was his first time painting a large scale mural. The whole project took Jian four months from sketches to finishes. "I was very skeptical in the beginning, but glad I satisfied the client in the end. I'm grateful for all the advices I received along the way."
---