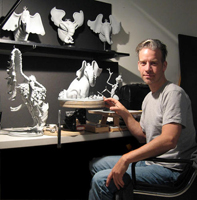 Making people feel warm and cuddly about a time when earth was draped in polar ice sheets is no problem for character development artist. Michael De Feo has transformed character designs into the celebrated, animated stars of Ice Age, sequels Ice Age 2, Ice Age 3 and the upcoming Ice Age 4. De Feo created and supervised Blue Sky's modeling and sculpting departments. When Horton Hears a Who was approved for development as an animated feature, Defeo, was entrusted with the challenge of transforming Seuss iconic drawings into living 3D characters. He captured the Seuss spirit so well, he was subsequently commissioned by Illumination Entertainment to do it again for Seuss The Lorax, scheduled for release in 2012 . Michael has just finished work on Despicable Me 2 (2013).
De Feo began his career pursuing his passion for special effects and makeup, later making sophisticated stop-motion puppets for commercials, television, theatre and film. Parlaying this expertise into the world of feature animation, De Feo's versatility and unique use of traditional and digital mediums give life to a wide array of characters, from teddy bears to creatures for the film Alien Resurrection.
As a complement to his commercial work, De Feo continues to create personal art in terra cotta, bronze and marble, combining his extensive expertise in state-of-the-art software with traditional materials and classical techniques, giving his work an increasingly deep range of expression and emotion.
De Feo's additional credits include the upcoming Leaf Men, Rio and Hop, as well as Robots, Star Trek Insurrection, A Simple Wish and the Academy Award-winning short Bunny.http://michaeldefeo.com